When The First Snow Falls, We Can Be Found Making Maple Taffy
Chewy and rich, the texture and flavor are a real treat. Kids love the process of making maple taffy almost as much as they love eating it.
Just be sure to use fresh, clean snow. You'll also need 100% pure maple syrup for this recipe, not pancake syrup like Log Cabin or Aunt Jemima, which is made from corn syrup.
Recipe for Maple Taffy on Snow
I prefer using dark maple syrup here, but lighter amber colored maple syrup also works. Just make sure it's 100% pure maple syrup. Click here to read more about maple syrup and other sweeteners.
Course. Dessert. Snack.
Cuisine. American.
Makes. 4 servings
Takes. 15 minutes to boil the syrup. 1 minute to make the taffy.
Ingredients
About 1/2 cup pure maple syrup
About 6 cups clean snow
Method
1) Boil the syrup. Pour the syrup into a deep sauce pan and boil it over medium-high heat to 235°F (soft-ball stage). When cooking sugar for candy making you really need an accurate digital thermometer. The syrup will foam madly, so make sure your pan is not more than half full and keep a close eye on the pan so it doesn't boil over.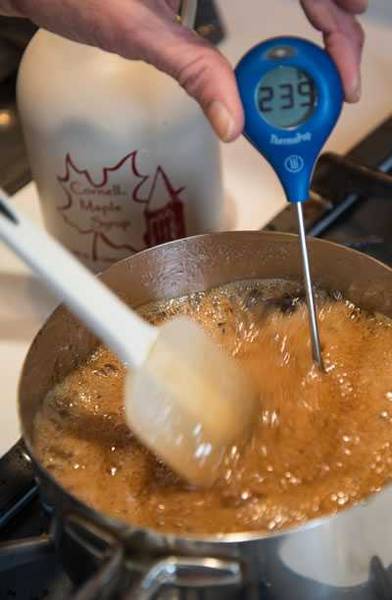 2) Collect your snow into a shallow 1 1/2 quart baking dish or small sheet pan. Pack the snow down tightly. To keep it from melting, store the packed snow in the freezer.
3) When the syrup reaches 235°F, immediately use a ladle or deep spoon to drizzle the hot syrup onto the snow in strips. Let it cool for a minute. The syrup will begin to firm up as it cools. You can then roll up the taffy with a popsicle stick or a fork. Don't leave it on the snow too long or the snow will melt and dissolve the taffy.
"Who was the genius adventurous enough to taste maple tree sap and then have the bright idea to boil it down into a marvelous syrup?"Meathead
Published On:
01/28/2017
Last Modified:
01/28/2021