Pea-can or pa-con? Any way you say it, this grill roasted nut recipe is a surefire hit!
Step up your ordinary party snacks thanks to this delicious recipe for grill roasted candied pecans featuring real maple syrup and ginger.
Spotlight on our favorite products
Is This Superb Charcoal Grill A Kamado Killer?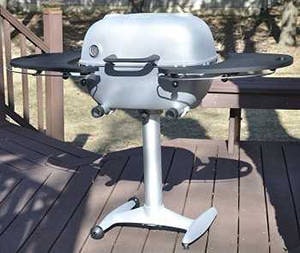 The PK-360, with 360 square inches of cooking space, this rust-free, cast aluminum charcoal grill is durable and easy to use. It is beautifully designed, completely portable, and much easier to set up for 2-zone cooking than any round kamado. Click here to read our detailed review of the PK 360 and get a special AmazingRibs.com price!
– THIS IS NOT AN AD –
Be sure to visit our "how-to" post on party nuts here to learn more about grill roasted nuts including the best tools for grilling the nuts, suggested ingredients for customizing this and other recipes and so much more!
This recipe is super easy and produces a subtly sweet, exotic tasting, deep colored nut. But you must use real maple syrup, none of the artificial pancake syrups allowed. I prefer the less expensive Grade B which has a stronger flavor.
---
---
Makes:
---
Takes:
---
Ingredients
2

tablespoons

butter

1

pound

raw pecan halves

¼

cup

grade B maple syrup

½

teaspoon

ginger powder

½

teaspoon

Morton Coarse Kosher Salt
Notes:
About the salt. Remember, Morton's coarse kosher salt is half the concentration of table salt so if you use table salt, use half as much. Click here to read more about salt and how it works.
Option. Feel free to swap out the ginger and substitute cinnamon if you wish.
Metric conversion:
These recipes were created in US Customary measurements and the conversion to metric is being done by calculations. They should be accurate, but it is possible there could be an error. If you find one, please let us know in the comments at the bottom of the page
Method
Fire up. Preheat your grill/smoker to 225°F (107.2°C) in the indirect zone.

Cook. Melt the butter in a saucepan. Add the nuts and coat. Stir in the maple syrup, ginger, and salt.

Place on an oiled grill topper and smoke for 30 minutes, stirring and flipping after 15 minutes. Take them off, spread the out in a pan and let them cool and harden thoroughly for about 2 hours.

Serve. Once the nuts have cooled completely, serve or store in an airtight container.
---