When The First Snow Falls, We Can Be Found Making Maple Taffy
Chewy and rich, the texture and flavor are a real treat. Kids love the process of making maple taffy almost as much as they love eating it.
Spotlight on our favorite products
The Undisputed Champion!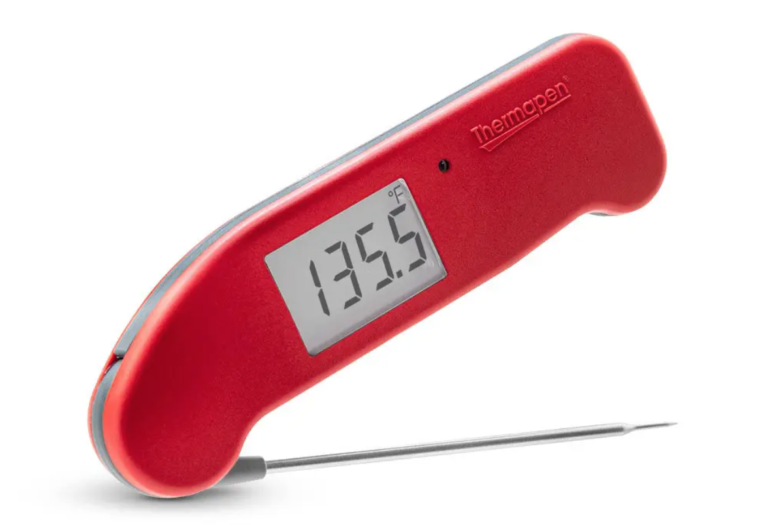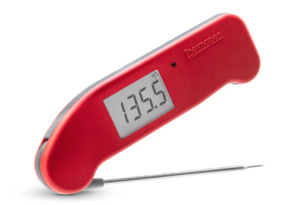 ThermoWorks' Thermapen ONE provides an accurate reading in one second or less. The ONE also includes features that are common on high-end instruments: automatic backlight, rotating display, and water resistant seals. Don't accept cheap substitutes.
Click here to read our comprehensive Platinum Medal review
– THIS IS NOT AN AD –
Just be sure to use fresh, clean snow. You'll also need 100% pure maple syrup for this recipe, not pancake syrup like Log Cabin or Aunt Jemima, which is made from corn syrup.
Creating home made maple taffy in the winter couldn't be easier! All you need is a little snow and some 100% pure maple syrup!
Serve with: hot cider.
---
---
Makes:
---
Takes:
---
Ingredients
About 1/2

cup

pure maple syrup

About 6

cups

clean snow
Metric conversion:
These recipes were created in US Customary measurements and the conversion to metric is being done by calculations. They should be accurate, but it is possible there could be an error. If you find one, please let us know in the comments at the bottom of the page
Method
Cook. Pour the syrup into a deep sauce pan and boil it over medium-high heat to 235°F (113°C) (soft-ball stage). When cooking sugar for candy making you really need an accurate digital thermometer. The syrup will foam madly, so make sure your pan is not more than half full and keep a close eye on the pan so it doesn't boil over.

Collect your snow into a shallow 1 1/2 quart (1.5L) baking dish or small sheet pan. Pack the snow down tightly. To keep it from melting, store the packed snow in the freezer.

When the syrup reaches 235°F (113°C), immediately use a ladle or deep spoon to drizzle the hot syrup onto the snow in strips. Let it cool for a minute. The syrup will begin to firm up as it cools.

Serve. You can then roll up the taffy with a popsicle stick or a fork and serve immediately. Don't leave it on the snow too long or the snow will melt and dissolve the taffy.
---