Lighten Up Those Holiday Leftovers With This Smoked Turkey Salad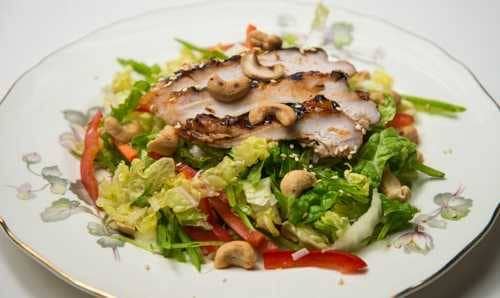 Here's my favorite way to use leftover Thanksgiving smoked turkey—leftover smoked turkey salad. I share it as a recipe, but you can riff on the ingredients. Don't like blue cheese? Skip it. Hardboiled eggs make a nice addition. Why not smoke the nuts while you're at it? This is perfect for dinner or even as a BBQ side dish.
---
---
Makes:
---
Takes:
---
Optional. 4 hardboiled eggs, sliced with a slicer or chopped coarsely.
The dressing. Whisk all the ingredients together in a saucepan and warm over a low heat until the cranberries plump, about 5 minutes. Cool in the fridge.

The salad. Toast the nuts in a dry frying pan over a medium heat until they are aromatic and start to darken. Do not let them burn; they can burn quickly if you walk away. Shred the lettuce and the cabbage, and core the apple, then cut it into bite-sized cubes. Toss everything except the hardboiled eggs together and divide into four bowls. Top with the eggs and serve.
---
Related articles
Published On: 4/7/2013 Last Modified: 3/29/2021
Meathead - Founder and publisher of AmazingRibs.com, Meathead is known as the site's Hedonism Evangelist and BBQ Whisperer. He is also the author of the New York Times Best Seller "Meathead, The Science of Great Barbecue and Grilling", named one of the "100 Best Cookbooks of All Time" by Southern Living.

---