Most American barbecue styles are defined by state or region, like Texas-style or Eastern North Carolina-style. Memphis is one of two cities (Kansas City is the other) that enjoys a barbecue culture distinct enough to be considered a major style of its own.
Pork shoulder and pork ribs are the signature barbecue cuts in Memphis, though there is plenty of beef and chicken to be found around town, too. In Texas and the Carolinas the pits are fired with split hardwood logs, but in Memphis charcoal is the fuel of choice. The city's signature sauce is dark, tangy, and sweet, ranging in color from burnt orange to dark brown, thanks to its base of tomato and molasses. Slaw and sweet baked beans are the essential sides.
Memphis is known for a few barbecue oddities, too, like barbecued bologna—rolls of commercially-made bologna smoked on the pit, scored with a knife, and served either as an inch-thick slice on a sandwich or as chunks topped with barbecue sauce. The city is also the birthplace of barbecue spaghetti, which consists of spaghetti noodles tossed with bits of pork and a tangy barbecue-like sauce.
That signature style evolved over the course an entire century, as Memphis's restaurant scene flourished, and a few key players were instrumental in shaping what has become a much-acclaimed and very tasty American barbecue tradition.
The Boom Years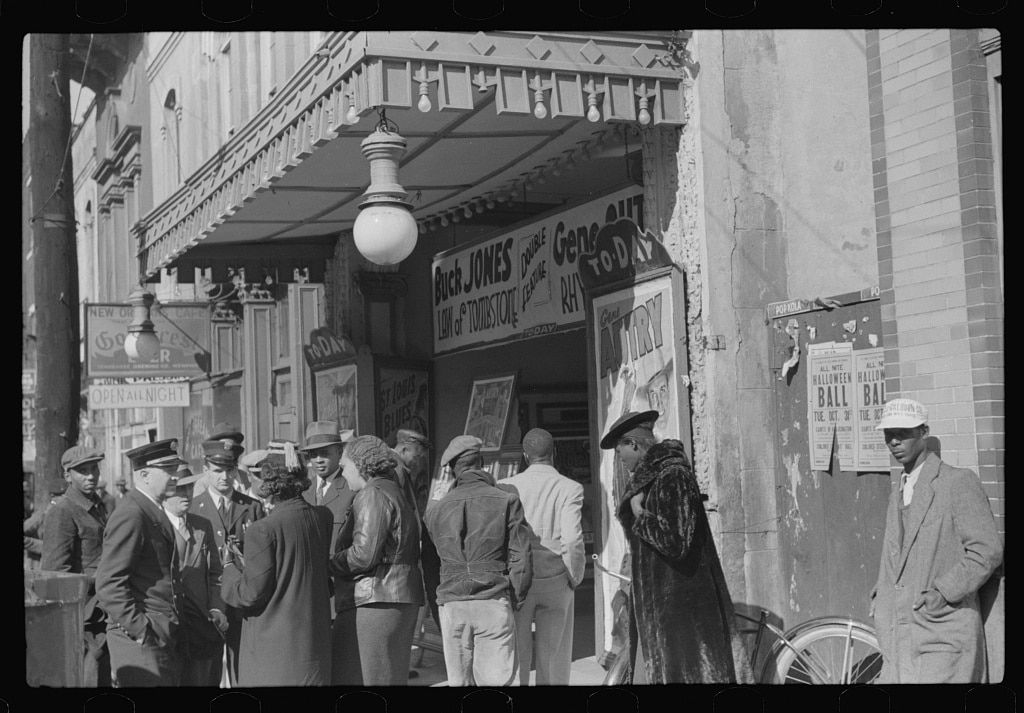 Memphis-style barbecue has its roots in the early years of the 20th century, when smoked ribs and pork sandwiches became lunchtime staples as well as filling late-night treats for revelers at the city's many nightclubs. Memphis in these years was an economic magnet that drew thousands of people from the surrounding countryside to try their fortunes in the city. A large percentage of these migrants were African Americans looking for better economic opportunities than farming, and the city's black population grew from 3,800 at the time of the Civil War to over 50,000 by the turn of the twentieth century, amounting to more than half of the city's total population.
Memphis also drew crowds of weekend visitors, for the city was the hub of the world's largest timber market. Laborers from lumber and turpentine camps in the bottomlands of Mississippi poured into town on their days off with hard-earned wages in their pockets. They were joined by waiters, cooks, porters, and deckhands from docked riverboats along with more than a thousand men who worked in the city's booming railroad yards.
These visitors were looking for three primary things: food, booze, and entertainment. A vibrant nightlife developed in Memphis, with its center on Beale Street. By day, Beale was the heart of black commerce in the city, lined with banks, dentist offices, dry goods stores, bakeries, and restaurants. At night it transformed into a bustling nightlife district, with saloons, theaters, and music halls, which were where the Memphis blues was born.
Memphis's First Barbecue King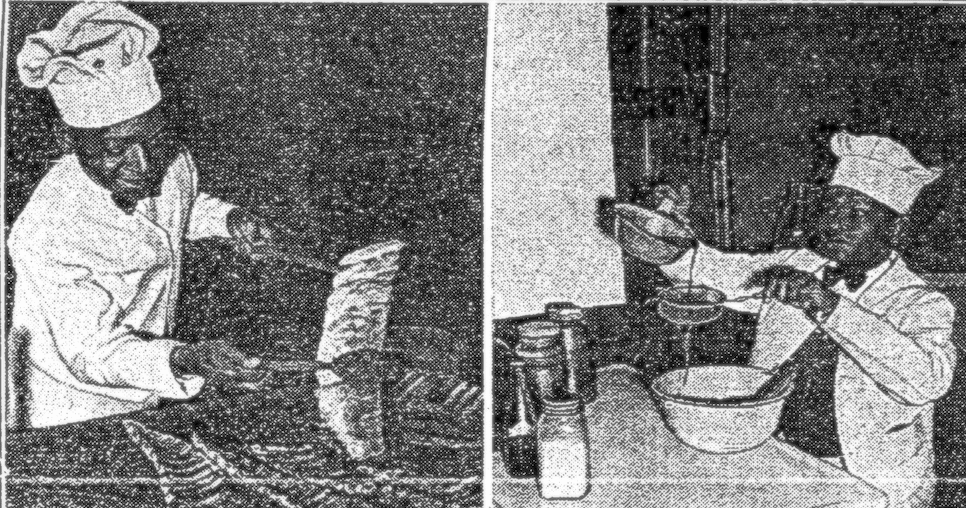 Beale Street was also home to late-night barbecue joints, the most famous of which belonged to John Mills, an African American entrepreneur who opened a barbecue stand on Fourth Street between Beale and Gayoso Avenue in the late 1920s.
John H. Mills was born in Natchez, Mississippi, in 1885. He enlisted in the army around the time of the Spanish-American War and was stationed in various places around the country, including at a base in Minnesota, where he served as a mess cook. He spent World War I stateside and was discharged after the war ended in 1919. He made his way to Memphis, where he worked for several years as a porter and a restaurant cook, living with his wife, Mary, in furnished rooms on Fourth Street.
In 1929 Mills went into business on his own, opening a barbecue stand a few doors down the block from where he lived. By 1932 he had built a brick restaurant on the adjoining lot, and he cooked pork shoulder and ribs over a brick pit in the alley out back. Two decades before Charlie Vergos started selling dry-rubbed ribs at the now-legendary Rendezvous restaurant, John Mills made Memphis famous for ribs.
"Mills turns and bastes his meat over a charcoal pit," an Associated Press profile recorded in 1938. "It takes a shoulder eight to twelve hours to cook, while ribs can be served in an hour and twenty minutes." While the ribs cooked, Mills mopped them continually with what the reporter described as a peppery "hot sauce," and he served each order with a side dish of sauce, too.
Here we see several of the characteristics of Memphis-style ribs today: they're cooked hot and fast (done in an hour and twenty minutes!) over charcoal and are mopped frequently while cooking.
Though located in the heart of the African American district, John Mills's restaurant drew both black and white customers, including musicians and celebrities like Bing Crosby, who made it a habit to stop by Mills's place for ribs whenever he was in town. In 1936, the Pittsburgh Courier noted that Mills was "often referred to by stage, screen, and musical stars in national radio hook ups 'wishing they had some of Johnny Mills barbecue back in Memphis.'"
Mills was also a pioneer of mail-order barbecue. He regularly shipped barbecue by air express to Kate Smith, Red Mills, and other famous customers, and the Procter and Gamble Company in Cincinnati had a standing weekly order. By 1938, Mills had sixteen employees, including several of his children, and he ran his restaurant on Fourth Street until his death in 1949. Apparently, none of the children wanted to take over the business. A man named John Lewers operated John Mills Bar-B-Q for a few years, but it had closed by the mid-1950s.
Leonard's: A Local Legend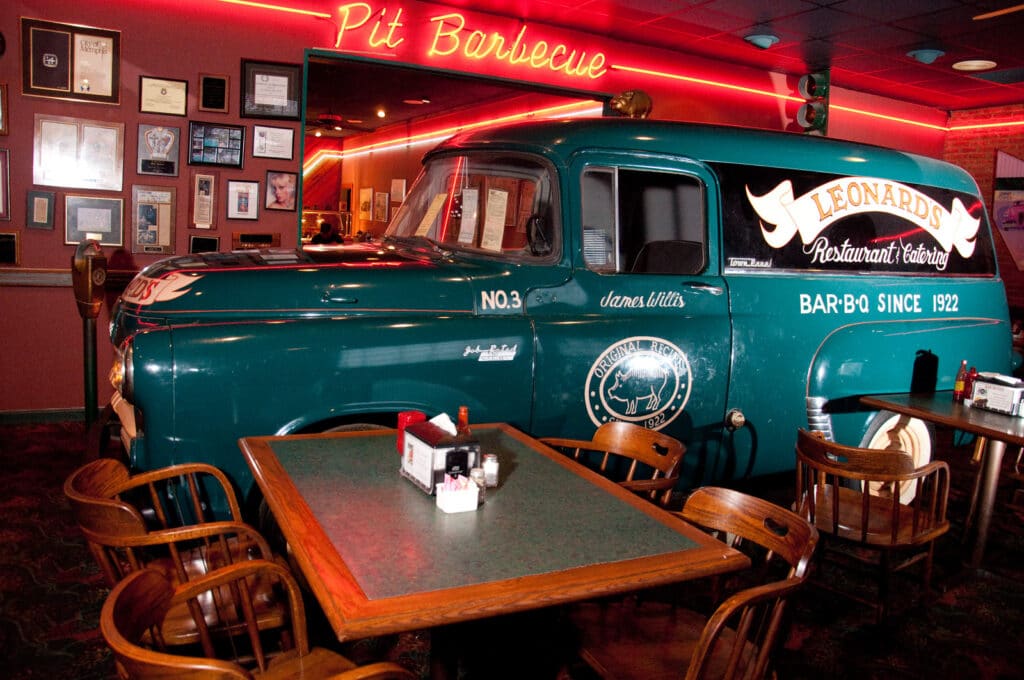 John Mills's place was the most famous Memphis barbecue restaurant at the time, but there was another founded a few years earlier that is still in business today. In 1922 Leonard Heuberger opened Leonard's Barbecue at the corner of Trigg and Latham, four blocks south of McLemore Avenue. According to family legend, Heuberger traded a Model T Ford for the seven-stool sandwich stand. Ten years later he moved half a mile down McLemore to the corner of South Bellevue and created a drive-in restaurant.
Unlike Mills's restaurant, Leonard's Pit Barbecue served only white patrons until segregation ended in the 1960s. The cooks slow-roasted pork shoulders and ribs overnight in a brick pit fired by hickory charcoal. One of the cooks was James Willis, who started as a "tray picker" in 1938 at age fifteen and learned the ropes from pitmaster Tom Tillman. Willis recalled keeping the fire going under the meat and turning the shoulders every hour and a half. In between turns, he had to regularly open the pit and make sure nothing inside had caught fire. "You cooking it on an open pit," he told an interviewer in 2009, "that grease gets hot and starts a fire." Leonard's crew would salt the shoulders and cook them a full seven hours, the first four dry and the last three with a mop of basting sauce applied.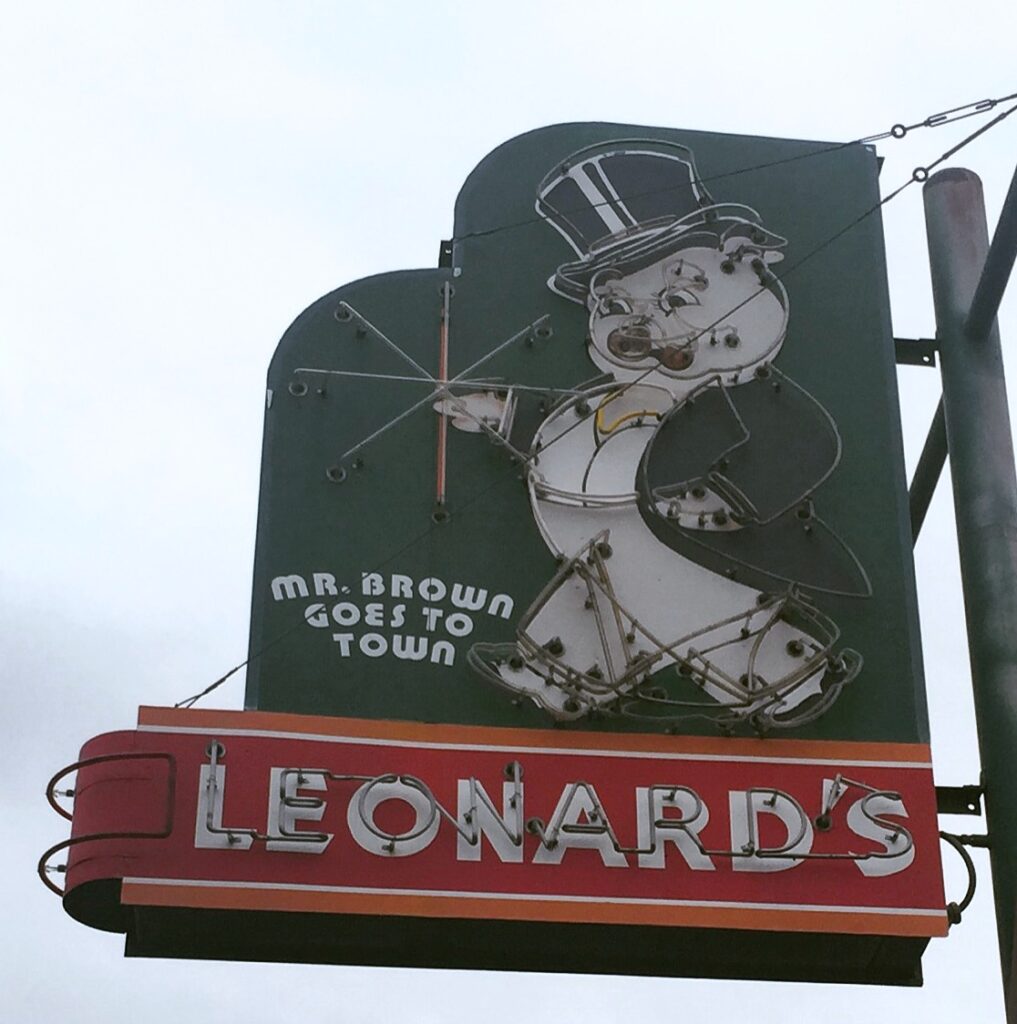 Leonard's did a brisk business on weekends, and its busiest time was on Sundays, when families out for an evening drive would stop off for barbecue. Leonard's claims to have invented the Memphis-style barbecue pork sandwich, which is made from chopped pork shoulder on a bun with finely diced coleslaw and a red, tomato-based sauce. These sold two for a quarter in the 1930s.
At its peak in the 1940s and 1950s, Leonard's had twenty carhops working under the canopies, making it one of the largest drive-in restaurants in the country. Although Heuberger passed away in 1980 and the Bellevue restaurant closed in 1991, Leonard's is still going strong today at its remaining location on Fox Plaza Drive, some ten miles east of downtown.
Dan Brown, who started working at Leonard's in 1962 as carhop, rose through the ranks to become general manager, and he bought the restaurant from the Heuberger family in 1993. Just this summer, Brown sold Leonard's to Wendy McCrory, the owner of Gus's World Famous Fried Chicken, ensuring that the restaurant, which turns 100 years old next year, will remain in local hands.
The Birth of Dry-Rubbed Ribs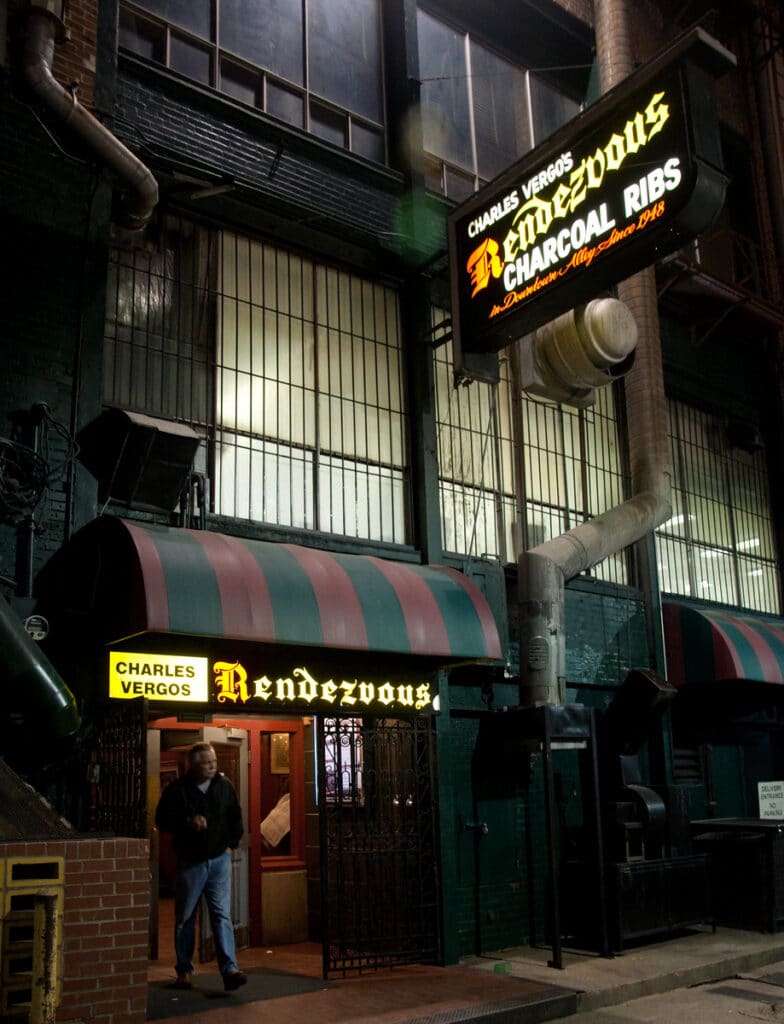 Perhaps the most famous barbecue restaurant in Memphis, Charlie Vergos's Rendezvous, came on the scene a few decades after Mills's and Leonard's, and it made a lasting contribution to the city's barbecue style by creating Memphis-style dry-rubbed ribs.
Charlie Vergos's family emigrated from Greece to the United States in the early 1900s, and his father, John Vergos, ended up running a hot dog stand in downtown Memphis. Charlie followed in his father's footsteps, opening a meat-and-three restaurant called Wimpy's with his brother-in-law. In the late 1940s Vergos decided to set out on his own and open a snack bar in the basement of the building that housed Wimpy's.
The basement had an old, unused coal chute in one corner, and Vergos decided to convert it into a smoker. His original plan was not to make barbecue but rather to smoke hams and slice them for sandwiches. Vergos had learned from his father that the restaurant business worked best if you kept it simple, so he would sell ham and cheese sandwiches on rye bread along with beer and little else.
The Rendezvous was located in what was then the main downtown shopping district, and Vergos figured that in a city with so many one-car families, he could draw a regular clientele of men who would stop in for a sandwich and beer while their wives went shopping. His plan was to sell the sandwiches almost at cost and make his profit off the beer.
The beer alone, though, wasn't bringing in enough money, and over time Vergos started putting other items in his smoker, like salami, chicken, and oysters. The breakthrough came in the late 1950s, when the Rendezvous's meat distributor suggested he try pork ribs. Vergos didn't know anything about cooking ribs, but one of his employees, a man named "Little John," did, and together they created a Memphis classic.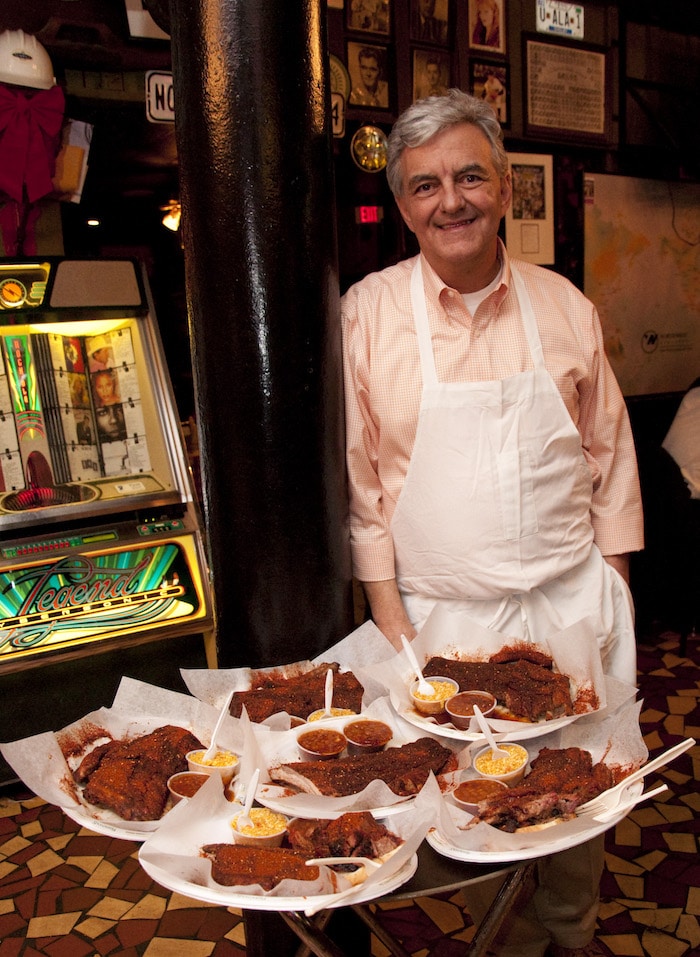 Like John Mills, the Rendezvous cooked the ribs eighteen inches above a hot charcoal fire for only an hour and fifteen minutes. Little John suggested basting the meat in water and vinegar to keep it moist, and Vergos came up with the restaurant's signature finish: a spice rub based on the combination his father had once used for Greek chili, which included salt, pepper, bay leaf, cumin, chili powder, and oregano. To give the ribs more color, Vergos added paprika. Memphis-style dry-rubbed ribs were born
The Making of an American Barbecue Capital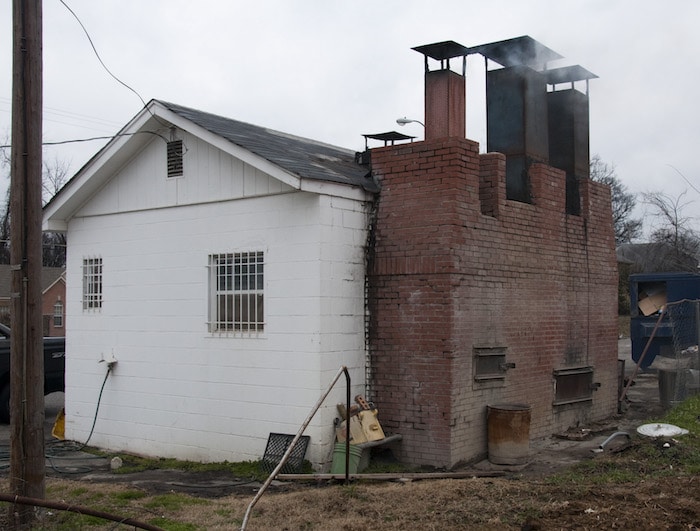 Leonard's and The Rendezvous were just a few of the dozens of barbecue restaurants that dotted the city by the 1950s. They bore names like Barbecue King, Famous Bar B-Q, Jim's Rib Shack, Pitchfork Bar-B-Que Bar, and the Pig-N-Whistle. Many other early barbecue operations were more beer joints than restaurants, catering to late-night crowds with jukeboxes, beer, and often dance floors. The owners might cook a few slabs of ribs over small pits in the back during the evening to sell to the late night crowd.
A popular menu item just after World War II was the rib sandwich, which consisted of three or four ribs served between slices of bread with slaw and a little barbecue sauce. Served with the bones in, the sandwich was meant to be pulled apart with the fingers and eaten. You can still find such sandwiches today at restaurants like A&R Barbecue and Payne's.
But then the 1960s arrived, and by the end of the decade downtown Memphis—and Beale Street in particular—entered a steep decline in the wake of what proved to be disastrous "urban renewal" projects. As retail merchants and many white residents fled downtown for the booming suburbs, many barbecue restaurants followed. The era witnessed the launch of several local barbecue chains, including Loeb's Bar-B-Q, Coleman's Bar-B-Q, and Tops Bar-B-Q. Together they opened dozens of small shops around the expanding Memphis metro area. The Loeb's and Coleman's chains fell apart in the 1970s, the victims of over-expansion, but Tops is still going strong today with more than a dozen locations around the city, all of which still cook pork shoulders and ribs on charcoal-fired brick pits.
Charlie Vergos remained a notable hold-out downtown. In 1968, the building on November 6th Street in which the Rendezvous was located was slated to be replaced by a skyscraper, so Vergos moved one block east to another basement location on 2nd Street. The Rendezvous has been there ever since.
In the 1970s and '80s, as barbecue began fading from the restaurant scene in much of America, Memphis's barbecue pits kept right on burning. In fact, many of the city's now-legendary restaurants were founded during this period. Horton and Flora Payne opened Payne's Bar-B-Q in 1972, Raymond and Desiree Robinson opened The Cozy Corner in 1977, and Jim Neely launched Interstate Bar-B-Q in 1979. The following year, Frank and Hazel Vincent bought an older restaurant called Brady and Lil's and renamed it the Bar-B-Q Shop, and Andrew and Rose Pollard founded A&R Bar-B-Q in 1983.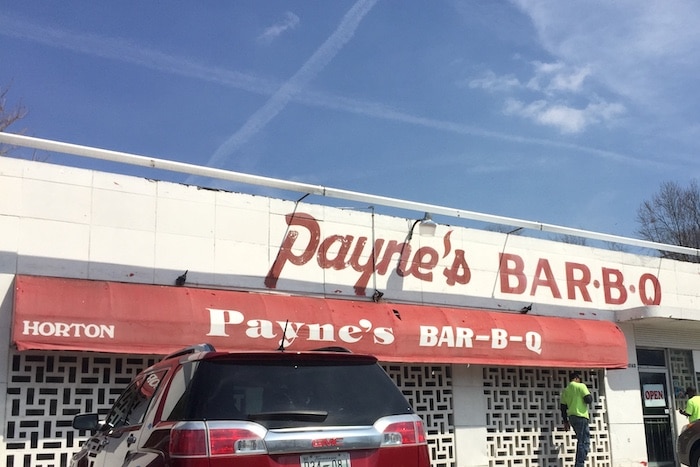 The inaugural Memphis in May BBQ Contest was held in 1978, and by 1990 it was attracting 250 teams and thousands of attendees from around the world to Tom Lee Park on the banks of the Mississippi River. That competition along with a series of national Memphis-style barbecue chains (most notably Red Hot & Blue, which opened its first location in Washington, D.C. in 1989) helped cement Memphis's reputation as one of America's great barbecue cities.
Fast forward to the present, and the Memphis barbecue scene is as strong and vibrant as ever. If you want a first-hand taste of this long and delicious barbecue tradition, join the entire AmazingRibs.com team this March for our Meat-up in Memphis event, which includes meals from some of the legendary restaurants that helped forge the city's signature barbecue style.