Welcome to the new AmazingRibs.com! Over the past year, our elves have been working diligently under the hood to rebuild this entire website, all 2,110 pages. AmazingRibs.com may look similar to the way it always has, but we have completely rebuilt the engine. We switched the software that runs the site, the content management system (CMS), from something called Drupal to something called WordPress.
We completely redesigned and vastly improved the navigation systems so you can sift through thousands of articles, recipes, ratings, and reviews much quicker. The navigation bar ("navbar") at the top of every page now has dropdown menus with our most popular destinations.
We also made our search features more powerful and more accurate. Check them out by simply tapping the magnifying glass above. Also, our recipes are easier to read, print, import into recipe apps, and share with friends. They can easily be scaled up and down and now you can print a shopping list!
Up your game: Join our Pitmaster Club. Try it out for free for 30 days. No credit card is needed. No spam. Join now and Be Amazing!
Spotlight on our favorite products
A Propane Smoker That Performs Under Pressure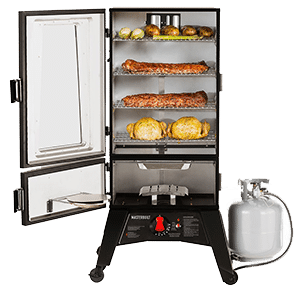 The Masterbuilt MPS 340/G ThermoTemp XL Propane Smoker is the first propane smoker with a thermostat, making this baby foolproof. All you need to do is add wood to the tray above the burner to start smokin'.
Click here to read our detailed review.
– THIS IS NOT AN AD –
You will also notice Meathead's smiling countenance and name on the masthead because we are soon to be announcing a line of commercial rubs and sauces under the brand "Meathead's" with the same ugly mug on the label. We're hoping that some of the 1 million visitors the site enjoys per month will recognize that face when they see it on store shelves. Marketers call this brand extension.
Huge thanks to our mechanics (our tech team), including Jim Maivald, Jeff McNear, Kris Coppieters, and Ray Johnson for doing the heavy lifting. Thanks also to the editorial team including Meathead, Clint Cantwell, Max Good, and Bill McGrath for fine tuning every single page one of the 2,110 pages on this site. Let's not forget Huskee Lyons, the Pitboss of the Pitmaster Club for his input.
We are super proud to share the new AmazingRibs.com with you. We've spent quite a bit of time polishing the chrome and getting the motor purring like a kitten. We're sticklers for details, as you know if you've read our BBQ mythbusters. Of course, we may have missed something. If you come across anything that is wrong or not working properly, please let us know. Throw us any notes, cheers, or tomatoes on the Contact page here. Enjoy the new AmazingRibs.com!