Or is it DC Mombo Sauce? Or Mumba Sauce, Mumble Sauce, Or Even Mummbah Sauce?
Washington, DC, is the nation's most international city populated by long term locals and many many imports. Much of the population comes and goes with the political tides. According to the Washington Post, only 15% of the white population was born in DC, while only 60% of the black population was born there. As a result, there aren't many indigenous local dishes, but there is one concoction the locals proudly claim as their own: DC Mumbo Sauce.
Theresa Vargas, in an article in the Washington Post in July 2011, wrote "The Italians may have their marinara and the French their bearnaise, but for many DC natives, the sauce that captures the flavor of home is called Mumbo. Few can tell you how it's made or where it originated, but they know this: If you grew up in one of the mostly African American areas of the city, you've likely known the taste your entire life. If you didn't, you probably have no idea what it is." 
The story of Mumbo sauce
Many DC area restaurants, especially Chinese restaurants, Korean restaurants, and fried chicken carryouts serve DC Mumbo Sauce, which is sometimes also called Mambo Sauce, Mombo Sauce, Mumba Sauce, Mumble Sauce, and even Mummbah Sauce. Drive through the Petworth neighborhood and there are scores of restaurants that offer Chinese Carryout, Fried Chicken, and Pizza all in one storefront, and they all have DC Mumbo Sauce. You'll also find it in Chinatown.
DC Mumbo Sauce is different from place to place. It ranges in color from orange to red, it is thinner than the typical red barbecue sauce, and it usually tastes closer to Chinese sweet and sour sauce. In fact, sometimes I wonder if it is simply sweet and sour sauce with a little ketchup added. Both red barbecue sauce and sweet sour sauce are typically made with the same base: Tomato concentrate, distilled white vinegar, and sugar.
The red stuff plays the lead in typical American red barbecue sauces, with the vinegar and sugar playing second fiddle. In DC Mumbo Sauce the tomato base plays bass in the background with the vinegar and sugar playing the lead. DC Mumbo Sauce is most popular on chicken wings, but it works on just about anything deep fried. That may sound odd, but remember, in the Deep South, fried chicken and fish are often served with honey. I've always found honey to be a bit cloying, but the vinegar in DC Mumbo Sauce is a great knife for cutting through fried foods.
Long time residents argue about where DC Mumbo Sauce originated, making claims that it first appeared sometime in the late 1950s or early 1960s at either Wings 'N Things, U Street, or Johnny Boy's among others. I did some digging and the trail led to Charlene Archie who declares with certainty it was invented at Wings 'N Things on 7th and Florida Ave NW near Howard University. She recalls that it was run by African Americans although it may have been Chinese owned, and, now defunct, it made its run from about 1962 through 1978. She says the original was the best by far and she has never tasted anything close.
It is so popular there is even a band named Mumbo Sauce, and another group, Soulful, has an album named Mumbo Sauce (that's the cover, below).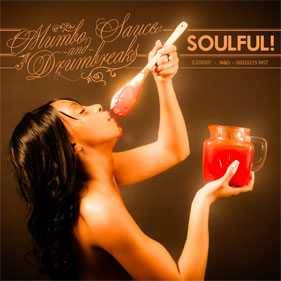 The Chicago connection
Well, I hate to break it to you, DC, but the original Mumbo Sauce was probably a ketchupy barbecue sauce created in Chicago in 1957 by Argia B. Collins, Sr.
An African-American from Indianola, Mississippi, Collins was part of the great post WWII migration to the industrial north from the agricultural south, especially from the Delta area of Northwest Mississippi.
Collins opened his first barbecue joint, Argia B's Bar-B-Q, in the early 1950s in a storefront on the South Side at Forrestville and 47th St., and in 1957 he created his signature Argia B.'s Mumbo Bar-B-Que Sauce. Locals called it "mild sauce" as opposed to hot sauce. His daughter, Allison Collins, says "In addition to great ribs, my Dad sold hot links, fried chicken, fish, shrimp, and fries, all of it drenched in Mumbo Sauce." She gave me permission to use this picture.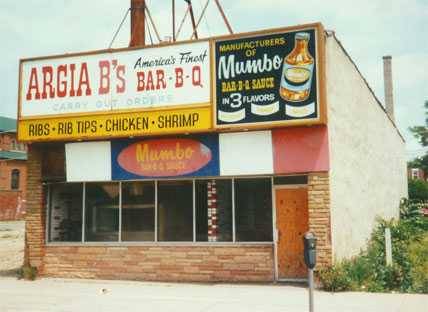 His sauce's popularity helped him and his brothers open about 10 other storefronts. They are all long gone, and Argia B. is gone too. He died in 2003, but, according to his obit in the Chicago Tribune, "He also provided the fuel, quite literally, to the civil rights struggle of the 1960s, as his popular barbecue restaurant was a frequent source of free nourishment for a young Rev. Jesse Jackson and other organizers of Operation Breadbasket, a predecessor of Operation PUSH."
Mild sauce became popular at other BBQ and fried chicken joints in Chicago and can still be found at a dozen or so, mostly in the African-American neighborhoods of the South Side. It has evolved to something akin to DC Mumbo sauce. Read more about Chicago mild sauce in this article by Bill Daley in the Chicago Tribune.
How did Chicago Mumbo Sauce make its way into Chinese restaurants and fried chicken joints in DC and become something altogether different, DC Mumbo Sauce? We can only speculate. The South Side of Chicago has vast concentrations of African-Americans, but it is also the home of Chinatown, which, in the 1950s, bumped right up against the area known as Bronzeville to the East. A center of black entrepreneurship, Bronzeville was either the home or the home-away-from-home for the playwright Lorraine Hansberry (A Raisin in the Sun), and foundational blues and jazz musicians Louis Armstrong, Muddy Waters, Willie Dixon, and Buddy Guy. Most were migrants from the South, like Argia B.
Just north of Chinatown was the Maxwell Street open air market, originally a Jewish enclave that after WWII morphed into a center of black commerce. It was the location of the memorable restaurant scene from the Blues Brothers movie with Aretha Franklin singing "Think".
It is not hard to imagine that an African-American bought a bottle of Argia B's Mumbo Bar-B-Q Sauce and used it on carryout eggrolls from Chinatown. It is not much of a stretch to imagine that he or she moved to DC and brought the sauce along. Perhaps it got there in the suitcase of one of the great South Side Chicago bluesmen. Perhaps it made the transit with a cook from a Chinese restaurant. However it journeyed from Chicago to DC, within a decade after Argia B. introduced his condiment, something bearing the same name began appearing in DC.
In 2013, Celita R. Ratcliffe-Nash posted told me "I'm a native Washingtonian born 1952 and our family would order wings from Wings 'N Things from 14th and U St. NW with Mumbo Sauce on them. They would be delivered in brown paper bags on plates with white bread. This was in the 1950s and according to my dad who is 83 and his mother who is 101 the man that owned the store came here from Chicago. It was an African-American who owned and ran this store."
Trademark silliness
Did Argia B. trademark his sauce in time to protect it? As near as I can tell it wasn't trademarked until 1999 by his daughter, and now she is trying to make scores of restaurants and bottlers stop using the name Mumbo. She even placed a heavy hand on me for calling the recipe below Mumbo Sauce. No big deal however, my recipe for DC Mumbo Sauce, is very different, and it is a lot more fun, and nobody reading this page could ever consider my recipe to be a recipe for her Chicago Mumbo Sauce or confuse it with a bottled product. So out of respect for old Argia B., I'll just add this ingredient: This article and recipe are in no way affiliated with Select Brands LLC or the Collins family of Chicago, IL, who produce a barbecue sauce called Mumbo Sauce and retain a trademark (No. 2247855) for the term "Mumbo" which may be subject to cancellation because it is generic. So petty.
You can order DC Mumbo sauce
Capital City Mambo Sauce made by Arsha Jones in her Annapolis, MD, home, and you can order it from her website. Just click my link.
Chuck's Wagon BBQ, on Main St. in Upper Marlboro, MD.
Some restaurants sell it by the bottle on premises. Among my favorites is Smokey's at 4714 14th St. NW, Washington DC 20011 in Petworth. She calls hers Mambo Sauce.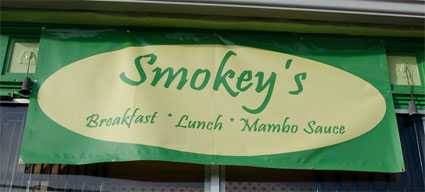 There is no official recipe for Mumbo Sauce, and it varies significantly from joint to joint, so I've created one that has the best features of the best examples I've tasted in the DC area. Try it on fried chicken, fish, or shrimp, or even on eggrolls. I use it on my Grilled Sweet & Sour Pork. Unorthodox as it may sound, it's pretty good on barbecue ribs and pulled pork, too. Thanks to our friend Jason King for the video.
---
---
Makes:
About 2 1/2 cups
Servings:
2-tablespoon servings
---
Takes:
---
Ingredients
4

ounces

tomato paste

(about 1/2 cup)

1

cup

sugar

1

cup

distilled white vinegar

1

cup

pineapple juice

4

teaspoons

soy sauce

1

teaspoon

powdered ginger

¼

teaspoon

hot sauce or more if you wish
Notes:
About the tomato paste. Some places use ketchup. I much prefer it with tomato paste.
About the hot sauce. I use good old fashioned Tabasco Sauce, but you can use Sriracha or whatever you like. This small amount gives it a mild background heat. Taste it and add more if you wish. I am not into really hot sauces, but I usually use 1/2 teaspoon in this recipe.
About the vinegar. You may be tempted to use cider vinegar or something with more flavor, but resist the temptation. Plain old clear distilled vinegar is the right call for this sauce.
Metric conversion:
These recipes were created in US Customary measurements and the conversion to metric is being done by calculations. They should be accurate, but it is possible there could be an error. If you find one, please let us know in the comments at the bottom of the page
Method
Mix and simmer. Mix all the ingredients together in a pot, preferably with a whisk in order to break up clumps of tomato paste and ginger powder. Simmer on low, do not boil, for about 20 minutes to marry the flavors and thicken it a bit. Taste and adjust to your preferences. Like it hotter, be my guest.

Serve. When it is time to serve, you can drizzle it on the food or serve it in a bowl for dipping. Or both. Mambo Sauce can be refrigerated for months. If you've had it in the fridge, toss it in the microwave for 20 seconds or so to take the chill off.
---
Nutrition per Serving
Calories:
53
kcal
|
Carbohydrates:
13
g
|
Protein:
1
g
|
Fat:
1
g
|
Saturated Fat:
1
g
|
Sodium:
114
mg
|
Potassium:
77
mg
|
Fiber:
1
g
|
Sugar:
12
g
|
Vitamin A:
87
IU
|
Vitamin C:
2
mg
|
Calcium:
5
mg
|
Iron:
1
mg