Saturday: The Illinois State Barbecue Championship
Click here to see Part 1 – Thursday & Friday: Going Butt to Butt
Another thunderstorm passes in the middle of Friday night, robbing most cooks of the little sleep for which they hoped. Saturday morning the teams gather in the big tent for biscuits and gravy, sweet rolls, and coffee. Then at 9:20 a.m. sharp, another tradition. A toast with a bottle of Gentleman Jack from Jack Daniel's Distillery, since they all share the goal of getting to The Jack.
The toast is led by Randy Twyford, in the blue overalls, of Twyford BBQ & Catering in Jacksonville, IL. He rambles on with inside jokes that the audience either recites with him or chortles aloud to them, and then he hoists his glass and thanks "the farmers who grow the beautiful corn to feed the beautiful pigs and cows so we can burn their asses!" Somewhere a vegan's soy milk is curdling.
Many of the teams join in the ritual toast. Skip it at the risk of bad luck. Weaver skips it in order to take care of her pork butts and briskets. Darren Warth of Iowa's Smokey D's BBQ, in red, will be glad he did not miss it.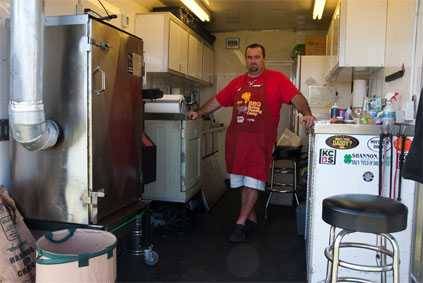 I wander the grounds to visit the cooks and check out their rigs. The storms are gone and Saturday turns sunny, cloudless, in the 80s, and a gentle humid breeze spreads the sweet smell of fruit wood smoke, caramelizing meat, and roasting spices across the outfield.
Warth's motor home has a pretty complete competition kitchen with an FEC 100, sink, refrigerator, cabinets, and air conditioned sleeping quarters up front. Warth, from Des Moines, IA, has a restaurant and catering service, so his team bears its name, Iowa's Smokey D's BBQ. He and his wife even bring along a little poofy dog named Swiffer. "You've gotta get outta the elements and be comfortable to concentrate if you hope to win," he winks. "Especially if you're gonna do it every weekend." And he does do it almost every weekend during warm weather, entering 20 to 22 events a year. "It's addictive. It's our cocaine."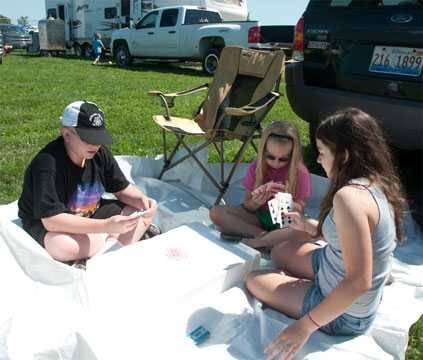 Many of the teams like to think that what they do is a traditional form of cooking and see themselves as purists keeping the flame of classic low and slow Southern barbecue alive in America. It is a cooking style that evolved from pre-Columbian Caribbean natives who slow smoked fish and iguanas on a wooden rack called a barbecoa. It was taken to the next level by Southern slaves who smoked cheap cuts of tough meat on racks over pits dug in the ground. Before long concrete and brick pits grew above ground and the barbecue restaurant was invented.
In the mid 20th century barbecue became portable when Texas oil workers made large tubular "pits" on wheels by cutting oil barrels, pipes, and propane tanks in half and welding them to boat trailers. Mix pickup trucks with trailers, fire, steel, meat, and testosterone, and you can begin to understand the popularity of the modern barbecue competition.
As barbecue selling moved out from under shade trees and into restaurants, the smokers got high tech, with gas burners and thermostats. In Shannon one high tech team even has a T-shirt bragging that they are keeping the flame of traditional barbecue alive. It's pretty hard to call an FEC 100 or an Ole Hickory Pit or a Southern Pride Smoker traditional. Something else has changed. Although this is supposed to be an outdoor sport, with the advent of the trailers and RVs, there is plenty of pale skin on display, and although this is a competition, there are not many athletic body types.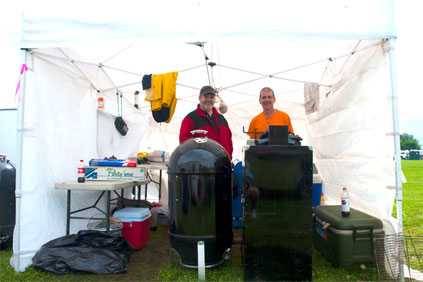 Not everyone has a fancy schmancy smoker. Mike Flach of Weekend Smokers in St. Louis, MO, won last year's Butt to Butt. This year he teamed with his friend Merrill Powers of Elmhurst, IL, and cooked with a $400 Weber Smokey Mountain and a slightly more expensive Backwoods Smoker, both low tech but highly regarded charcoal smokers. During the storm Thursday night Powers posted this online: "Mr. Flach and I are sitting in a corn field with pouring rain and lightning crashing around us. The water is building and we will soon be cooking in a mud hole. This competition thing sounds like a lot of fun." I asked Flach if it was worth the time, gas money, charcoal, meat, entry fee, and other costs. "I often wonder why I gave up golf and fishing for this" he reples. "Then I get an 89¢ Walmart ribbon and, YA HA! 4th Place! Where's the next competition?"
As the morning progresses, Weaver is still in her trailer preparing her chicken. She marinates thighs for about an hour. Nobody does breasts anymore. They're too easy to overcook and dry out. Many cooks now poach their thighs in butter and then finish them on a hot grill. So much for traditional barbecue. Chicken is the first category to be judged and turn-in is at noon. Then come ribs 30 minutes later, pork butt, and beef brisket, each in rapid fire, separated by only 30 minutes. Weaver is moving quickly, methodically, and smoothly, with steps well practiced and synched to her nagging alarm clock.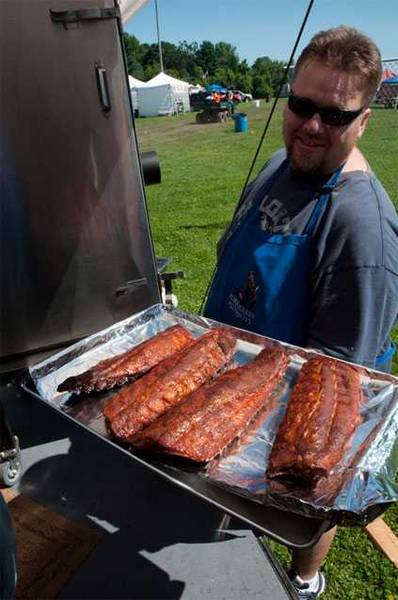 Noon arrives and Weaver's chicken goes to the judges. She is pleased with her effort. It has been her best category lately. But there is no time to pat her own back. Ribs are due in 30 minutes, and if you are a minute late you are disqualified.
For the first time in years, Weaver chooses to submit baby back ribs. Usually she, like many other cooks, prefer to use trimmed spareribs cut into what are called St. Louis Cut (SLC) style ribs. They are meatier, fattier, and richer. For the heck of it she cooked some SLC, and later, after her baby backs are sent to the tent, she compares the two and moans "I turned in the wrong ribs."
Just before turn-in, Johns wanders over to Weaver's trailer and shows off his baby backs. She is impressed. As he walks back to his trailer she shouts "Good luck!" and under her breath wistfully mutters "Not that you'll need it." Pictures of her ribs and brisket presentations are above, but she will not let me show you how she plates her chicken and pork.
Mike and Theresa Lake and their friend Caroline Smith run this competition, and they have managed to round up 60 volunteer judges, 90% of whom have taken a class in judging and have taken a class that earned them the Certified Barbecue Judge (CBJ) moniker. They sit at tables in the big tent on the grounds and nibble on six entries for each category. In three hours they will take at least 30 bites of meat if they take only one bite of each sample. Most take 2 to 3 bites, and some cannot resist stripping a rib bare.
Alas, the weakness of the system is that there is no taste-off between the top scoring entries, so if one table has a couple of stingy judges who got up on the wrong side of the bed, or too many rookie judges, a contender is easily eliminated. In cheese and wine competitions there are usually tasteoffs where the top scoring entries go head-to-head, a much fairer system. But ribs get cold and dry in a hurry so nobody has devised an effective tasteoff system yet. Still, some teams seem to always be near the top.
And the winners are…

When the smoke has cleared, and this is the only appropriate time for a writer to use that particular cliché, the teams pull up their lawn chairs in front of the tent and Mike Lake calls out the winners, starting with fifth place. As they stride to the podium there are high fives, teasing, and cat calls from the gallery. Some teams accumulate multiple "calls" and you begin to sense a trend.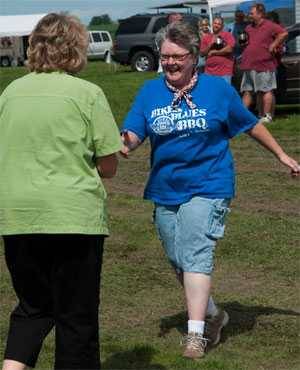 Weaver is called for fourth place in chicken and as she gets her ribbon she shouts "Gas money!" The crowd cracks up. She finishes 13th overall out of 55 teams, 36th in ribs, 8th in pork, and 19th in brisket.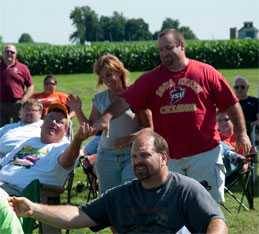 Darren and Sherry Warth of Iowa's Smokey D's BBQ win Grand Champion by finishing 3rd in chicken, 25th in ribs, 1st in pork, and 2nd in brisket. That puts their winnings at $3,100. Good thing they went to the Saturday morning toast. They burn BBQr's Delight pellets in an FEC 100, so Weaver can celebrate her customers' victories in both Butt to Butt and ISBC.
Second place, called "Reserve Grand Champion", was Ron Lewen of Captain Ron's Brew-n-Que from Batavia, IL. Scott Johnson's Cancersuckschicago.com finished 3rd overall. Todd Johns' Pork Pullin Plowboys came in 5th so he's glad he didn't fold after winning Butt to Butt. Randy Twyford, the toastmaster, came in 6th, and Mike Flach's Weekend Smokers, last year's Butt to Butt winner, is 35th.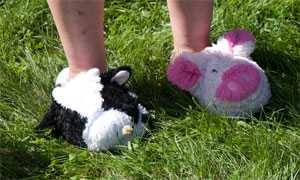 When cleanup is mostly done, at about 6 p.m., the Lakes invite the teams to their home a few blocks away for pizza, drinks, neighbor-made pies, and tale swapping. The cooks are clearly relaxed and enjoying the decidedly non-corporate management team's hospitality, but Weaver is restless to hit the road. "Ahm tahrd" she sighs. She has a room reserved 170 miles away and she is looking forward to truckin' to The Beach Boys, Smiley Smile, Bon Jovi, and Poco. And to leaving a ring in the motel hot tub.
Before she can go, there is another tradition to be honored, Theresa Lake offers a toast and everyone passes and drinks from the same bottle, unafraid of swine flu or anything porcine.