Grilling great steaks is a point of pride for most outdoor cooks. In fact, you have likely taken your game up several notches thanks to our "How to Grill a Better Than Steakhouse Steak" article and recipe found here.
But the true test of one's talent is one of the countless steak cooking contests held each year across the country and around the world. Founded in 2013, the Steak Cookoff Association ("SCA"), is arguably responsible for bringing these contests to the forefront and provides the framework for organizers looking to host their own contests including rules, judging criteria, etc.
Beyond bragging rights, what is the appeal of steak cookoff competitions? Last year I decided to find out what all of the fuss was about by entering my very first SCA sanctioned contest in Memphis. From the jump, I could see why so many current and former BBQ competitors have fallen in love with steak cookoffs.
First, the entry fee for the SCA contest was fairly reasonable at $150 (though entry fees and prize money vary depending on organizer) including the steaks provided by SCA. Compare that to a typical BBQ contest where fees can run you $200-350 for entry alone plus several hundred more for meat. For example, many of the top teams today drop $200+ for a gold grade Wagyu brisket just to get 6-8 slices for the turn-in box.
Second, this was a one-day affair so I wasn't losing my entire weekend to a contest (not to mention countless hours spent beforehand prepping meats, packing the trailer, etc.).
Lastly, everything I needed to compete fit in the back of my car versus a multi-day BBQ event that usually required a trailer for multiple cookers, canopies, and so much more. For the steak cookoff, my equipment list included:
One charcoal grill (I used a Weber kettle but those in-the-know swear by PK Grills, Hasty Bake, or M Grills for steak cookoffs)
A couple chunks of smoking wood (I used cherry for EVERYTHING)
A single bag of charcoal (after all, I'm only cooking 2 steaks real hot and real fast)
A 10×10 canopy (optional but it was a really sunny day),
GrillGrates (another "must" according to the steak cookoff pros; more on this in a bit)
Kitchen tools including scissors, a paring knife, and tongs
A 4-foot folding table
A small cooler for the steaks
A second cooler with some beverages
Kitchen twine
Seasoning for the steaks
And some Irish butter to finish the steaks
Like what you're reading? Click here to get Smoke Signals, our free monthly email that tells you about new articles, recipes, product reviews, science, myth-busting, and more. Be Amazing!
With the car packed it was off to the contest. Once I arrived, it only took a couple minutes to get set up, giving me plenty of time to say hi to some old friends before it was time to select our steaks during the 10am cooks' meeting. After the head judge went through the SCA rules, each team drew a number out of a bag to determine the order in which steaks would be selected. In front of us were two tables filled with beautiful boneless ribeyes approximately 1 1/4 inches thick (steaks used in SCA contests are at least 1 1/8 inches thick and are prime or choice grade). Going in order, teams were allowed to select their two favorite steaks based on thickness, overall shape, marbling, and hard fat.
After my steaks were selected (roughly in the middle of the pack), I took them back to my site and began prepping them. This included removing any remaining silver skin; trimming off a little of the hard fat; tying twine around the steak horizontally to create a more uniform shape so the steak cooks evenly (this is a trick I picked up from another competitor while doing some advanced research); and seasoning the steak with a simple rub consisting of kosher salt, ground black pepper, onion powder, garlic powder, and a little paprika for color. Normally I would add some porcini mushroom powder as well for a hit of umami, but after many years on the competition BBQ circuit I learned that there is a reason teams tend to paint within the lines and with the same boring colors – because creativity rarely wins! I then placed the steaks in the cooler until ready to cook. Since the turn-in window didn't open for a few hours (2:00-2:30pm), I had even more time to kick back and enjoy the company of my fellow cooks (a very special shoutout to my friend Seth Agranov for his competition steak photos used in this article).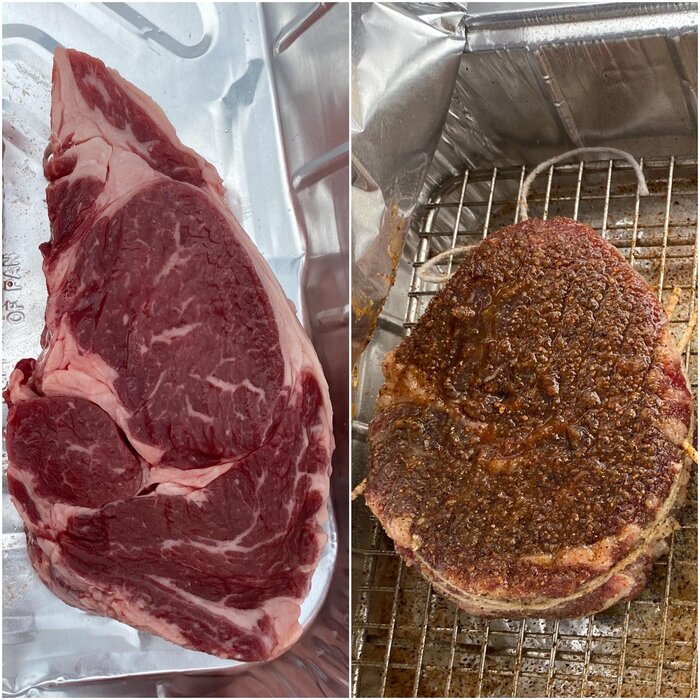 At 1pm I got the charcoal going. Once it was ashed over I set up the grill for 2-zone cooking, placing the pre-heated briquets on one side of the grill's charcoal grate and leaving the other side empty. I then added 2 chunks of smoking wood on the charcoal, added the main grill grate, then placed my GrillGrates on the hot side. While normally I would use the flat bottom of the GrillGrates for cooking steak as that allows me to get more browning and flavor across the entire surface of the meat, I was informed ahead of time by my unnamed mentor that judges actually prefer to see crosshatch grill marks that GrillGrates do so perfectly when used as originally designed. Click here to read more about browning, flavor and the myth of grill marks.
At about 1:40pm, I added the steaks to the cool side of the grill to begin the reverse sear cooking process. Once the steaks reached an internal temperature of 115°F, I removed them and got the grill as hot as possible before searing the steak on the GrillGrates, rotating 1/4 turn halfway through on each side for the perfect diamond pattern. On the advice of my mentor, I did something I would NEVER do at home…I cooked the steak to 135°F for a perfect medium which like the crosshatching is what the judges are looking for. (Click here to read more about steak doneness temperatures.) Once the two steaks were done, I gently removed the twine then brushed them with softened unsalted Irish butter. About 5 minutes from the close of the turn-in window (I am notorious for turning food in during the very last seconds of the window), I selected the best of the two steaks and placed it on a round silver disk in a Styrofoam clamshell. Note that competitors are not allowed to do any trimming or slicing once the steak is cooked — it must be turned in whole (you can see the entire set of SCA rules here). Steaks are then judged blindly (i.e. there are only randomized numbers on the Styrofoam box so judges cannot tell which team turned in which steak) based on Appearance, Doneness (Medium), Taste, Texture and Overall Impression. Steaks can be disqualified if there are any foreign objects like a piece of twine in the box, if it is turned in after the turn-in window has closed, or if the steak turned in isn't one of the ones distributed by the organizers.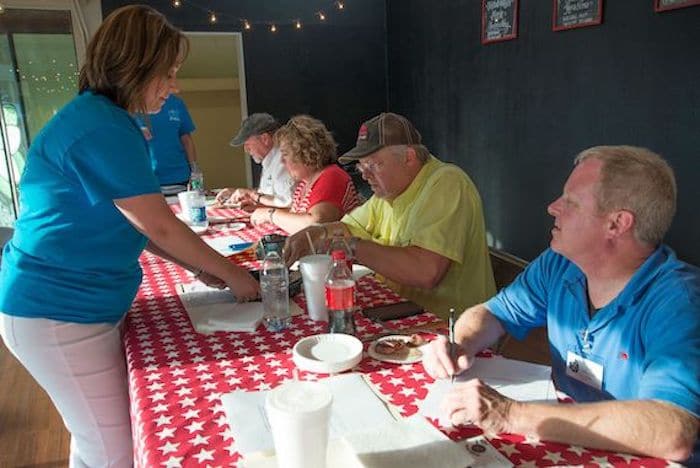 Once my steak was dropped off at the judges table, all that was left to do was to repack the car and wait for awards.
At roughly 5pm everyone gathered for the awards ceremony and after trophies and checks were distributed for 2 ancillary categories that I did not enter (wings and dessert), the organizer called out steak winners from 10th place down to 1st. Suffice to say, I did not hear my team's name called but I did learn that not only did the first place winner get a nice check and trophy, they received a "golden ticket" that allows them to compete at the SCA World Championship, the largest steak cookoff in the world held each year in Fort Worth, TX (you can learn more about it here).
A few minutes later we each received a score sheet revealing all the team scores and everyone set off to unwind at home and start strategizing for their next SCA contest. It turns out I actually placed a very respectable 12th out of 34 teams.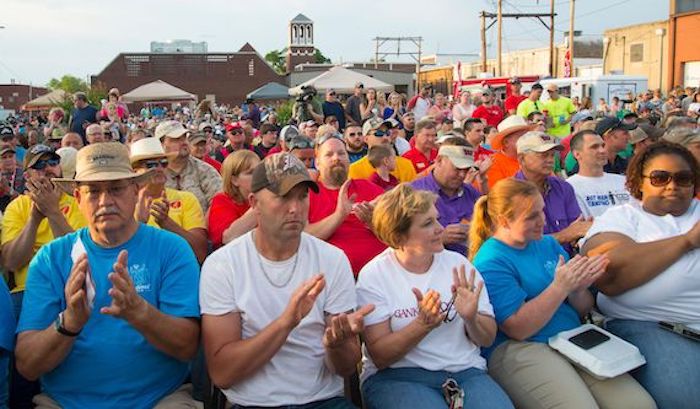 While I have yet to do another SCA contest, I definitely understand why so many folks can't get enough of them. Steak cookoffs are relatively inexpensive, fun, and done in a single day. If you have always been intrigued by the world of competition cooking but are apprehensive to put the time and money into a multi-day BBQ contest, I would whole heartedly suggest giving one of these steak cookoffs a shot. You can find all upcoming contests here or SCA provides the tools necessary to actually organize your own!
Up your game: Join our Pitmaster Club. Try it out for free for 30 days. No credit card is needed. No spam. Join now and Be Amazing!
Finally, if you have done a steak cookoff and have your own tips on how to turn in a winning entry, definitely feel free to post them below for future first timers to consider.