For years I had been told by neighbors, family, and friends that my barbecue was second to none. The praise was so compelling that when I heard of a local BBQ contest, I had every reason to believe that I would take the top prize just by showing up.
I entered that first competition in 2007 and much to my chagrin placed near the bottom of the pack in all four categories. I also dropped $1,200 on equipment, food, and entry fees.
I have since hurled myself deep into the subculture of competition BBQ and met hundreds of addicted, well-seasoned competitors skilled in this most American culinary art. There are several competitions every weekend around the nation (and even a few in Europe), and competitors pack their gear into trucks, trailers, and mobile homes, gravitating to the contests with top dollar prizes, some as much as $50,000.
Some competitors haul "pits" the size of sofas. Others cook on steel barrels. They schlep knives, cutting boards, spices, sauces, beer, charcoal, tents, logs, work tables, thermometers, rain gear, boom boxes, lawn chairs, and of course, meats. Some competitors arrive on site with huge portable kitchens like the one shown here.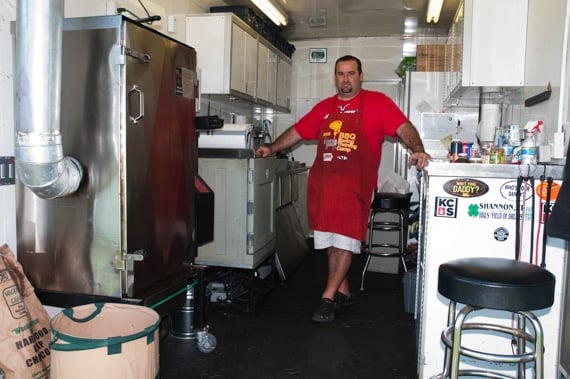 Others get the job done with less elaborate setups.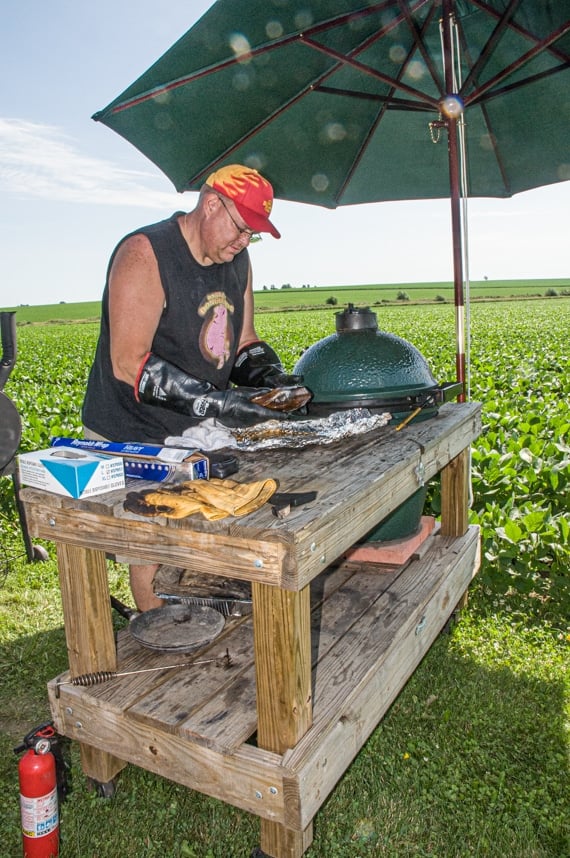 The Kansas City Barbeque Society (KCBS) is the sport's largest sanctioning body, helping to organize more than 500 contests a year. KCBS events consist of four categories – chicken, pork butt, pork ribs, and beef brisket – with each entry submitted to the judges 30 minutes apart in identical styrofoam boxes like this box full of brisket slices and hunks of "burnt ends".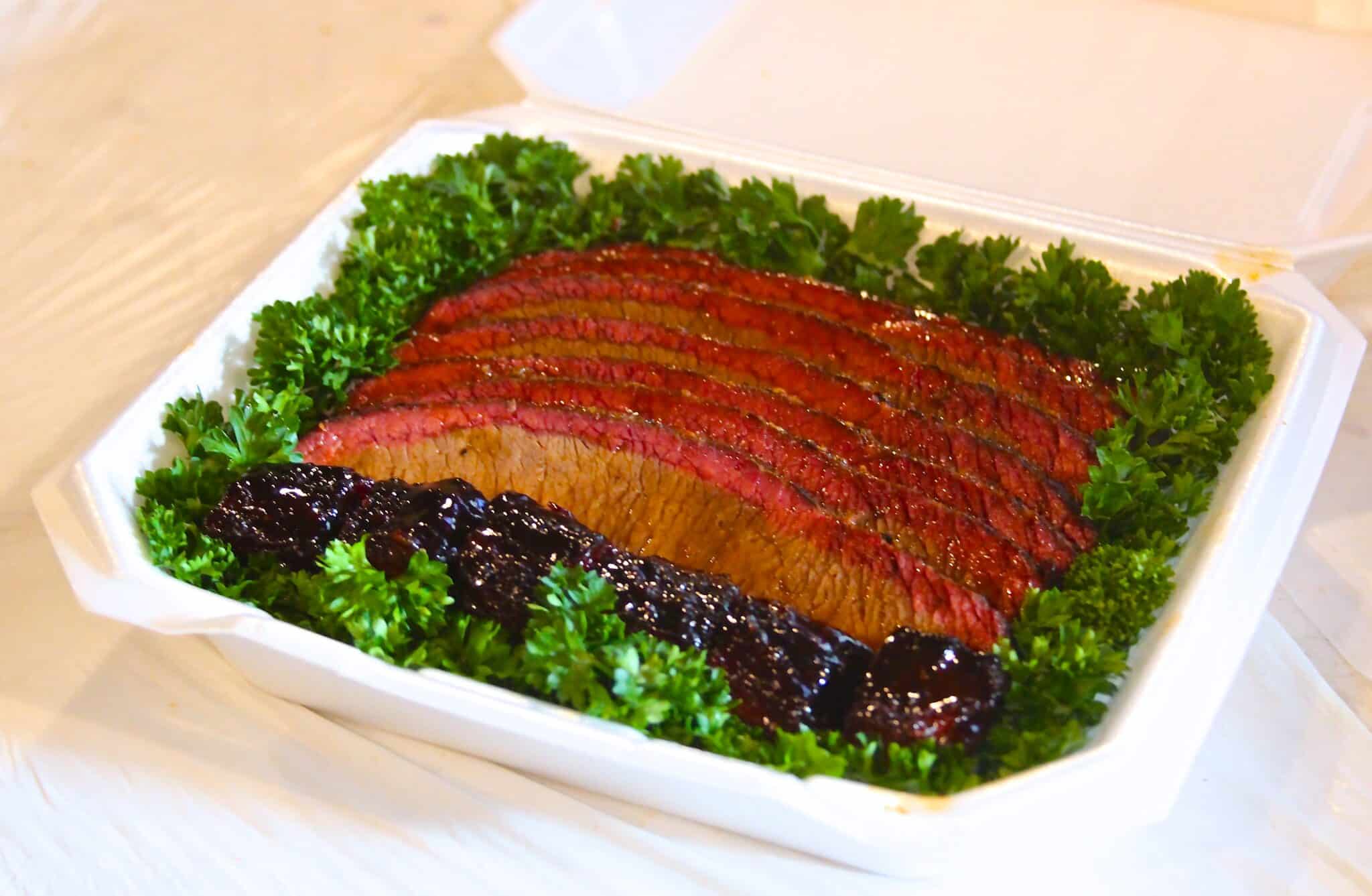 Judges then rate each entry based on the meat's overall appearance, taste, and tenderness. Scores are tallied and winners are named in each category. The team with the highest overall score is named Grand Champion. There are at least a dozen other smaller sanctioning bodies as well as local community sponsored events, bringing the total to perhaps 1,000 events per year.
While the blowout loss in my first contest should have been the end of my competition career, it actually left me wanting to do more contests so I could prove to the masses that I do indeed have mad BBQ skills. Today, you can choose from hundreds of pricey competition BBQ classes to up your game, but back then there was no single resource for enhancing my skills.
Instead, I based most of my recipe tweaks on what I'd read on the internet (such as the discussions in the AmazingRibs.com Pitmaster Club) along with tips from seasoned competitors at different contests. I learned that, while competition cooks are rivals, they act more like a family that shares advice and lends a helping hand when needed. By far, the most informative lessons I learned came taking from the KCBS judging class and then judging a few contests.
In the judging class, I learned why fall-off-the-bone tender ribs scored low, what the perfect pull looks like on a slice of brisket, how cooking anything other than chicken thighs in the chicken category almost always guarantees a loss, and what the "money muscle" is on a pork butt. After judging a few contests, I was able to put those lessons to good use.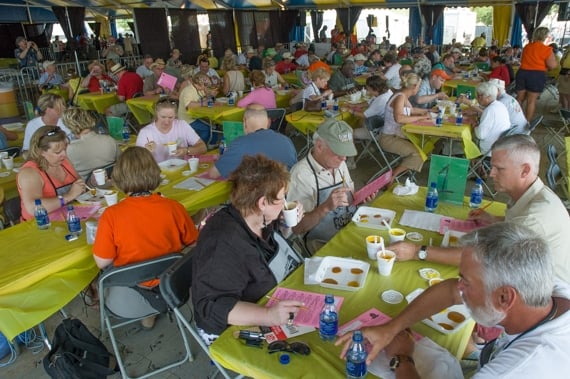 Recently, I went even deeper into the subculture. I became one of only a handful of people to judge four of the country's most prestigious BBQ contests in a single year: the Memphis in May World Championship Barbecue Cooking Contest, the American Royal World Series of Barbecue, the Jack Daniel's World Championship Invitational Barbecue, and a newcomer, the Smokin' With Smithfield National Barbecue Championship. Each unique in its own way, these contests reveal just how large the divide can be between entries from newbies and those from grizzled veterans.
At The Royal, it's ribs, chicken, pork, and brisket
The American Royal World Series of Barbecue (a.k.a. The Royal) is a KCBS-sanctioned event featuring two separate contests: an invitational contest held the first day for roughly 200 of the year's top winning teams, followed by an open event the next day featuring over 400 teams of various skill levels. With more than 600 competitors overall, the Royal is huge.
My visit was rather last minute, so I was only able to secure a spot judging the open contest. After the contest's founder, Ardie Davis (a.k.a. Remus Powers, shown below), had sworn in a few hundred judges, I took a seat and prepared to judge ribs, chicken, pork butt, and brisket. I won't comment on all 30+ entries I tasted that day, but I will say that it was eye-opening to see some truly remarkable meats served right next to ones that weren't fit for a dog.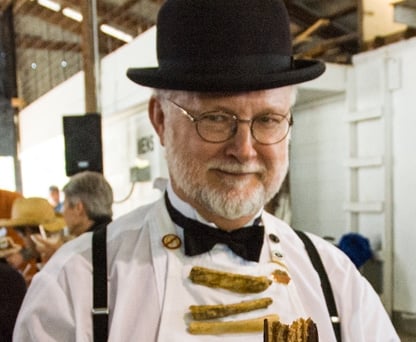 For a KCBS contest such as this, meats are submitted in identical styrofoam boxes with only a random number on each box. The pork turn-in box shown here has three versions of meat from the pork butt: the "money muscle" (left), pulled pork (center), and sliced pork (right).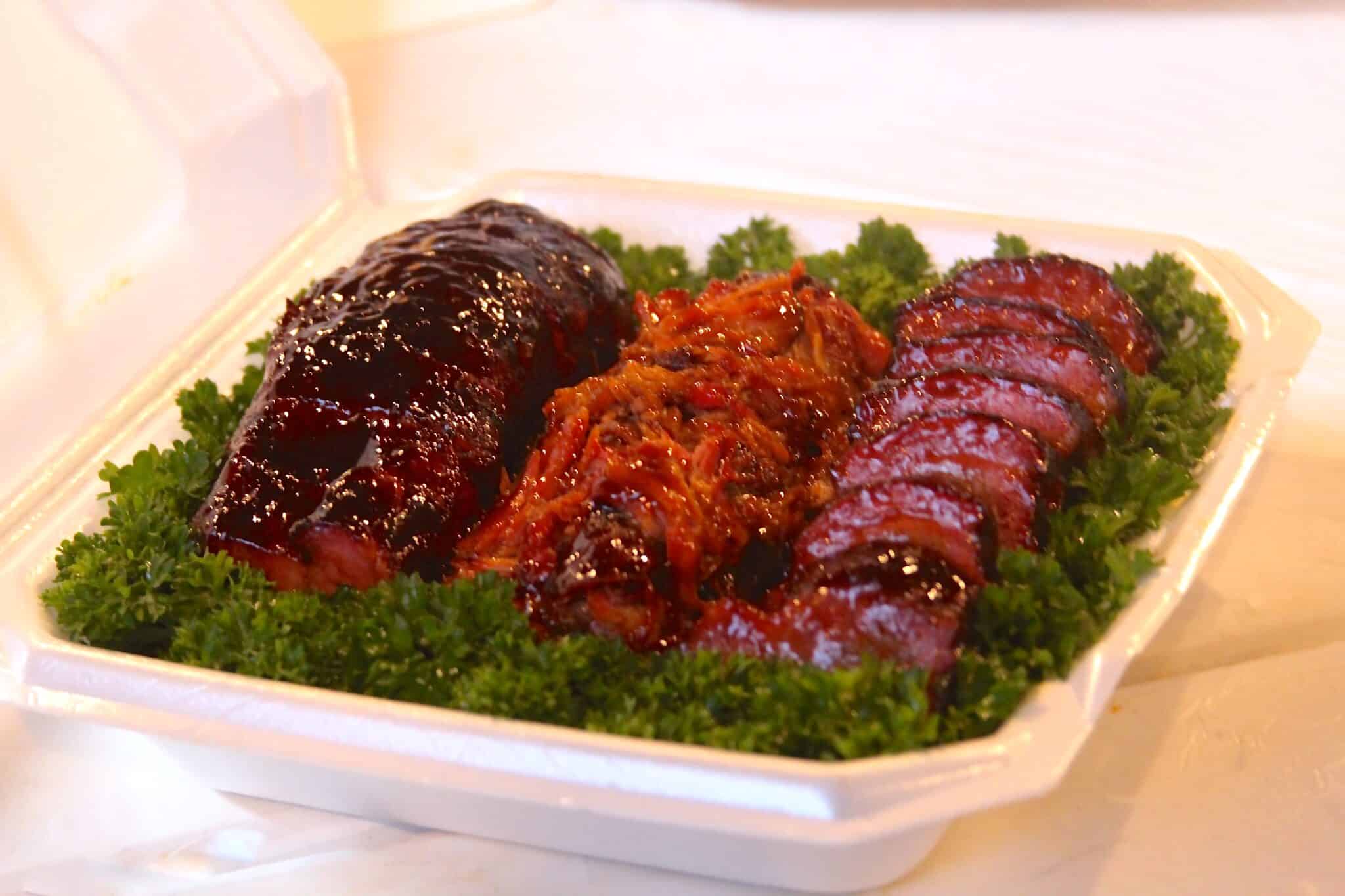 Entries are judged on appearance, taste, and tenderness, and the scoring system is from 1 to 9 with 9 being excellent, 8 very good, 7 above average, 6 average, 5 below average, 4 poor, 3 bad, and 2 inedible. A 1 is given in rare instances for a marked turn-in container, foreign object in the container, incorrect meat, sculptured meat (such as a smiley face or other decorative shape), or if a judge doesn't receive a sample to judge because not enough pieces were in the box.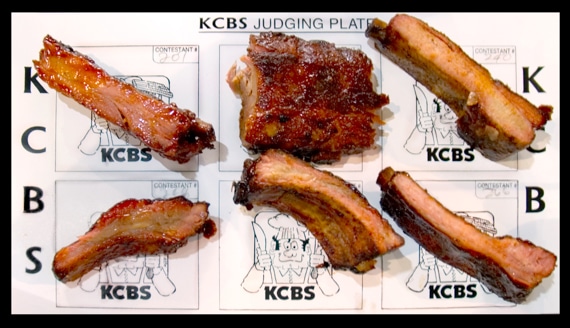 The truly exceptional entries feature meats that are pleasing to the eye, moist, tender, and flavorful. For chicken (usually bone-in, skin-on thighs), one key to competition success is creating chicken skin that bites through easily without being flabby and chewy. For ribs, the judges want to be able to take a clean bite: when bitten, the meat should expose the bone only where you take the bite versus all of the meat easily sliding off of the bone. For pork butt (shoulder or picnic), judges try a bit of everything presented in the box, including some combination of pulled meat, chunks, and/or sliced money muscle. Finally, for brisket, judges are looking for slices that require a slight tug when pulled from both ends, rather than slices that completely fall apart when tugged. Ideally, each slice of brisket will be roughly the width of a pencil (about 1/4 inch). Thinner slices usually mean that the meat is undercooked and tough. Thicker slices usually mean that the team is trying to hide the fact that the brisket is overdone and falling apart. If you present brisket burnt ends, those nuggets of meat that are crunchy on the surface and marshmallow-tender inside, the judges will be delighted. It takes skill to properly cook and present such a variety of meats so that each bite taken by the judges is juicy, flavorful, and tender but not falling apart. Do note, however, that if you put it in the box, then judges must factor it in to their scores. If your money muscle or your burnt ends are not delicious, you are probably better off leaving them out of the box.
At the end of that day at The Royal, the diversity of foods presented to judges really helped me understand what it takes to go from a middle-of-the-pack team to a top three finisher.
Pork rules at Memphis in May
For the Memphis in May contest, teams compete in one (and only one) of three pork categories (ribs, whole pork shoulder, and whole hog). This is one of the few competitions that challenges cooks to present a whole hog. Competitors are also invited to compete in a variety of ancillary categories, such as beef, sauces (mustard, vinegar, and tomato), hot wings, and exotic.

Entries are judged twice: first in an unmarked turn-in box, and then again as formal presentations to judges by the cooks in their assigned cooking sites that the cooks often doll up to look like anything from a restaurant to a dining room.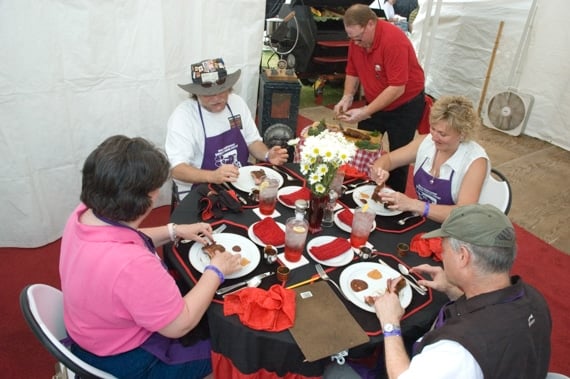 Each judge is assigned to either blind judge one of the main categories or to do on-site judging. I was assigned to judge the Patio Porkers category, mostly rookie backyard cooks.
When the entries arrived, I was seated with four other judges and had to critique rib entries based on appearance, tenderness, flavor, and overall impression. For ribs, the go-to cut for most successful teams is baby back ribs presented in two-bone portions so that the judges can test the tenderness by pulling the bones apart. Of the five entries I judged, one was completely dry and flavorless; two were fall-off-the-bone tender (again, not a good thing in competition BBQ); and two were full of flavor and had the perfect bite. Unfortunately, as I debated which of the two top-notch entries would receive my sole score of 10 for overall impression, two of the other judges at my table began heaping praise on the two fall-off-the-bone (i.e. overcooked) rib entries.
"Oh, these remind me of those amazing Chili's baby back ribs…" I heard one of them say. That may not be a direct quote, but it's pretty close. Regardless, the fact that my fellow judges awarded their top scores to these overcooked ribs did not sit well with me. As someone who understands firsthand how difficult it is for rib competitors to hit the perfect doneness mark between undercooked and overcooked, I was dismayed to see how easily all of that practice, money, and hard work could be flushed down the toilet thanks to a couple judges who had been brainwashed by a chain restaurant's catchy advertising jingle for overcooked ribs. On the plus side, I now have Chili's to blame the next time my own ribs bomb at a contest!
Memphis in May has a party atmosphere that rivals, and sometimes surpasses, the large parties at the Royal and the Houston Livestock and Rodeo Bar-B-Que Contest. In Memphis, you'll see two-story corporate-sponsored sites hosting blowout invite-only parties on Thursday night. They play host to "friends and family" parties on Wednesday night, and there are parties on Friday night, too, but Friday's parties tend to be smaller because the teams are getting serious about preparing their entries for the main contest on Saturday morning.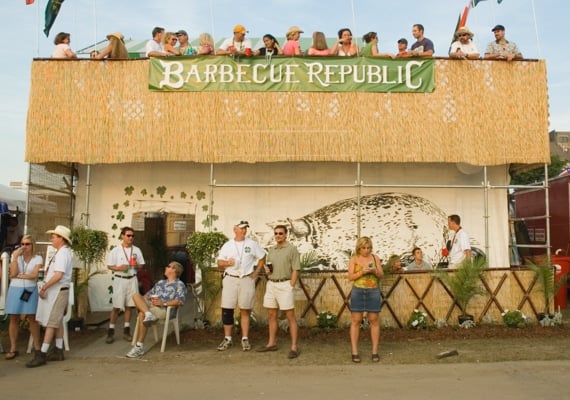 At many events, the awards ceremony at the end of the contest kicks off yet another party.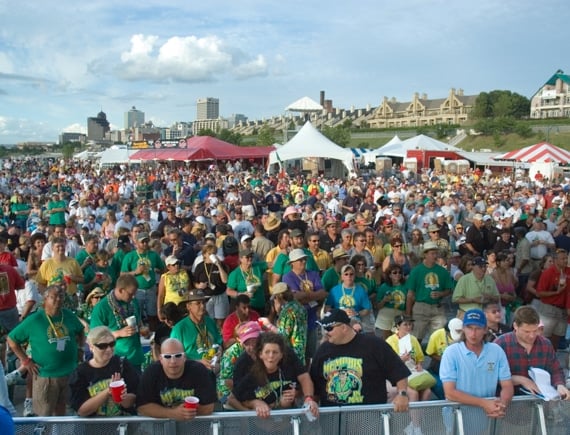 The best-of-the-best assemble at "The Jack"
The next stop on my journey that year was the Jack Daniel's World Championship Invitational Barbecue. It was the fifth time I had judged the Jack. As with the Royal, only the year's top teams are invited to compete, and there is at least one team from each state, along with a handful of international teams for a total of roughly 200 competitors.
Judging not only includes the four standard KCBS categories judged at The Royal (ribs, chicken, pork butt, and brisket) but also BBQ sauce, dessert, and chef's choice. Here's a grilled, chocolate glazed pear entered at the Jack.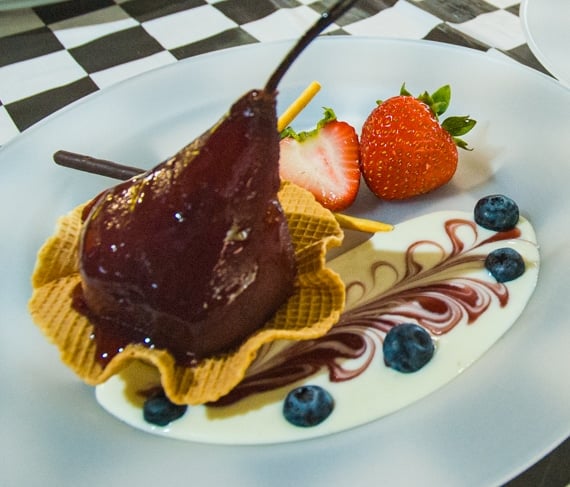 For chef's choice, anything goes and the presentations can get pretty elaborate. Grilled filet mignon wrapped in bacon with grilled veggies anyone?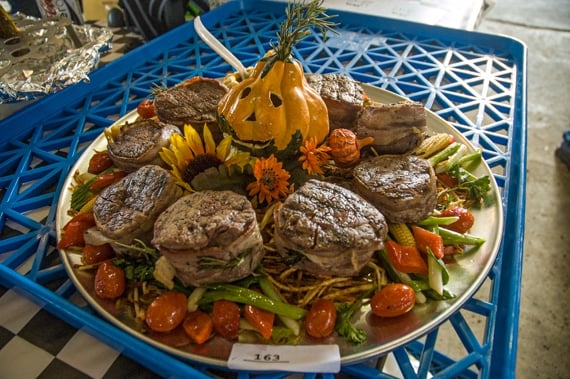 As a result, we end up tasting about 40 entries by the end of the day. What makes judging the Jack even more difficult is the fact that the competitors are all champions from other events. There are no subpar teams, and virtually everything submitted is a tender, smoky, and flavorful testament to the hard work that goes into being a top pitmaster. It's important to note that, while the ancillary categories are fun to look at and a pleasure to judge, only the four primary KCBS categories are factored in when determining the Grand Champion of the Jack.
The new kid on the block: Smokin' With Smithfield
There's an exciting new BBQ contest to add to the big three mentioned above. In November 2019, I had the pleasure of judging the inaugural Smokin' With Smithfield National Barbecue Championship in New Orleans, a high stakes showdown between several of the year's top teams from various competition BBQ sanctioning bodies. It's the Pro Bowl of the BBQ world.
This national championship is a three-day, single elimination cook-off, starting with 24 teams on day one that get whittled down to 12 teams on day two and then to six final competitors on day three. Other competitions let teams bring their own meats, and many teams invest in super premium products like wagyu brisket. But Smokin' with Smithfield supplies teams with all their competition meats to put everyone on a level playing field.
For the actual judging, Smokin' with Smithfield scores are given on a 1 to 12 scale for presentation, flavor, and texture, with 12 being pure perfection. Then, after giving a score of 1 to 12 for each entry in each category (chicken, ribs, pork, and brisket), the judges rank the six finalists in each category, giving each competitor's entry a score of 1 (best) to 6 (worst). In any given category, the judges have to carefully taste, study, and consider each entry to determine how it compares to the other five entries being judged. I can tell you it was hard!
Although it took extra effort, I do think that the Smokin' with Smithfield format is an overall improvement in judging. The addition of rankings to the judging process, the fact that all meats were supplied to teams, and the elimination rounds over three days all helped to ensure that the most talented team of the weekend walked away as Grand Champion. However, in that first year, they almost didn't! There was a brief snafu and the results that got announced were wrong! The scorekeeping error was quickly discovered, and in the end, the Grand Champion award did go to the correct winner.
Competition BBQ is different than backyard BBQ
I've learned quite a bit since my first disappointing foray into competition BBQ back in 2007. Judging all four of the major US contests was a revelation. If you are new to competition BBQ or looking for tips and techniques to better your scores, start by judging a few BBQ contests. Before you judge, you are usually required to take a judging class, and then you get to taste some amazing food. The more you judge, the more discerning you get, and hopefully you will do a better job than the "fall-off-the-bone" folks I judged with in Memphis.
After tasting dozens of entries, you will certainly notice at least one thing: Most competition BBQ tastes very different from what you experience in a restaurant or in a backyard. Entries for competition tend to be flavored very intensely to make sure that the one or two bites taken by a judge really pop. To stand out, teams employ a wide variety of tricks from bathing ribs in margarine and brown sugar to pumping meats full of moisture and flavor enhancers.
While they weren't available when I started competing, I highly recommend you take a competition cooking class like the one shown below. Note that the guy with the camera between his hands is BBQ restaurateur "Famous Dave" himself.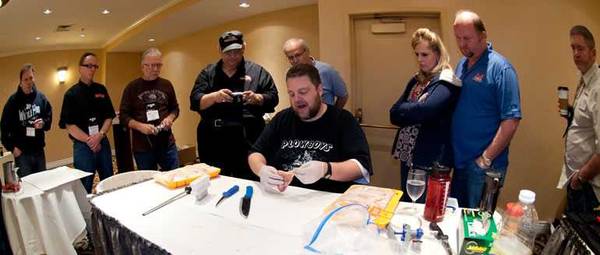 Even if you don't plan to compete or to judge, barbecue competitions are fun to attend. They're a glorious display of Americana, and the air is heavy with irresistible aromas. Just don't go expecting to taste. The teams are way too preoccupied with their contest entries, and they can't afford to cook enough food for the public, not to mention complying with all the local health laws and restrictions. But go anyway. The sights and smells are worth it. If you are in search of the real America, you'll find a taste of it at a barbecue competition.
Click here for more info about competition barbecue and award-winning recipes for ribs, chicken, and brisket.
(Clint Cantwell rib photo courtesy of KCBS. All other photos courtesy of Meathead.)