So you've decided to enter your first BBQ contest. Good choice! You've probably seen some or all of the seven "BBQ Pitmasters" seasons. You may have even attended a few contests, watching intently as the teams smoke their meats and prep them for the judges.
It starts out innocently enough, requiring only a completed application form, a check, and a team name. Now the game gets real. Cooking BBQ in your backyard is one thing. It's a relatively simple task, preparing the meats in an air-conditioned kitchen, throwing them on the smoker, and checking on them now and then while you relax comfortably on the couch or in your bed until they are ready to serve.
Now, imagine doing all of that in the middle of some random field. There are so many things you might need. Suddenly you're throwing anything and everything you can think of into the car or rental truck. What if it gets super hot? What if it rains? What if the power goes out during the overnight cook? What if you suddenly need that crystal candy dish that's been sitting in a box at the back of the closet ever since your great aunt gave it to you 20 years ago? That last one might sound ridiculous, but that's how your mind works when you're trying to be prepared for anything and everything that might be thrown at you at a BBQ contest.
To help ease the packing process, I consulted my longtime friend and fellow BBQ competitor, George Hensler. George sent along the following checklist of items you'll need to bring for your first contest. The list first appeared in George's amazing book Startin' the Fire: Everything You Need to Know About Starting a Competition BBQ Team. Hilarious as it is thorough, this book is a must-read for everyone, regardless of your competition BBQ skill level.
You can learn more about George and Startin' the Fire on our cookbook and magazine review page here.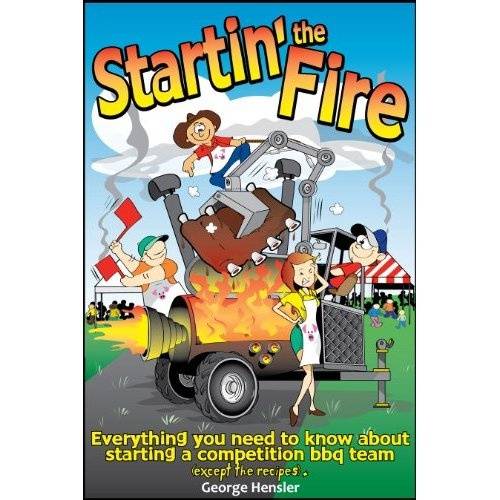 COMPETITION BBQ CHECK LIST
(An excerpt from Startin' the Fire by George Hensler)
Make your lists and check them twice. Go over your lists and begin to gather the needed supplies and equipment. (see item list) Try to gather gradually, to lessen the financial impact on your wallet. There are numerous BBQ supply stores on the internet. Charcoal, wood chunks, rubs and sauces can all be ordered online if you do not have a source nearby. You could do a Google search or my suggestion would be www.hawgeyesbbq.com. They have a great selection and offer fast service.
Some of the equipment you may already have. Some can serve double duty between the home kitchen and the contest box, but I would suggest keeping this arrangement to a minimum. It never fails: when you get to the contest, the needed item is back home in the kitchen. Keep items devoted to BBQ in the contest box whenever possible.
I suggest keeping a list of contest items in the front of your contest notebook. It is also a good idea to keep a running list while at the contests. In it, you can note if you discover an item you would like to bring along next time. If you empty a jar of rub, make a note to purchase a fresh supply before the next event. It is also a good idea to look around and make sure everything you are bringing is actually needed and is used. If you find that an item is not useful, leave it home and lighten the load.
Stay organized. Try and keep your site as neat and organized as possible. It is much easier to work in a neat kitchen. It is also much safer. Plastic tubs with lids make great storage containers and can be stacked on top of each other. They also provide a dry area when the lids are used. Organize your supplies into their own storage container. Labeling the boxes helps with locating an item and is also convenient for returning them to their proper place when you are finished.
Make provisions for comfort. Most contests involve an overnight stay. Unless you are very skilled, lucky, or carefree, someone from the team will be staying near the cooker during the overnight hours. Make sure you have a cot, sleeping bag and pillow to facilitate at least a modicum of rest.
Another item to be sure to keep on hand is a well-stocked First Aid kit. If you use materials from the kit, be sure to note it on your contest list to be replaced. Locate your kit as you would your fire suppression equipment in a prominent place. Make sure all of the others on the team know the location of each of these items in the event they are needed in an emergency.
Tylenol, Ibuprofen, Tums, etc. are must haves in the contest box. Another handy item to bring along is some Gold Bond ointment or powder in the event that any chafing issues arise. Take it from me; there is no quicker way to ruin your day.
Disposable rubber gloves are very handy, and you should have plenty on hand. Change them often. Do not cross contaminate. Keep a bottle of antibacterial disinfectant with bleach on hand to wipe off work surfaces. Buy paper towels by the gross; you are going to need them.
A portable weather radio with a warning alarm is a piece of equipment you can have with you for years and never use. However, there may come that one time when you are glad that you have it. BBQ contests are usually held during the summer months when fast moving thunderstorms can occur. A warning about impending severe weather will be very helpful in prevention of equipment loss or damage, not to mention personal safety.
CONTEST MEATS
For a KCBS event: Beef brisket, Pork ribs, Chicken, Pork Butt. Most cooks bring more than one of each so they have backup if one is not goo, if they drop one in the dirt, and so they can elect the best parts from each.
Rubs
Sauces
Garnishes
OTHER FOOD ITEMS
Beer
Drinking water
Sport drinks
Additional seasonings
Camp grub (make it something good)
Coffee/cream/sugar
EQUIPMENT
Smoker
Grill
Grill tools
Knives/steel
Canopy/EZ up
Water jug
Buckets
Wash basins
Work tables
Broom/rake
Dish rags/towels
Cutting board
Flashlight/headlamp
Clock
Meat thermometer
Notebook/pen
Chairs
Extension cords
Coolers/meat/drinks
Coffee pot
Measuring devices/cups/spoons
Assorted kitchen utensils
Tongs
Flippers
Scissors
Utility knife
Containers for mixing sauces
Trash can
Spare cooker parts
Basting brushes
External thermometers
Pots/pans/trays
Propane stove/burner
Electric power strips/3 ways
Fire starter/torch/chimney
Fire extinguisher
Bungee cords
Banner/flags
Stereo/CDs/iPod
Clip on lights/extra bulbs
Hose/nozzle
Pot holders/hot gloves
Tool box
Grill brush
Spray bottle
Cambro/cooler (for holding finished meats)
First aid kit
SUPPLIES
Aluminum foil
Aluminum pans/full/half
Bleach
Dish soap
Hand soap
Insect repellant
Paper towels
Plastic ware/cups/plates/etc.
Fuel/charcoal/wood/pellets
Wood chunks/chips
Latex gloves
Matches/lighter
Zip lock bags/assorted sizes
Ice
Plastic wrap
Sunscreen
Spare propane bottles
Batteries
Coffee filters
Trash bags
Spray cleaner
Duct tape
Degreaser spray
OTHER STUFF
Toilet kit
Extra clothes
Change of shoes/socks
Personal medications
Cell phone/charger
Camera
Hat
Rain gear/mud boots/umbrella
GPS
Laptop
Weather radio w/ alarm
Sweatshirt/jacket/coat
Sunglasses
Reading glasses
Gold Bond cream
Aprons
Sleeping bag/cot/pillow