Key tips on RV BBQ and grilling from our resident thermometer guru
In 2009, when my significant other, Anna, retired, she expressed a desire to indulge her wanderlust and travel around the country in an RV. In my youth, as a motorcyclist, I had said that if you ever saw me in one of those land yachts, you should just shoot me. Clearly, we had a divergence of opinion. Eventually, though, she won me over.
We planned to live in the RV full-time, so the rig – a term of affection used by RVers for their vehicles – would have to be much more than a weekend escape vehicle. It would have to meet long-term living needs. We both like to eat well, and I love to cook, so adapting my avocation to the RV lifestyle presented a challenge. How does one set up a traveling home that can accommodate grilling, smoking, frying, sautéing, pressure cooking, slow cooking, and microwaving, and do it all in about 200 square feet? Pour yourself a glass of wine and listen in.
Constraints
Most RV kitchens are tiny – really tiny. A single small sink, limited counter space, limited cabinet space, limited pantry space, a small refrigerator, a small, anemic three-burner gas stove, a gas-fired oven suitable for two Cornish game hens, and a small microwave is the most you can hope for. Forget the seven-burner Wolf stove and the Sub Zero reefer. No dishwasher or garbage disposal, either. I could foresee some tension between available kitchen real estate and my culinary aspirations.
At an RV expo in Prescott, AZ, we found a rig that had a far better kitchen layout than the other units we had considered. It featured a wrap-around counter top made of faux marble, two sinks, and more cabinet space than any other we had seen. It also had a four-door refrigerator – about twice the usual space – and a stove/microwave combo. I was beginning to think this might just work.

BBQ On The Road
I knew that I'd want a grill for outside cooking. My Weber Genesis was far too big to take along, so I had to find a unit to replace it. I consulted Max Good, the grill guru at AmazingRibs.com. I wanted a small unit with two burners so that I could do two-zone cooking, and it had to be gas. Why gas, you ask? Many RV parks won't let you use charcoal because careless cooks have started dumpster fires with the still-smoldering ashes from their grills. We went with a Napoleon grill with scissor legs that fold up compactly. It has been perfect for our needs. If you get a similar gas grill, be sure to pick up a five-gallon propane bottle and an adapter hose; those tiny one-pound cylinders are costly to use.
Despite prohibitions against charcoal, I wanted a smoker for occasional use where permitted. The 18.5" Weber Smokey Mountain (WSM) was lightweight, affordable and highly rated. To make temperature regulation easier, I added an Auber thermostatic controller. I like to use a Weber chimney to light my fuel, and it travels inside the WSM while we're on the road. An added benefit of the chimney is that it obviates carrying around a can of flammable charcoal lighter. I'm not fussy about the charcoal I use; Costco's twin bags of Kingsford make for good "fuel economy." To jostle the ash from coals on a long cook, I use a poker that a blacksmith friend made for me. Even though the Auber controller has a food probe, a good instant-read thermometer is essential. My usual go-to is a ThermoWorks TempTest1. The same tools I used at home work well on the road, so there really isn't a need replace or embellish your existing BBQ gadget arsenal. Now to solve the kitchen problems…

Think Multi-Purpose
When you are constrained by space in an RV, you have to abandon the idea that you need a dedicated tool for every purpose. It broke my heart to say goodbye to my KitchenAid stand mixer, but I can actually get the job done with a small hand unit in nearly every case. Some of my Le Creuset roasting pans had to go, too. They are large and heavy, and they wouldn't fit in the oven. Did I really need both a six quart and a seven quart French oven? No, so adios to the smaller unit. I kept the enameled saucier, a small roaster, two skillets, and an oval baking dish. I bought a set of heavy aluminum-core non-stick pots and pans from Costco to round out the cookware.
Continuing with the multi-purpose idea, I bought a Breville electric oven. This small counter-top unit will toast, bake, roast, broil, warm, and reheat food. The Breville is large enough to cook a 12" frozen pizza, bake a loaf of bread, cook fish, make cookies, and roast potatoes. It's probably the most used appliance in the kitchen. Well, almost…
The real star of the multi-purpose gadget collection would have to be the six-quart Instant Pot Ultra. This counter-top magician will sauté vegetables, brown meat, make perfect rice, pressure cook a stew or chili in 45 minutes, and even bake a cheese cake. It has the ability to control its temperature very accurately, so I also use it for sous-vide cooking. I just set the water temperature to 130°F, toss in some vacuum-sealed steaks, and in a few hours I'll have perfectly cooked, medium-rare meat that needs only a minute per side on a hot grill for a little Maillard-effect crust. It is a great addition to the anemic gas stove that usually comes in an RV, and when I need higher heat, I'll use it or the outdoor grill.
Spotlight on our favorite products
A Propane Smoker That Performs Under Pressure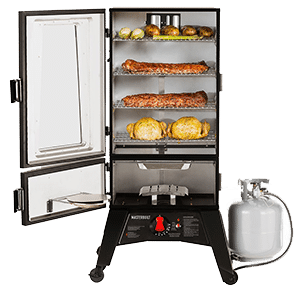 The Masterbuilt MPS 340/G ThermoTemp XL Propane Smoker is the first propane smoker with a thermostat, making this baby foolproof. All you need to do is add wood to the tray above the burner to start smokin'.
Click here to read our detailed review.
– THIS IS NOT AN AD –
A wok is another handy item. I use it for making tempura shrimp and vegetables as well as for Asian stir-fry dishes. It uses oil more economically than a frying pan, and it catches a lot of the splatter that makes such a mess. Buy either a flat-bottomed steel wok or a rounded version and a supporting ring. You can also use a plain wok on the outdoor grill in hot weather so you don't heat up the interior of the RV.
If you don't own an immersion blender, it's time to go shopping. I bought a KitchenAid kit with a whisk and a small food processor attachment. Some writers say to skip the kit, but I disagree. The whisk is great for whipping cream or egg whites and the small processor is perfect for cutting some butter into a cup of flour when making biscuits and gravy. The small food processor is also much easier to clean than my 300 horsepower 12 cup KitchenAid that lurks under the sink. The blender attachment is just what you need to purée some soup, make an aioli, or emulsify some mayonnaise, and it's much easier to clean than a full-size blender.
Buy a small, compact vacuum sealer, too. It helps fresh meat last longer. I use it to divide food into serving-sized portions before freezing. I'll buy a few pounds of ground beef, divide it into hamburger-sized portions, vacuum seal them in pairs, then freeze them. When it's time for an easy meal, I'll toss a packet containing two burgers into some cold water to defrost, then toss them on the grill. You'll save space and cut food waste, too.

Space Utilization
Use space effectively. Most rigs look like they have ample storage space, but there is never enough. I have some small mixing bowls that fit into a medium mixing bowl that sits in a strainer. The strainer sits in a larger mixing bowl that fits into a colander. I put ramekins inside my salad spinner, which sits inside another large mixing bowl. Use every cubic inch. You have very few of them.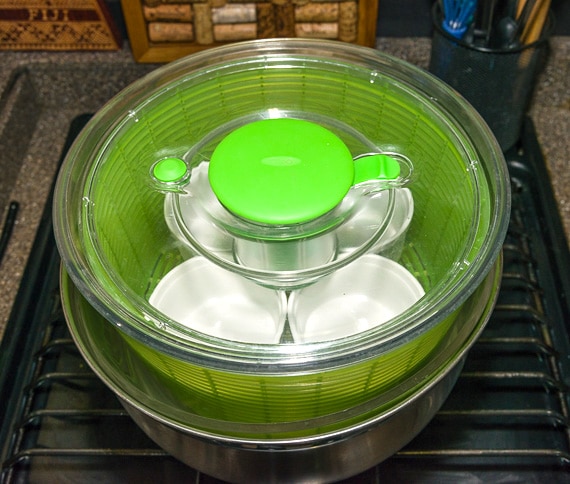 When buying gadgets, think small and compact. You'll probably be cooking for two people most of the time, so large-capacity tools aren't necessary. Get a small kitchen scale, a simple manual citrus juicer, a hand-held potato masher, and a small hand mixer, perhaps with a dough hook attachment. Sharpen knives with a stone, not an electric grinder.
Keep in mind that an RV moves around quite a bit, and is likely to damage fragile items. When buying glasses, go for plastic cups instead, and make sure that they will stack. Your plates and bowls should also be resistant to breakage and microwavable; the box will say so if they are. An RV is not the place for china or stoneware.
We lined our cabinets with a rubberized mesh that prevents the contents from shifting around while on the road. This material can also be used between nested items to prevent damage to vulnerable surfaces like the non-stick coating of cookware. We got some wire shelves that increase the horizontal storage area in any given volume of space. Put the heaviest items on lower shelves to minimize weight shift while traveling.
Common Sense
We usually stay in RV parks that provide water and electricity, but some RVers like to "boon-dock." While camping without utilities, you must rely on water stored in the rig and limited electricity from either a battery/inverter or a generator. If you plan to travel this way often, pay attention to how your cooking equipment is powered. Avoid gadgets that are power hogs like the Instant Pot or electric ovens/skillets. Propane is your friend in this case; it can cook your food, make hot water, heat the rig, and run the refrigerator. Consider installing solar panels to recharge your house batteries if you plan to spend a lot of time "off the grid."

Conclusion
With a little planning, you'll be amazed at how well you can manage in a small space like an RV. You won't have all the conveniences of a modern commercial kitchen, but you won't be cooking over a camp fire either. Due to limited seating, you may not be able to throw large dinner parties, but with an outdoor grill, a countertop oven, and a multi-cooker appliance like the Instant Pot, you may be able to feed some extra friends and/or family. Meet the challenge and eat well. Bon appétit.