Griddles Are Great Tools For Grilling Pizza, Searing Foods, And So Much More
Griddle cooking on your existing grill is extremely easy, and the Lodge Pro-Grid Cast Iron Grill and Griddle Combo is a great option. As we discuss in our section on griddle grilling here, griddles are great multi-taskers, allowing you to cook and sear foods just like you would in a cast iron skillet. Because of its size, the Lodge griddle also allows you to set up different temperature zones so you can sear in one section and stir fry vegetables in another.
Many gas and charcoal grills are capable of heating a griddle to extremely high temperatures. The truth is, griddles perform best at moderate temps that hover below the smoke point of the butter or oil you are using. In fact, many restaurants keep their flattops pegged at about 350°F.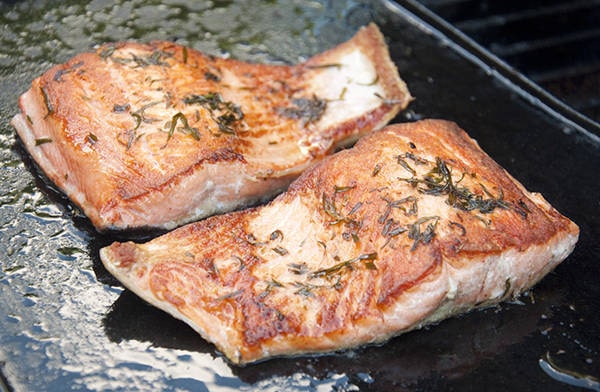 Using a griddle plate on top of a portion of your grill is actually a great way to take advantage of both direct cooking on the grill's grates and the griddle at the same time. You can cook a sausage patty and toast an English muffin on the grill grates for a smoky flavor, while frying an egg next to them on the griddle for a quick egg sandwich. Or griddle the sausage for the ultimate Maillard reaction and browned, crispy edges. Want smoke flavor? Toss some wood on the flame and let the smoke seep into fish or other food you are cooking. The best griddle plates like the Lodge version have a lip to contain the oil and juices. You can even use them to cook pizza on the grill in place of a ceramic pizza stone.
One word of caution. You may actually need two griddles. If you use it for fish a lot, the flavor will remain on the surface, even after cleaning, so you won't be able to use it for pizza or pancakes.