In 2012 researchers from Baylor University, Mount Sinai School of Medicine, EpidStat Institute, and Coughlin & Associates wrote in the Food and Chemical Toxicology journal "Nitrite and nitrate are naturally occurring molecules in vegetables and also added to cured and processed meats to delay spoilage and pathogenic bacteria growth. Research over the past 15 years has led to a paradigm change in our ideas about health effects of both nitrite and nitrate. Whereas, historically nitrite and nitrate were considered harmful food additives and listed as probable human carcinogens under conditions where endogenous nitrosation could take place, they are now considered by some as indispensible nutrients essential for cardiovascular health by promoting nitric oxide (NO) production."
In the days before refrigeration, our ancestors learned that meat would keep longer if smoked or salted. They also discovered that a particular type of salt, sodium nitrite, is an especially good preservative because it inhibits the growth of Clostridium botulinum, a seriously deadly pathogen that creates one of the most lethal toxins known to man, botulinum, the cause of botulism. Sodium nitrite also gives cured meats their characteristic reddish-pink color and adds to their taste and texture.
About 5% of our nitrite intake comes from cured meats such as bacon, hot dogs, hams, pastrami, corned beef, cured sausages, and cured fish. But 95% of the nitrites we consume come from the natural compounds in vegetables such as lettuce, spinach, celery, and carrots, and even some drinking water. They contain nitrates (with an "a") some of which are converted by our digestive system to nitrites (with an "i"). In the stomach, nitrite can create nitric oxide, a compound that is thought to be important in healing wounds and burns, controlling blood pressure, and boosting immunity.
Most of the nitrates in the environment are created by bacteria in the soil and by lightning and fall to earth in rain where they are absorbed by vegetation as a vital part of their metabolism. In fact all living things need nitrates, and humans get theirs by eating food with nitrates. We do not manufacture nitrates within our bodies. We ingest far more than we need and most nitrates are eliminated in our urine within a few hours.
Research in the 1970s indicated that sodium nitrite could cause cancer in laboratory animals. It got a lot of publicity. Since then more thorough research by scientists around the world on the safety of nitrites has contradicted these early experiments. The international scientific community seems to be satisfied that the quantities of nitrites and nitrates people typically take in from foods like spinach, from the environment, and from food additives is safe, that the body needs small amounts of nitrites and nitrates, and they can have some beneficial effects.
In 2003, the World Health Organization published a comprehensive survey of dozens of research papers on the subject. It stated "The epidemiological data provided no evidence for an association between exposure of humans to nitrite and nitrate and the risk for cancer." Now think about this: Doctors actually prescribe nitrates for angina and chest pain. The greatest health risk from nitrites and nitrates seems to be in badly polluted drinking water.
Based on this research, two US Government agencies, the Food and Drug Administration (FDA) and the US Department of Agriculture (USDA), have set a maximum amount allowed in food. Over the past 30 years the meat industry has significantly reduced the amount of nitrates and nitrites added to meats and the amounts actually used are typically way below the allowable amount.
So what about the "health foods" that advertise "no nitrites" and naturally cured like the bacon on the breakfast buffet in a hotel shown below? They often substitute celery powder or juice, a fine source of nitrites. In fact, research has shown that often many of these products have higer doses of these compounds than conventionally cured meats.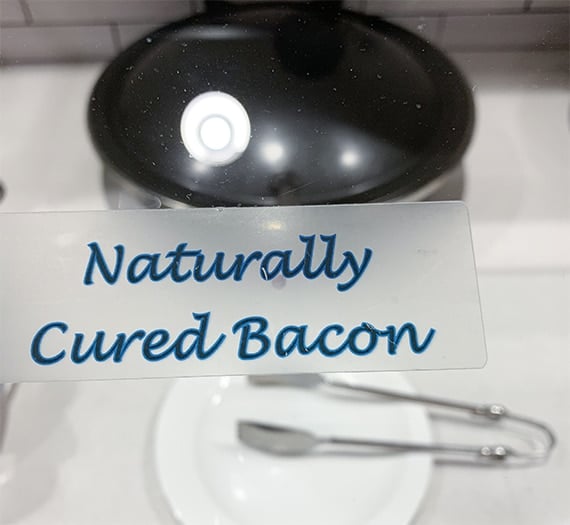 Let's give the last word to the American Medical Association "the risk of developing cancer as a result of consumption of nitrites-containing food is negligible."
In other words, you would have to eat a lot of hot dogs every day to exceed the amount deemed safe.
Some more references
Here is a link to a WHO paper of nitrites and nitrates in water and other sources.
The American Journal of Clinical Nutrition has a good article with footnotes. It says "In observational studies, intake of nitrate or nitrite from diet or drinking water is not associated with cancer in humans."
Here's a link to an article on how to cure meats with nitrite safely.