You'll feel like the king of the court, wielding your giant smoked turkey leg like a scepter.
Visit any of the Disney parks and you will see folks stumbling around delirious with huge smiles and monster turkey legs (actually they are drumsticks, since technically legs include the thigh). These pterodactyl-sized drums have spawned fan pages, scores of videos on YouTube, and rumors (no they are not emu legs). They have become so popular that they were featured on page one of the New York Times once. They are not hard to make at home once you crack the secret recipe, and I have.
Anyone can simply smoke turkey legs and they are wonderful, BUT, the turkey legs served on Disney properties are cured and this is a special process that produces a special taste. Disney legs are injected with a curing solution with a special curing salt that gives it a pink color, and then it is smoked. No wonder most folks say it tastes like ham. That's how they make wet cured ham. And that's how they sell more drinks!
Curing is very different from any other recipe because it uses a preservative, sodium nitrite. You must read and thoroughly understand my article on the Science Of Curing Meats before attempting to cure meat or before you ask any questions. That said, do not use the Curing Calculator on this recipe. It doesn't work for such a small piece of meat with a bone. And don't use this recipe for turkey breasts or whole turkeys. If you wish to do them you must use the curing calculator on the Science Of Curing Meats page.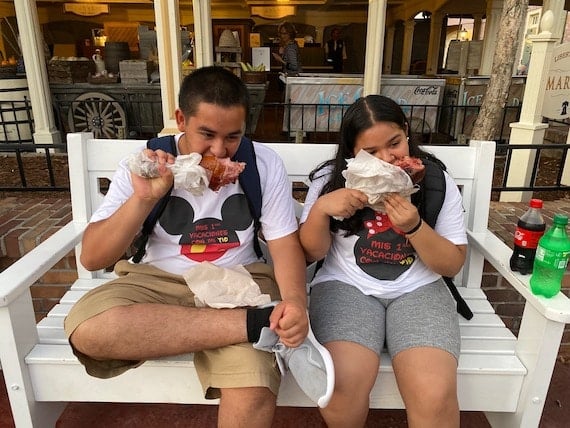 For reference, Disney's supplier, Uncle John's Pride, uses Tom turkeys, male birds that can grow up to 50 pounds (22.7 k), with legs that run about 1 1/2 pounds (680.4 g). Most legs I have seen in stores are closer to 1 pound (453.6 g) each. This recipe brines/cures in a zipper bag for a few days so you don't have to inject and so you can make a small quantity. You just need to move the legs around in the bag periodically to make sure the cure is in contact with all parts of the meat.
There's no need to travel to Disney (or pay the extraordinarily high ticket prices to get inside) for your very own giant smoked turkey leg thanks to this recipe and tutorial.
But please note, this recipe is only for turkey legs not other cuts.
---
---
Makes:
---
Takes:
---
Notes:
About the salt.
Remember, kosher salt is half the concentration of table salt so if you use table salt, use half as much. Click here to read more about salt and how it works.
Metric conversion:
These recipes were created in US Customary measurements and the conversion to metric is being done by calculations. They should be accurate, but it is possible there could be an error. If you find one, please let us know in the comments at the bottom of the page
Method
Cure. Dissolve the salt, Prague powder #1, and the sugar in the water and then pour it in a 1 gallon (3.8 l) zipper bag. Add the meat and refrigerate in the cure for about 24 hours, and not much longer or it can get too salty. While they are curing, move them them around a few times to make sure all parts are covered with the liquid.

Rinse. Remove the meat from the cure, rinse it so the exterior will not be too salty, and pat the skin dry with a paper towel. You can take them out of the cure and hold them in the fridge uncooked for a day or two until you're ready to smoke them, but I wouldn't push beyond that.

Smoke. Smoke the turkey leg for about 1 hour until the thick part of the meat reaches at least 160°F (71.1°C).

Serve. Serve the smoked turkey leg immediately.
---