For many years the Kenmore brand was associated with Sears Department Stores and covered a wide variety of indoor and outdoor, residential products. We weren't nuts about the old Kenmore grills, but times have changed now that the brand is a division of Permasteel. In particular, this 4-burner caught our eye. We've always liked gassers with an infrared sear burner planted outside the main grill on a side shelf. This setup gives you two very distinct cooking zones; moderate under the lid and blazing hot on the side. Now that's 2 zone cooking! Click here to learn why 2 zone cooking is an essential backyard grilling technique.
This 4-Burner is predominantly made of powder coated steel, weighing in at a light 88 pounds. Dimensions are 53.2″ W x 21.8″ D x 45.4″ H. It has an internal storage space for a 15 or 20-pound LP tank, which is a nice feature to help save space on the patio or deck. The dual front-doors on the grill make it easy to access the LP tank and under grill storage. A steel bar called a "tank baffle" in the open, storage space opposite the LP tank prevents the tank from rolling, but makes utilizing the rest of the space under the grill a challenge. This model can be converted to use natural gas with an optional conversion kit.
The grill has four 10,000 BTU stainless steel burners. Each burner is covered by porcelain coated flavorizer bars which help spread even heat to the cooking grates and protect the burners from fat, salt, and moisture that contribute to corrosion and wear. These flavorizer bars cut down on flare-ups while prolonging the life of the burners themselves. The grilling surface consists of two removable porcelain-coated, cast iron grates. They are relatively thin and can rust easily like all cast iron, but they do retain heat well.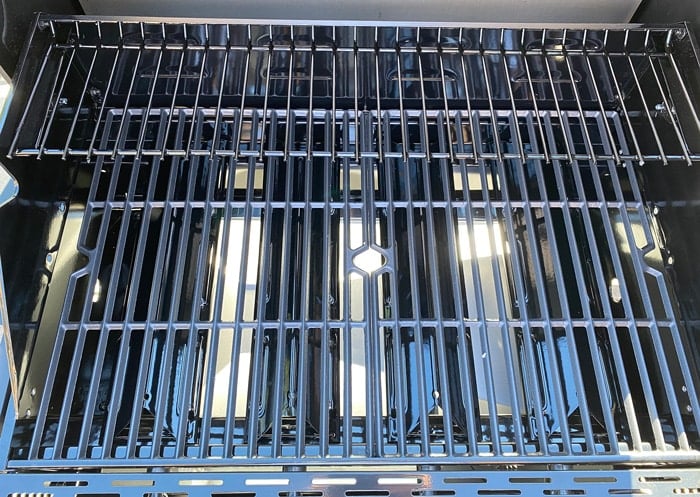 Like what you're reading? Click here to get Smoke Signals, our free monthly email that tells you about new articles, recipes, product reviews, science, myth-busting, and more. Be Amazing!
One of the best features of this grill is the "Searing Side Burner," a 12,000 BTU infrared ceramic sear burner that is advertised as being capable of reaching temperatures of over 600° F for searing steaks and burgers. After taking a surface temperature reading, I can confirm the burner did hit 650° F. Plenty hot to sear any meat very quickly.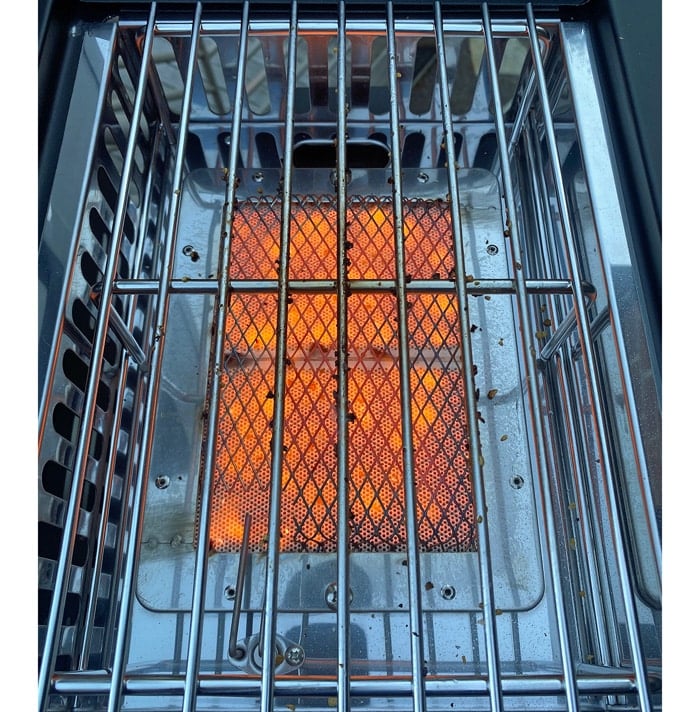 The lid of the grill is fairly light weight. Some users will appreciate this as the lid is easy to open and close. However, in colder ambient temperatures, windy days or other inclement weather, the thin lid will be a detriment to the overall performance of the grill. This also affects the overall efficiency of the grill.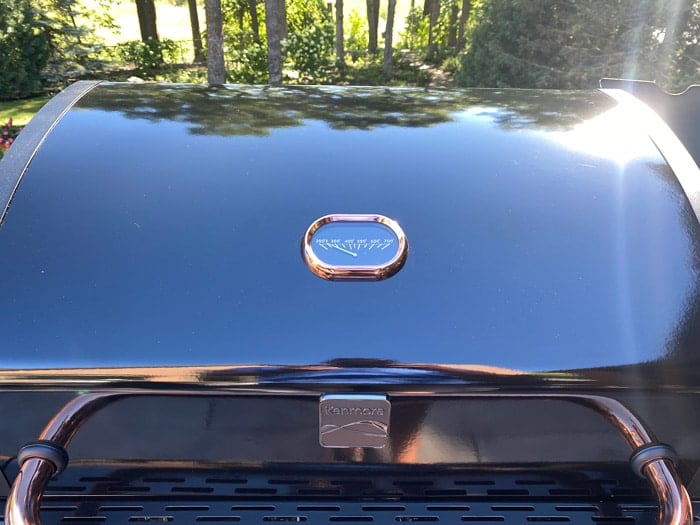 At the initial start up the grill fired right up with no issues. I was able to reach temps over 500° F in about 10 minutes. I let it run for about 30 minutes on the initial start up to burn off any oil residue from the manufacturing process. After the initial burn in, I let the grill cool and moved on to the "bread test" to document how evenly the grill heated up. This also allows us to see any hot or cool spots that might be found across the cooking surface.
Bread Test
The bread test is a great way to test how evenly the heat is distributed throughout the grill. Our test revealed a typical, gas grill heat pattern – hotter in the back and center of the cook surface.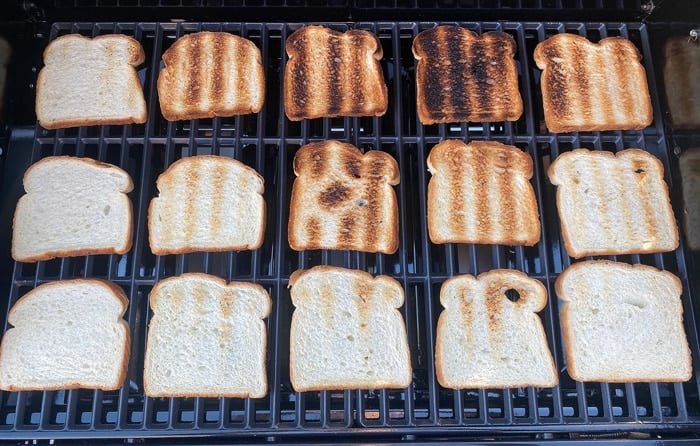 Up your game: Join our Pitmaster Club. Try it out for free for 30 days. No credit card is needed. No spam. Join now and Be Amazing!
Grilling
The grilling experience went well. I grilled a ribeye steak for my first cook. I wanted to reverse sear this cut as it was thick and it would allow me to use the sear burner to hopefully get a great crust on the surface of the meat. Do you love thick, juicy medium-rare steaks? Click here to learn the reverse sear method and start getting steakhouse quality at home. I was able to cook the steak indirectly on the main burners, maintaining an offset temp of about 300° F with the burners on "low".
Infrared Sear Burner
Many gas grills have a side burner for heating cast iron skillets, dutch ovens or anything else that you might want to cook on the side. However, I find that these are rarely used. An infrared sear burner on the other hand is a great feature and one I would take over the regular burner anyday. The Kenmore 4-Burner Gas Grill has a 12,000 BTU infrared sear burner that works very well. It is great to have this feature for searing steaks, chicken wings, chops or anything else. Click here to learn The Thermodynamics Of Cooking and the different types of heat sources.
To light the infrared sear burner, you simply turn on the gas and hit the igniter. For me, It fired right up and I was ready to sear in only about one minute. After slow cooking the ribeye to an internal temperature of 115° F on the main grill; I seared my ribeye steak on the infrared burner in 20-second intervals on each side. I was flip, flip, flipping away to build an overall tasty brown crust.
OH YEAH! Pink and juicy inside – brown and beautiful outside. Click here to read about the Maillard Reaction and why brown is beautiful.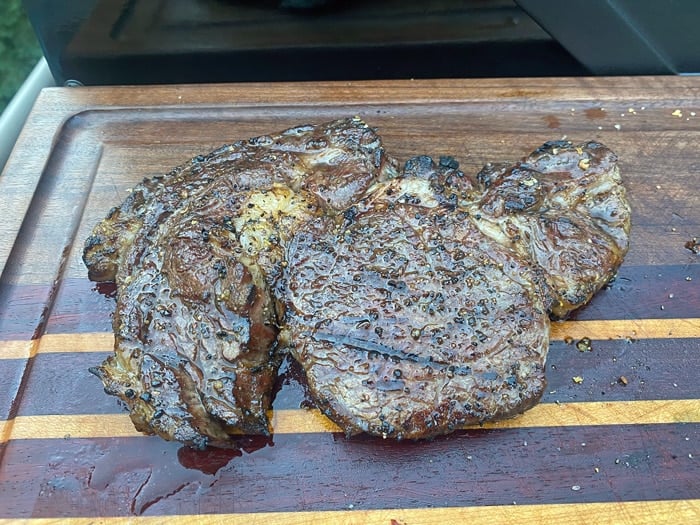 Get a sneak peak at Meathead's next book. He shares chapters with members of our Pitmaster Club as he finishes them. Click here for a free 30 day trial. No credit card needed. No spam. Click here to Be Amazing!
Flare-ups were present but, honestly, that added to the experience and I never thought it was getting out of control in any way. One change I would like to see is a better tray for the infrared burner to sit in. While there is a rear grease tray for the grease to drain into, the basin the burner sits in is not sealed at the corners. Consequently, grease can drip from the corners onto your deck or patio. A little bit of high-temp silicone in the corners fixed this issue, but it is something Kenmore should address.
During this cook, I also made burgers and brats. The cooking surface did have a few hot spots, as noted by the bread test, but this was nothing that really took away from the overall grilling experience.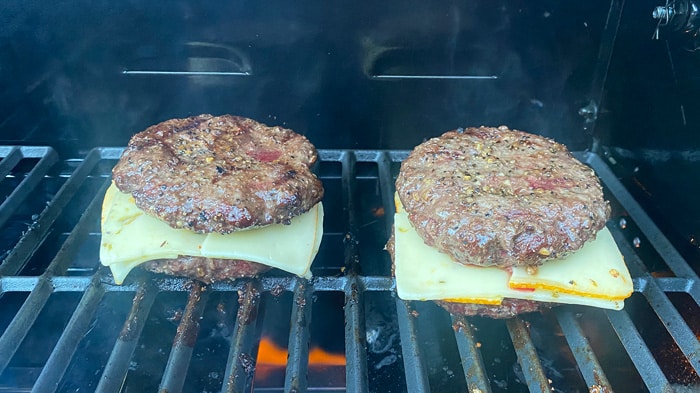 Tired of the same old burgers? Click here for fresh takes on this backyard favorite!
Get a sneak peak at Meathead's next book. He shares chapters with members of our Pitmaster Club as he finishes them. Click here for a free 30 day trial. No credit card needed. No spam. Click here to Be Amazing!
Packaging and assembly
The Kenmore gas grill was easy to assemble with the included directions. All that was needed was a Phillips head screwdriver or drill. All parts were packed well in a single box and arrived in perfect condition. Unpacking and assembly took approximately one hour in total.
The finish of the grill is nice and appealing to the eye. The glossy-black finish and copper colored accents on the control knobs and lid give this grill an elegant look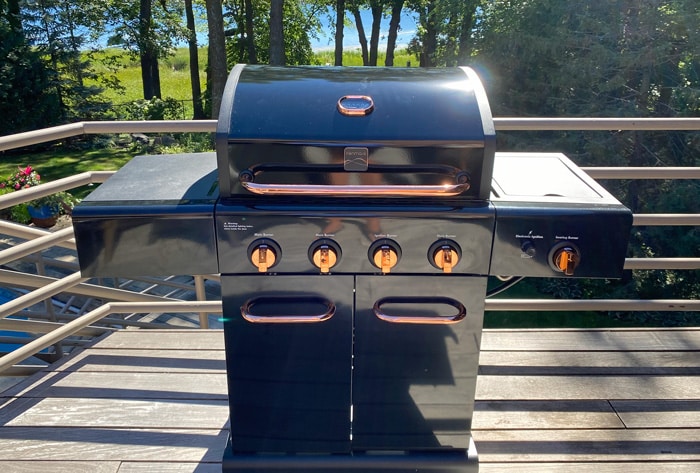 The overall construction is fairly light, but for this price point, I think it is about where it should be. However, this will certainly affect the longevity of the grill overall.
Conclusion
I think the Kenmore 4-Burner Gas Grill is a good option for someone looking for value and functionality. While this grill will not last a lifetime, it will fit the bill for a budget conscious griller who wants some useful extras without a huge price tag.
The infrared sear burner was a big highlight, and it went beyond my expectations. While I would like to see some improvements to the basin for the infrared burner, it still functions well. I also like how the LP tank is contained completely within the grill, behind the double doors under the grill. While I do not love the cast iron grates, they work well and can be maintained if the owner takes the time to do so. I give this grill our Gold Medal for value, functionality and build quality at a modest price point.
Warranty
Five years for burners. One year for all other parts.
We thank Kenmore for providing a PG-A40409S0LB-1 for our tests.