SnS Grills, aka Slow 'N Sear, continues to expand their catalog with a new, portable 18″ Charcoal Grill called the Travel Kettle. SnS entered the backyard barbecue market with a small, but inventive accessory – the Slow 'N Sear charcoal insert (shown in the photo).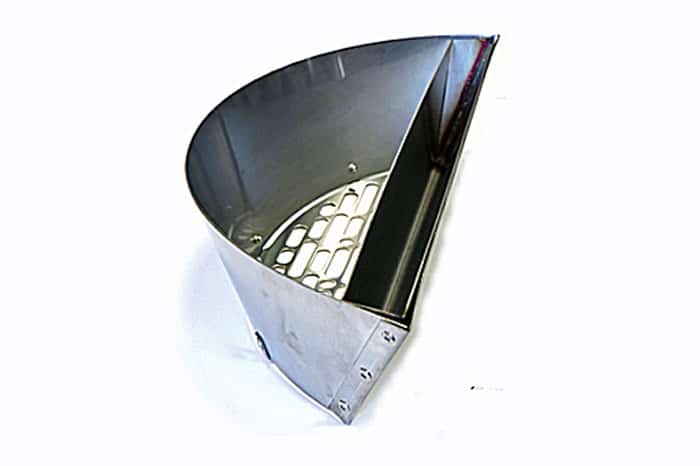 This clever, funnel-shaped, stainless steel accessory instantly upgrades Weber kettles and many other round, charcoal burning cookers by enhancing 2-zone separation and improving the performance of both high temperature searing and low-and-slow smoking. Pile charcoal up to the funnel brim to bring the heat right under the meat for super searing right over the direct fire, or mix wood chunks with the briquets and maintain a low temperature for smoking on the opposite, indirect side. That channel on the right is a water reservoir which eliminates the need for a water pan when cooking low-and-slow and acts as a baffle for further separation between the 2-zones. Click here to learn about the importance of 2-zone cooking.
In 2020, SnS Grills took a big leap and rolled out their own 22″ Slow 'N Sear Kettle Grill and Deluxe Kamado. A year later they followed up with the small, portable Travel Kettle Grill. Before introducing their Travel Kettle, SnS already offered a smaller charcoal insert (shown here) for Weber's portable Smokey Joe and Jumbo Joe charcoal grills.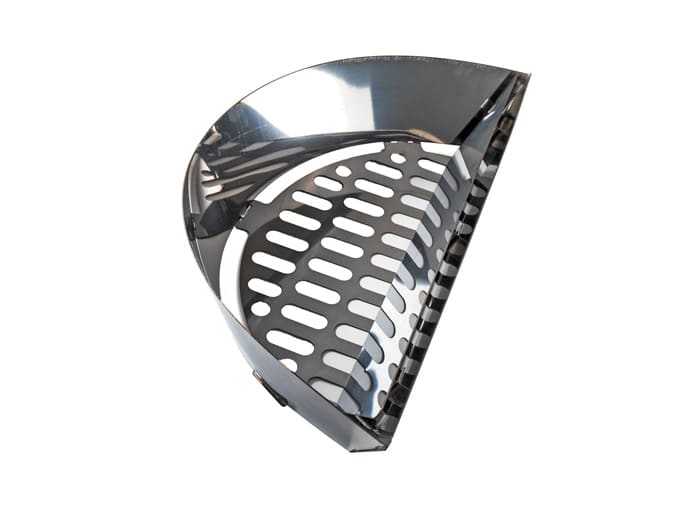 Up your game: Join our Pitmaster Club. Try it out for free for 30 days. No credit card is needed. No spam. Join now and Be Amazing!
Slow 'N Sear Travel Kettle Grill
The full-size, 22″ Slow 'N Sear Travel Kettle Grill design drew inspiration from Weber's Performer Charcoal Grill 22″ while adding a few tweaks and useful additions, most notably the Slow 'N Sear Insert. The small, portable Travel Kettle follows a similar blueprint using Weber's Jumbo Joe Portable Charcoal Grill (shown here) as a template.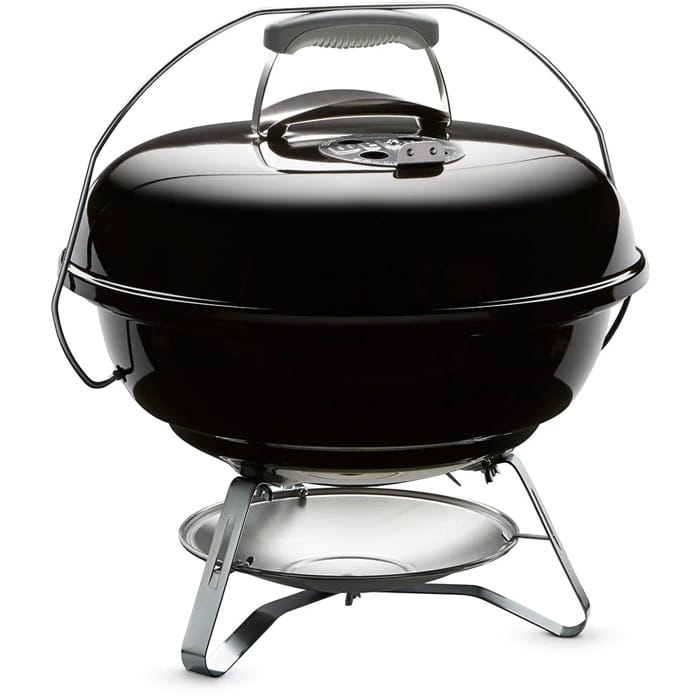 The Travel Kettle pays homage to Jumbo Joe by copying its lid cradle which holds the lid up when you want to get at the goodies underneath.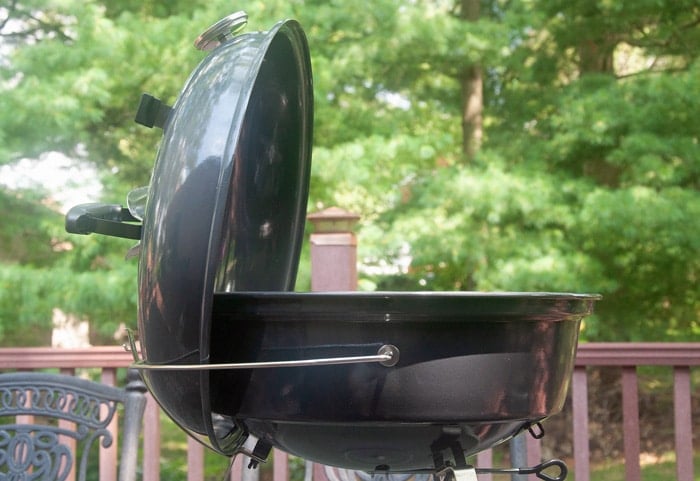 The cradle can also be flipped over the top to lock the lid down so you can easily carry your grill by the handle.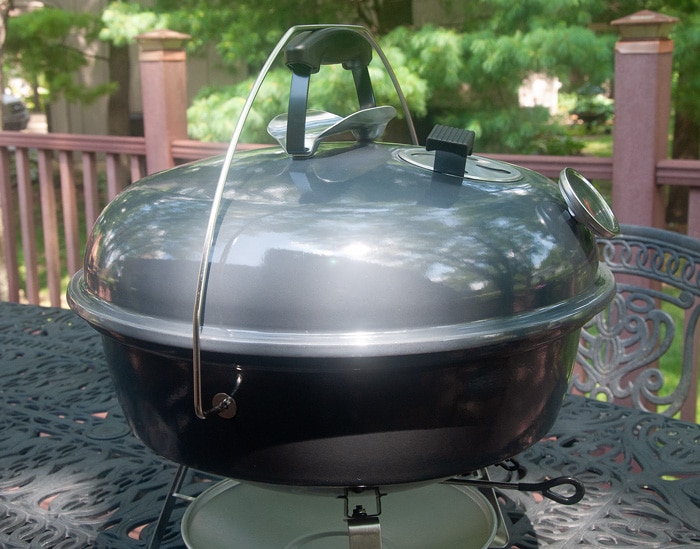 Here is the Slow 'N Sear charcoal insert positioned inside their Travel Kettle.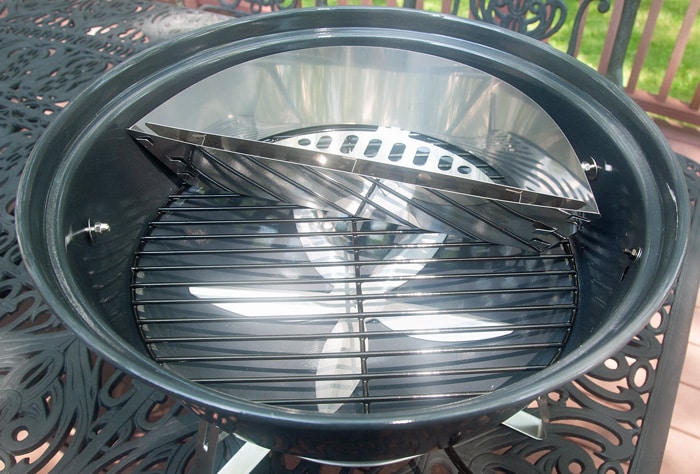 In addition to the enhanced performance for low-and-slow smoking over the indirect zone in the front of the grill, you can easily see how that steel funnel at the back creates a super sear-zone when filled with red hot charcoal.
The small charcoal insert has a double walled baffle to isolate heat, but does not have a water reservoir like the large versions. If you wish to use water, a small foil water pan may be positioned over the charcoal to provide moisture while cooking.
Click here to learn why we think Slow 'N Sear's charcoal insert is the single best accessory for most charcoal kettle grills ever!
Get a sneak peak at Meathead's next book. He shares chapters with members of our Pitmaster Club as he finishes them. Click here for a free 30 day trial. No credit card needed. No spam. Click here to Be Amazing!
Upgrades
Travel Kettle's high-quality 304 stainless steel 18″ cooking grate is a big upgrade from Weber's standard plated steel cooking grate. This stainless steel grate will last forever and it also includes a half moon-shaped hinged section on one side that flips up for easy access to the charcoal fire.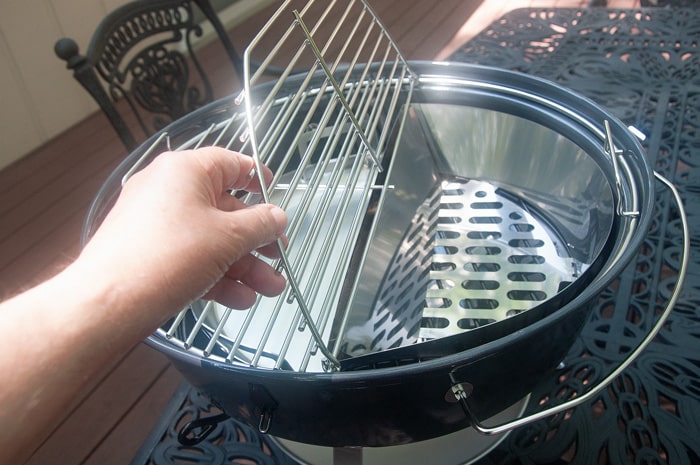 The diameter of the grill's charcoal grate is wider than Jumbo Joe. This provides a larger circle of fire when you spread the coals out and allows the SnS insert to move further from the grill center, enhancing 2-zone heat separation. Additionally, the grate is porcelain coated, which could help ward off rust.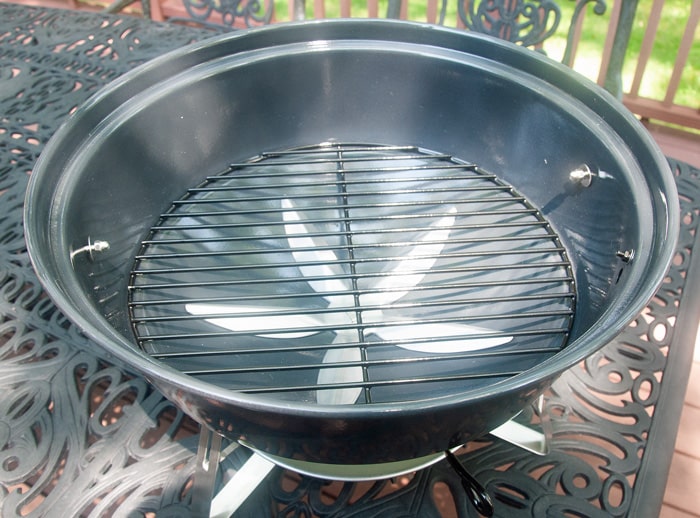 Jumbo Joe's lower air intake damper and upper air exhaust damper are simple discs with finger tabs to adjust airflow. Click here to learn about controlling cooking temperature with dampers.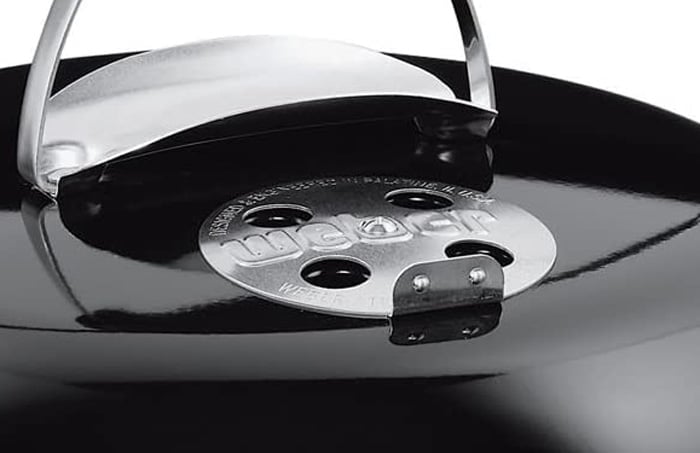 Those little metal tabs can get mighty hot.
Slow 'N Sear upgraded both the lower and upper dampers. The upper exhaust damper has a plastic tab to preserve your fingerprints.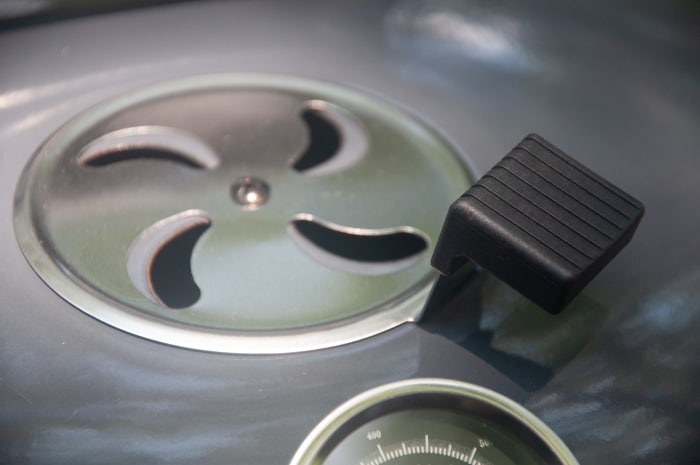 The lower intake damper incorporates a wand to adjust airflow.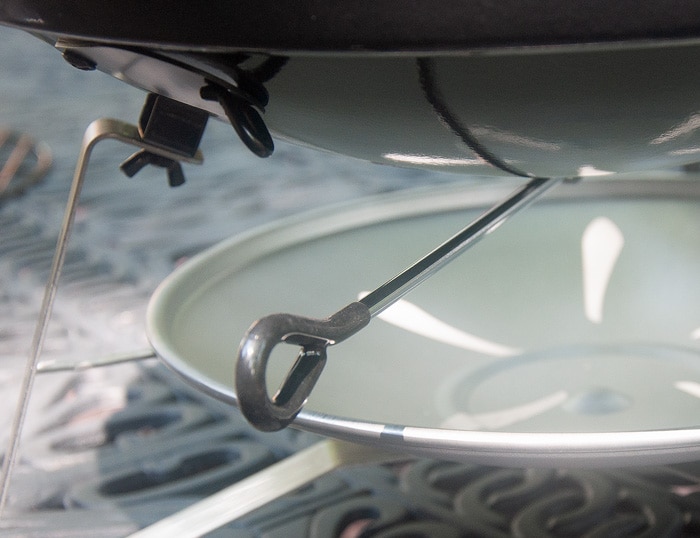 The wand controls air intake with fan blades that double as sweeps to move ash into a removable pan beneath.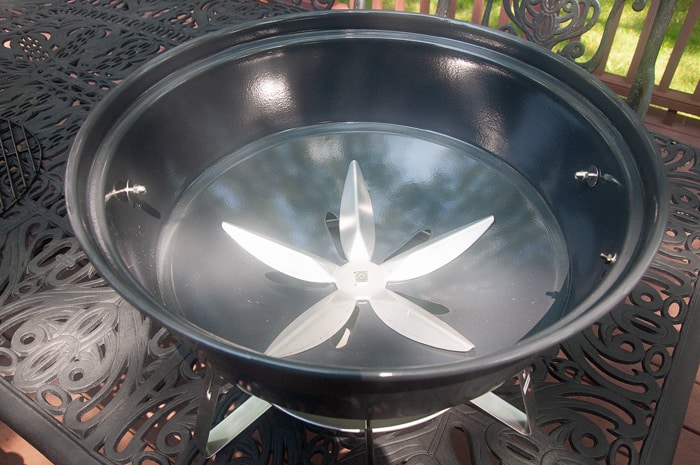 The air intake slots are bigger than Jumbo Joe's, enabling greater airflow while the ash removal capability and hinged grate access to the fire are an asset when cooking low-and-slow.
The wand assembly was somewhat difficult to put together. You have to hold a couple small parts in place from inside the kettle and underneath while popping in the fan lever. If not snapped in properly, the lever flops around. Give it a good twist until it snaps in place.
The Travel Kettle adds a "Smoke Hole" located just above the lower intake vents. Many hardcore Weber Kettle aficionados drill a similar hole into their grills to accommodate a temperature controller fan, such as the popular BBQ Guru. Temperature controllers function like thermostats in a home oven. As stated on the BBQ Guru website, "Simply attach your Guru control to your cooker, set your desired temperature, and, almost like magic, it consistently maintains your target cooking temperature." Temperature controllers use a small fan attached under the fire to regulate the amount of oxygen that enters the firebox. By controlling oxygen, you control cooking temperature.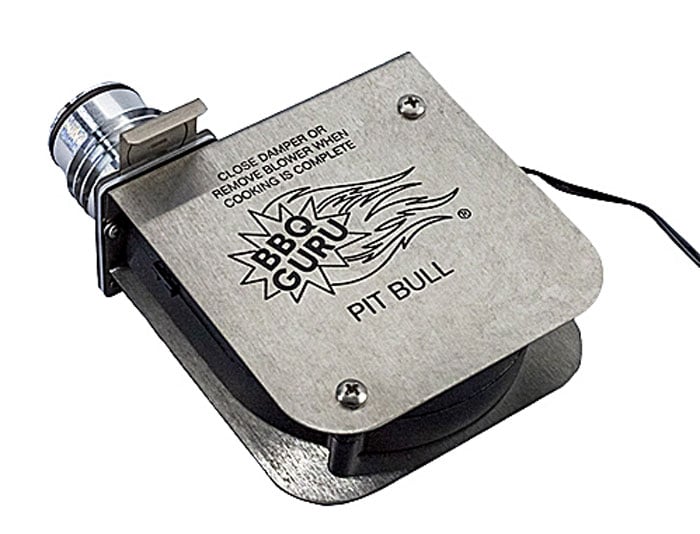 Click here to explore our reviews and ratings of temperature controllers. Slow 'N Sear's Smoke Hole makes mounting temperature controllers on their kettles easy. No nail-biting surgery on your brand new shiny grill is required.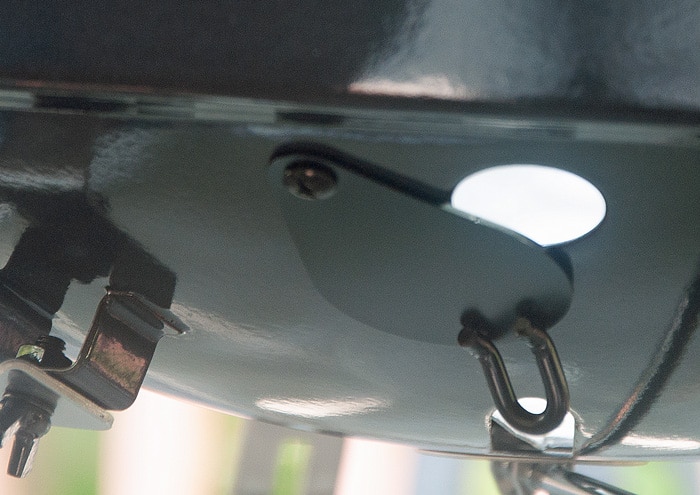 Like what you're reading? Click here to get Smoke Signals, our free monthly email that tells you about new articles, recipes, product reviews, science, myth-busting, and more. Be Amazing!
Even if you don't plan on using temperature controllers, the Smoke Hole does double duty as a secondary air intake. For low-and-slow smoking at 225°F, Slow 'N Sear recommends closing off the lower intake fan blades entirely and just opening up the Smoke Hole. They also instructed us to position the Slow 'N Sear insert toward the back of the kettle, directly opposite the wide-open Smoke Hole in front.
This setup supplies heat and smoke from the fire at the back to foods placed in the indirect zone up front. Slow 'N Sear instructed us to close the lid with the exhaust damper positioned right above the smoke hole. Then just start smokin'.
Unlike Jumbo Joe, Slow 'N Sear includes a lid thermometer, located beneath the exhaust damper. We prefer this position because it's closer to the cooking grate than Weber's full-size Kettle thermometers, which are located higher up toward the lid crest.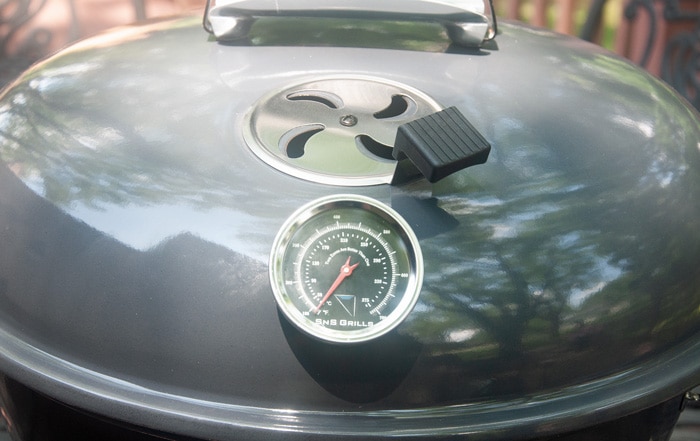 Although placing the thermometer closer to the cooking surface makes temperature readings more accurate, we still recommend using a digital temperature probe clipped to the cooking grate next to your food for precise temperature control. Serious kettle grillers often drill probe port holes to safely thread probe wires into their grills without fear of twisting or kinking the wire leads. Slow 'N Sear does the work for you, incorporating a smaller version of their covered Smoke Hole right above the cooking grate.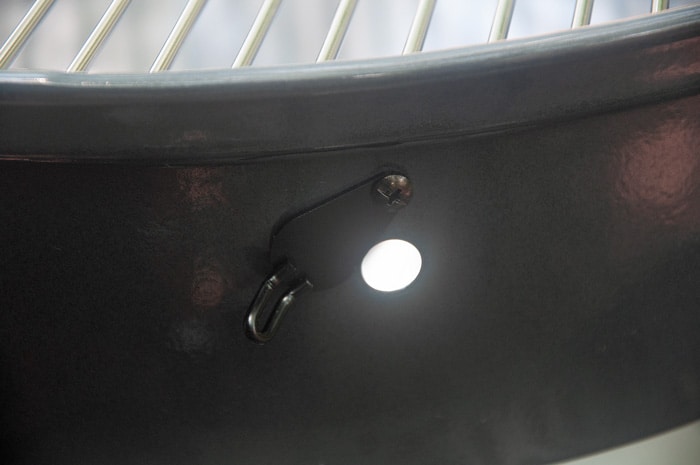 Click here to understand the importance of digital thermometers.
Mini Drip Pan
An attractive, optional accessory is the SnS Mini Drip Pan, which is contoured to fit next to the Slow 'N Sear charcoal insert on the charcoal grate to help airflow and minimize clean-up. When cooking on the indirect side, the pan catches drippings and eliminates a greasy mess at your kettle bottom. It doubles as a griddle when placed on the cooking grate over the charcoal insert. When griddling, Slow 'N Sear cautions, "Do not exceed medium-high heat….a half basketful of fully lit coals is plenty. Avoid maximum heat to prevent warping."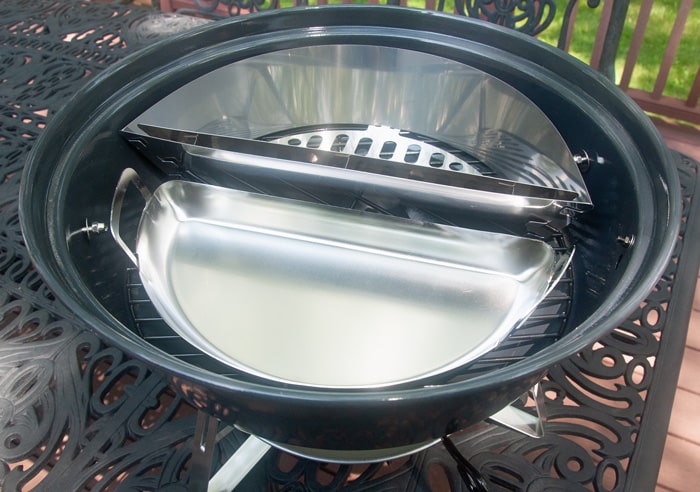 Slow 'N Sear feels the pan is also useful indoors for baking, cooking, broiling and side dishes.
Get a sneak peak at Meathead's next book. He shares chapters with members of our Pitmaster Club as he finishes them. Click here for a free 30 day trial. No credit card needed. No spam. Click here to Be Amazing!
Packaging, assembly, and construction
The packaging for the grill and accessories was good and, aside from a slight headache when attaching the legs, assembly was pretty simple, much like putting together a Weber Kettle. That's to be expected given the similarities in design. The Travel Kettle is 21″ high, 20.25″ wide, weighing 17.8 pounds, and appears solid and well made.
Conclusion
Whether stationed on a small patio, cruising in your RV, or on the go to a weekend cabin rental, if you only plan to have one little charcoal grill, take a serious look at Slow 'N Sear's Travel Kettle. On its own, the signature SnS charcoal insert greatly expands the versatility of most portable charcoal kettles, enabling a wider variety of menu possibilities. The Travel Kettle is priced at $180 with the charcoal insert or you could opt for purchasing the grill without the insert for $160. The Kettle itself has some nice upgrades from Jumbo Joe (MSRP $89), specifically the high-quality 304 stainless steel cooking grate, Smoke Hole, and Probe Port. However, if you don't already have the insert (MSRP $45), we highly recommend spending the extra $20 for the package.
We award the Slow 'N Sear Travel Kettle Grill our AmazingRibs.com Best Value Platinum Medal.
Warranty
The manufacturer offers a ten-year warranty on all stainless steel parts, a one-year warranty on the thermometer, and a five-year warranty on everything else.
We thank Slow 'N Sear for providing a kettle for our tests.