Click Here For Reviews And Ratings Of Large Cookers For Restaurants, Caterers, Whole Hog Roasting, And More
Ready to open a restaurant or give Famous Dave a run for his money? Ready to start a catering biz and drag a smoker to picnics, ball games, corporate retreats, and horse shows? Fantasizing about hitting the road and doing state and county fairs year round? Envision yourself grabbing big prize money and trophies at the cookoffs you see on TV?
There are a number of major manufacturers who will be glad to sell you what the pros use. Many will even be happy to custom fabricate whatever your heart desires. Large capacity commercial cookers range from big boxes that sit in your restaurant's kitchen to mobile kitchens for vending to the pit shown below by Dave Klose. Klose is famous for building inspired custom pits, among them "Bling Bling" which has made an appearance on the History Channels show Modern Marvels. It has a large charcoal fired smoker, a holding box, a high end gas grill, satellite dish and flat screen TV, refrigerators, firewood storage, stovetop, lighting, and even the kitchen sink, all on wheels!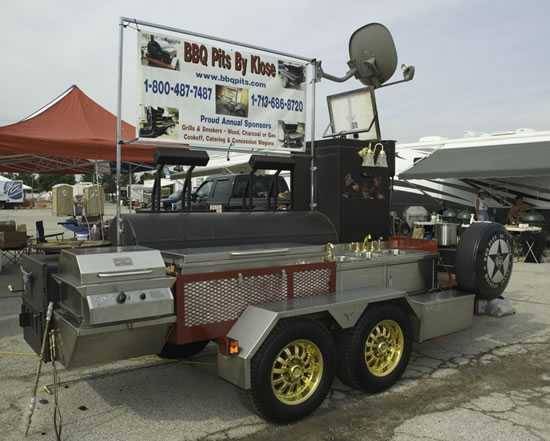 At AmazingRibs.com we are backyard specialists so we don't often get to test the big rigs, but we have includsed info on some of them in our database.
Whole Hog Roasters, Lamb Roasters, And Goat Roasters
If you want to roast a whole hog, lamb, or goat, you can fit small animals onto some horizontal smokers. Or you can buy rigs specially designed for the job. They range from simple spits that you turn by hand crank or motor and the animal rotates above or to the side of a campfire. One popular design, jokingly called the Cajun microwave, is a stainless steel lined box. You close the lid and put the coals on top. The meat roasts rapidly in this indirect heat, smokeless coffin.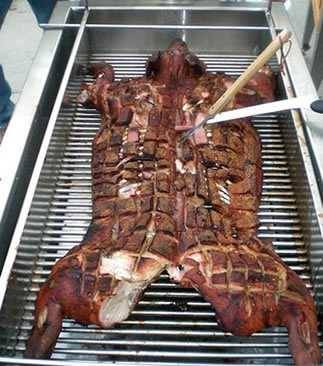 Of course if you have a commercial smoker or mobile smoker, you can roast a pretty good sized pig. If you wish, you can build your own with this plan and follow this recipe.
There are also several companies making specialized whole pig roasters.
Click Here to see the devices capable of roasting whole animals currently in our database