A Mid-Size, Mid-Price "Smart" Pellet Smoker That Just Might Win You Over
If you haven't caught on to the pleasures of pellet cooking, the Ledge Prime (formerly Daniel Boone Prime) from Green Mountain Grills might be the one to light your way. It's their most popular model, a mid-size, mid-priced smoking and outdoor cooking machine with WiFi, a companion smartphone app, solid all-around performance, and more extras than most in its price range.
Green Mountain Grills (GMG) has been making pellet grills since 2008, and in 2014 they drastically lowered prices to reach a wider market. GMG has two main lines of pellet grills: Choice and Prime. The Choice models are being phased out and only the WiFi Daniel Boone Choice is still available. All Prime models have WiFi, along with several other useful upgrades. Check out our review of the Daniel Boone (DB) Choice here. WiFi allows you to remotely control and monitor the cooker from your home WiFi network or anywhere you can get an internet connection, using GMG's "server mode." WiFi is showing up on more and more pellet cookers these days, so cooks can take full advantage of the "set-and-forget-it" convenience, even if they have to step away from the grill for a few hours. I gotta say, it's pretty cool to set a pork shoulder on your smoker, fill the hopper with wood pellets, then disappear for a few hours, monitoring the pellet level, cooker temp, and meat temp from your phone. Of course, a WiFi connection is never foolproof (more details below), but it's a welcome addition to outdoor cooking technology. Compared to Daniel Boone Choice, Ledge Prime also comes with a USB charging port, viewing windows in both the grill lid and pellet hopper, a larger pellet hopper, a storage shelf in the bottom of the rolling cart, along with more upgrades and extras detailed below. Otherwise, the materials, construction, and total cooking area of both DB Choice and DB Prime are very similar.
When we first reviewed Ledge it was called "Daniel Boone Prime". Ledge is almost identical but with some enhancements, including brackets on each side to accommodate an optional rotisserie. The front shelf also folds down instead of being stationary, and instead of a traditional metal igniter in the firepot, Ledge has a ceramic igniter, which typically lasts longer. The AC/DC adapter on Ledge is also more heavy-duty and waterproof. Here is our Walk Around Video of the Ledge forerunner, Daniel Boone Prime.
Like what you're reading? Click here to get Smoke Signals, our free monthly email that tells you about new articles, recipes, product reviews, science, myth-busting, and more. Be Amazing!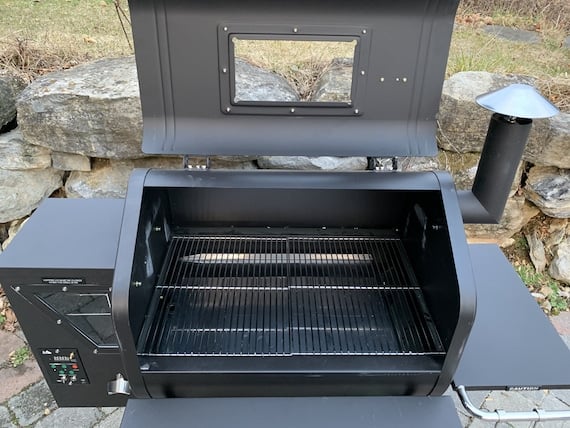 Construction and features
Ledge Prime weighs in at 177 pounds, about 20 pounds heavier than its Choice brother. The total cooking capacity of both is the same at 458 square inches. All Green Mountain Grills have peaked lids on the cookbox, somewhat like an A-frame house. That extra head room allows you smoke some big birds on the Ledge. Planning to smoke a whole turkey for Thanksgiving? No problem.
The cookbox and lid are constructed of 14 gauge steel. You can get the Ledge with an optional stainless steel lid constructed of 14 gauge steel. Otherwise, the standard lid is made of slightly thicker 13 gauge enameled steel. Green Mountain Grills offers a host of other accessories, including a wood-fired pizza attachment (see preliminary test results below), a collapsible upper cooking rack, rotisserie kit, thermal blanket, cover, and more.
The model I tested had the standard 13-gauge lid, and in warm weather it worked perfectly to hold in the heat and maintain set temperatures. I also tested the cooker in cold weather, and if you regularly cook outdoors in the cold, a thermal blanket may be a wise investment. Heat retention and the amount of pellets you go through are directly proportional to a cooker's material thickness as well as the quality of its construction and seals (and the weather, of course). After testing on steel pellet cookers ranging from pretty thick 7 gauge to much thinner 20 gauge in all four seasons, I can safely say that with thicker steel, you'll go through fewer pellets in cold weather. Just something to keep in mind. At 14 gauge, the Ledge cookbox is pretty much middle-of-the-pack in terms of material thickness.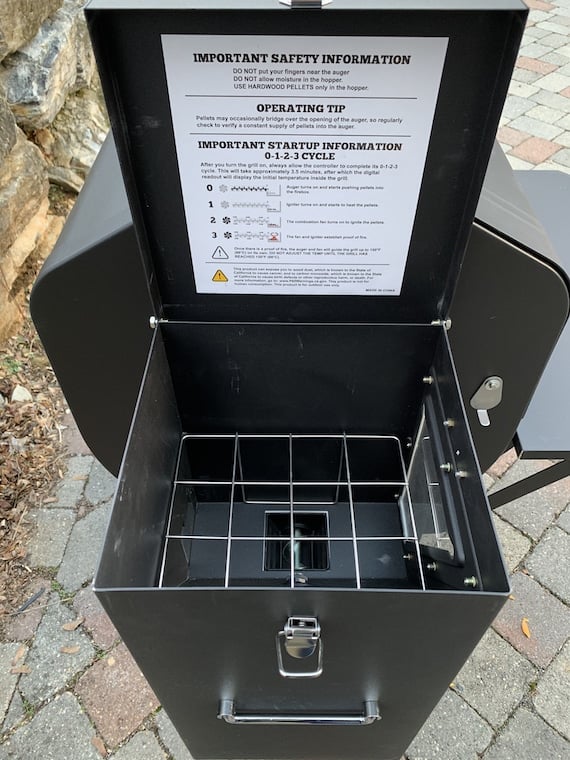 The 18-pound hopper is also a pretty standard size among pellet grill manufacturers. On the Ledge Prime, it has a low pellet sensor and a safety screen to keep anything like your beer can from dropping into the auger. Notice the hopper latch that keeps the top closed. That keeps out rain and enterprising squirrels. Just below the latch, you see the stainless handle, which toggles down and out of the way when not in use, a nice touch. If you look at the DB Prime cookbox in the photo, you'll see that the left side also has a little metal sliding trap door with two small holes beneath it to feed your temperature probes into the cookbox so you're not crushing the probe cables under the lid. Another nice touch.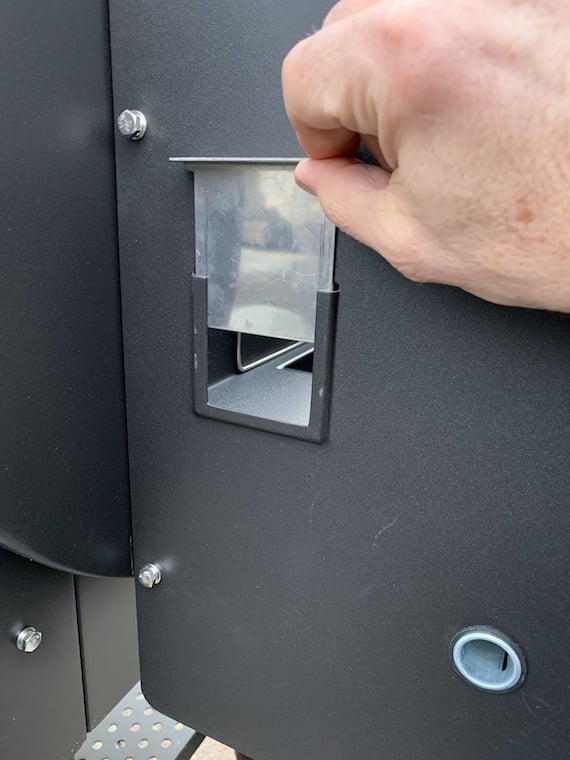 A trap door at the back allows you to easily empty the hopper to, say, swap out pellet types. Notice also the 12V direct current input at the bottom right of the hopper. DC is the current favorite for pellet smokers, offering safer, more efficient power consumption, faster startups, and better pellet fuel economy.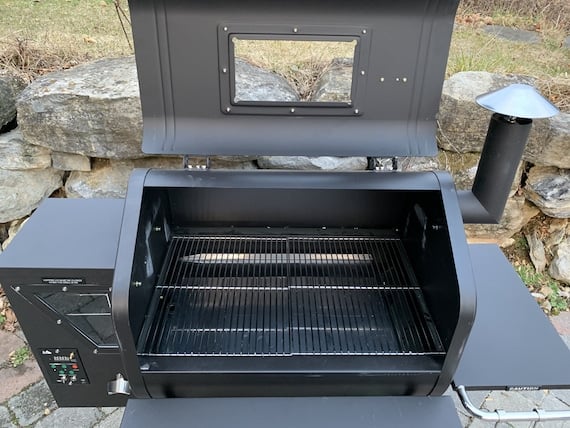 Other standard features on the Ledge Prime include the digital thermostatic controller, a front work table, folding side table with adjustable tool hooks, an adjustable chimney cap, two stainless steel grill grates, and 3 heavy-duty meat probes to monitor temps during cooking.
Green Mountain even throws in a bottle opener at the bottom of the hopper because, let's be honest, sipping a beer while smoking meat is one of life's great pleasures. For assembly, they give you a handy socket wrench and some extra bolts in case you lose any parts while sipping that beer. The quick-start guide gets you up and running in no time, and the 212-page printed owner's manual includes more than 50 recipes with color photographs, a troubleshooting section in case anything goes kaflooey, and a detailed WiFi connection guide for the smartphone app. All the guides are available online as well.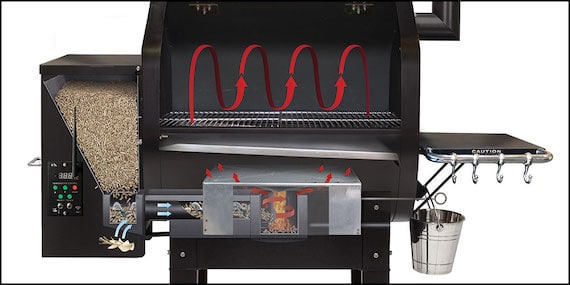 Design
Like other pellet grills, Ledge works much like an indoor kitchen oven but outside—and with smoke. The pellet hopper has an auger at the bottom that feeds pellets to a firepot, where the pellets are ignited by a hot rod igniter. Poof. You get heat and smoke. A temperature probe and digital thermostatic control system regulate the temperature by periodically feeding pellets into the firepot, and blowing air over them, and you'll hear the Ledge fan and auger cycling on and off throughout the cook if you're nearby. Heat is spread across the cooking area by a heat diffuser and grease tray, which diverts grease into an external bucket. Temperatures are regulated by a digital thermostatic controller.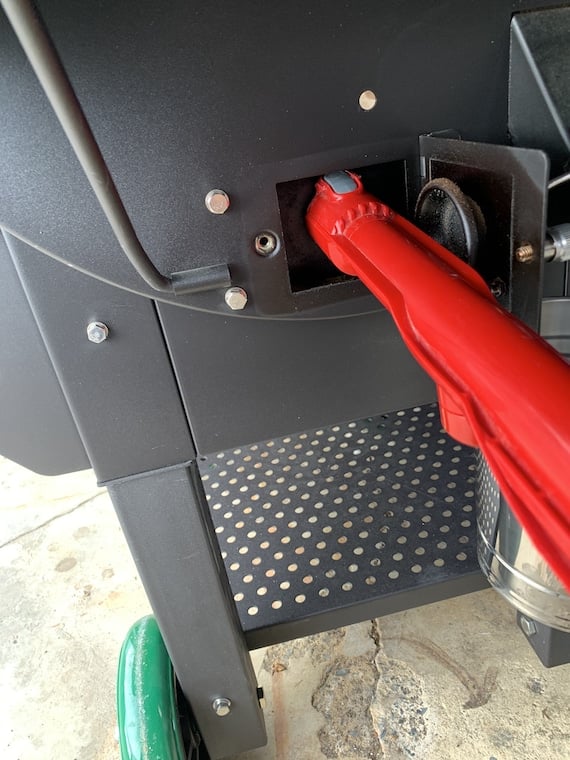 Pellets burn pretty efficiently and don't produce a ton of waste, but the ash does build up. Green Mountain has a clever ash cleanout system. A metal tube runs from the firepot to a lockable door on the outside of the cookbox. Open the door and you can suck out the spent ashes from the firepot with a ShopVac or even a regular household vacuum cleaner like the one shown here. That means you don't have to remove all the greasy grates and tray and heat shield to clean the cooker. Smart!
Back to that 12V direct power. Green Mountain claims it provides faster startups, better temperature control, and greater pellet fuel economy. Essentially, with the 12V system, the controller, auger, and fan respond more quickly to adjustments, helping to keep the cooker temperature right where you set it. You can make temperature adjustments in 5° increments from a low of 150°F up to a high of 550°F. Green Mountain's "Sense-Mate" thermal sensor also monitors the ambient temperature constantly, feeding the fire only when necessary. You can even set the controller to Keep Warm Mode or Fan Only Mode with an automatic shut-off that blows ash out of the firebox when you are finished cooking.
Up your game: Join our Pitmaster Club. Try it out for free for 30 days. No credit card is needed. No spam. Join now and Be Amazing!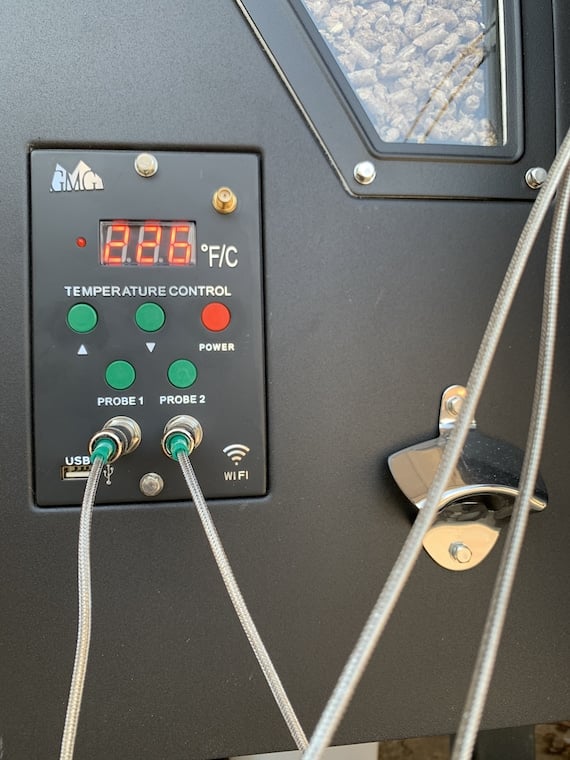 Cook tests
Time to make food! I have to admit, on my first cook, I did have a couple hiccups. At 8:45am when I started, it was a nippy 32°F outside. After pressing the power button, the auger kicked in and the startup cycle began, but the cooker never heated up above the ambient temperature. There was no P.O.F. (proof of fire) in the firepot, which was also overflowing with unlit pellets. There was quite a bit of sawdust too. So I powered down the cooker, and after the shutdown/cooldown cycle was complete, I cleaned out the firepot, blew out the sawdust, and tried again. Second time was a charm. The controller went through its startup cycle and the cooker heated up to 150°F. Once it reaches that temperature, the controller operates according to your set temperature.
Before the very first cook, Green Mountain recommends you do a 30-minute burn in at 350°F to burn off any manufacturer residue. You only need to do that once. Then you're ready to roll.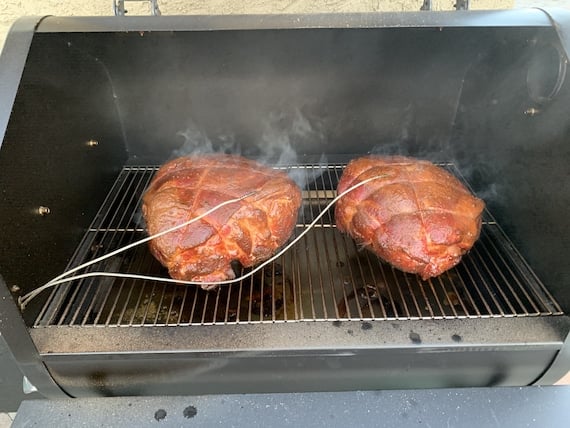 After the burn-in, I set the grill temp to 225°F, and put two 9 pound pork shoulders on the grates. Check out our standard pulled pork recipe here. Then I filled the 18-pound hopper to the brim and went for a mountain bike ride. Figured I'd let Ledge fly solo and see how well he did! When I came back 2 hours later, the pork shoulders had a nice reddish veneer on them from the smoke. I spritzed them with a mixture of cider vinegar, apple juice, and water, checked the pellet hopper (it had plenty of pellets), and let Ledge fly solo again. After about 10 hours of cooking with intermittent checking, it was early evening. I spritzed the shoulders again and pushed the pellets down from the sides of the hopper. Then Ledge flew solo for another 4 hours.
That's when the real hiccup happened. Around 10pm, the grill started its shutdown cycle. But the shoulders only registered 175°F internal temperature, not the 195 to 200°F they needed to be at. They weren't done. And there were still plenty of pellets in the hopper. But I had forgotten to push them down to the center from the sides the last time I checked. The pellets were hugging the sides of the hopper, and the auger was empty. The firepot was empty too, so Ledge started to shut itself down. I turned it off, then back on, and it went through its usual startup cycle, feeding pellets into the firepot. But the pellets didn't light. It was the same problem I'd had that morning. No proof of fire. Too much sawdust. Too many pellets. (And this was before I knew about the Bypass feature. And it was before I'd tested the app, which includes a low pellet warning with a visible alert and vibration on your phone. Next time!).
At this point, it was late at night, and I didn't want to clean the whole thing out again. But the shoulders needed a few more hours to finish cooking. So I put them in my indoor oven at 225°F with a drip pan below, closed the door, and went to bed. At 6:30am the next morning, they had hit 203°F internal temp. Perfect. I let them rest a bit then pulled them. I knew they wouldn't be super smoky because they missed several hours of smoking. Plus pellet-smoked meat rarely comes out super smoky tasting. But I love the taste of smoke. So I put some liquid smoke in the vinegar sauce for the meat (gahead, shoot me!), and I seasoned the meat with some smoked salt I'd made months before. The pork tasted awesome. Certainly not the best pulled pork I've ever made, but it was 100% delicious.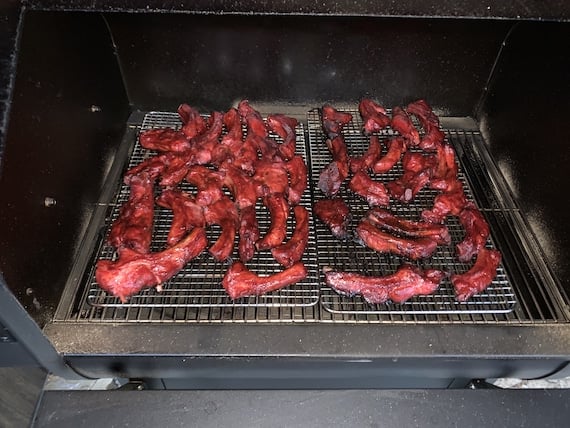 The Super Bowl was coming up, so for the next cook, I decided to have a rib off. It was the Kansas City Chiefs vs. the San Francisco 49ers. I made KC style ribs vs. Char Siu Ribs. Ledge handled the Char Siu, while the KC style ribs went on another pellet smoker I had on the patio. I have to say, after everyone at the Super Bowl party tasted both kinds of ribs, the Ledge Char Siu took the win. Can't say as much for the 49ers. KC took that Super Bowl trophy home!
Hungry for more ribs recipes, tips, and techniques? Click here to download our ebook "Amazing Ribs Made Easy" $3.99 on Amazon (free Kindle app runs on all computers and devices). Or, get this book and others FREE as a member of the AmazingRibs.com Pitmaster Club. Click here to join.

Temperature test
To see how evenly the heat is distributed in Ledge Prime, I did our standard bread test. We usually do this test before cooking any food, but I wanted to do it after a few cooks to see how the temps held up in the long run. I set the smoker to 300°F, laid out cheap white bread across the cooking surface, put down the lid, and made toast for 7 minutes total. As you can see from the bread test photo, Ledge tends to run hotter on the left and progressively cooler to the right. Note that for this test the heat shield was positioned as recommended by the manufacturer. But if you move the heat shield, it changes the heat distribution (more on that below).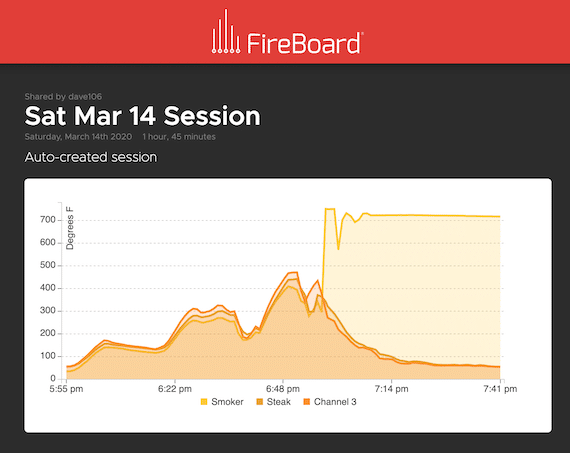 These results were confirmed by temps measured on my Fireboard with probes set on the right front, right back, and left center of the grill grates. The Fireboard graph here shows temps for the three probes, labeled Smoker (right front), Steak (right back), and Channel 3 (left center). All probes were simply clipped to the grill grates in those positions. Around 6:30pm, the grill's readout on the digital controller was 300°F, as set, and the probe clipped to the right back of the cooker (labeled Steak) also read about 300°F. The probe at right front (labeled Smoker) read a bit cooler, around 275°F, and the probe at left center (labeled Channel 3) read a bit hotter, around 325°F. Essentially, these numbers show that Ledge was running a little hotter on the left and cooler on the right with the heat shield in the manufacturer's recommended position. To even out the heat distribution, Green Mountain recommends adjusting the heat shield (see below for details). As for the rest of the graph here, after doing this bread test, I left the probes clipped to the grates and raised the heat a bit, as shown in the graph. Around 7pm, temps for each probe remained pretty consistent relative to each other. At that point, I removed the probes from the grill grate and they gradually cooled down, as shown. At least two of them did. I was in such a hurry, I forgot to turn off the Fireboard! I simply moved everything and clipped one of the probes (labeled Smoker) to my charcoal grill, which was already fired up to sear some steaks. That's why the graph shows a huge temperature spike for that probe. Note: those high temps of 700°F or so were not registered on the Ledge.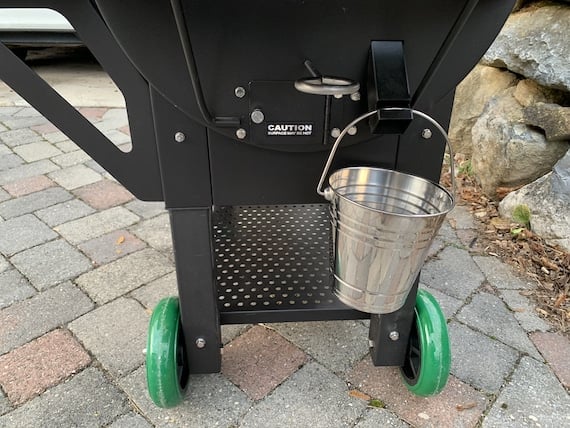 You can alter Ledge's thermodynamics by moving the heat diffuser that sits over the firepot. The heat diffuser is easily adjustable from left to right with a removable stainless eye-hook handle that screws into the right side of the diffuser through the cookbox (see photo). Green Mountain recommends adjusting the diffuser (a.k.a. heat shield) so that the left side sits 4.25 inches from the left wall of the cookbox. Moving the heat diffuser further left or right allows you to alter the temperature dynamics so you can fine tune the heat zones depending on what you're cooking and at what temperature. I asked Jason Baker at Green Mountain for more detail on this temperature fine tuning, and he told me, "The heatshield can play a big role as well in how the unit operates. We have learned over the decade that wind-speed inside the unit creates a different thermodynamic at 550°F and 150°F (extremes) therefore, giving the customer the ability to maneuver the heatshield left to right can change those dynamics with minimal left to right adjustments."
You can also calibrate the grill using the companion app. The "Grill Options" page allows you to calibrate the grill probe temperature and the food probe temperature settings. Let's say you have a third party temperature sensor that you trust and it reads 10ºF above the temp reading on the Ledge controller. You can set the value to +10 to calibrate the grill temperature. Or if your trusted sensor reads 10ºF below the controller's reading, you can adjust the value to -10.
In effect, calibrating the grill temperature changes the auger speed, feeding pellets into the firepot at a faster or slower pace. This calibration feature can also be useful if you're cooking in extreme climate conditions. Let's say it's 105°F in Phoenix and you don't need to burn as many pellets to maintain the grill temp, you can set/calibrate the auger speed to run slower. Or if it's -5°F in Vermont and you need to burn more pellets to maintain the cooker's set temp, you can set/calibrate the auger to run faster.
Same goes for the food temperature probes. If you have a set of probes you prefer over the supplied meat probes, you can use the app to calibrate the temps.
Another useful feature on the controller itself: Bypass. Just press the power button, then press it again and hold it to activate the Bypass feature. Why? Let's say your power goes off. Maybe you're at a competition and suddenly lose power, you don't need to completely restart the cooker and go through the normal startup cycle. As long as there are burning embers in the firepot, you can Bypass the startup cycle and restart the grill immediately, allowing you to jump right back to where you were in your cook. Jason told me that this Bypass feature is actually how Green Mountain tests the functionality of its smokers to make sure the fan, the auger, and igniter are working properly regardless of the startup cycle.
The adjustable heat shield and temperature calibration make Ledge Prime more versatile than some other pellet cookers at this price. Along with set-it-and-forget-it convenience, you have the ability to fine tune the heat distribution, cooker temperature, and meat probe temperatures.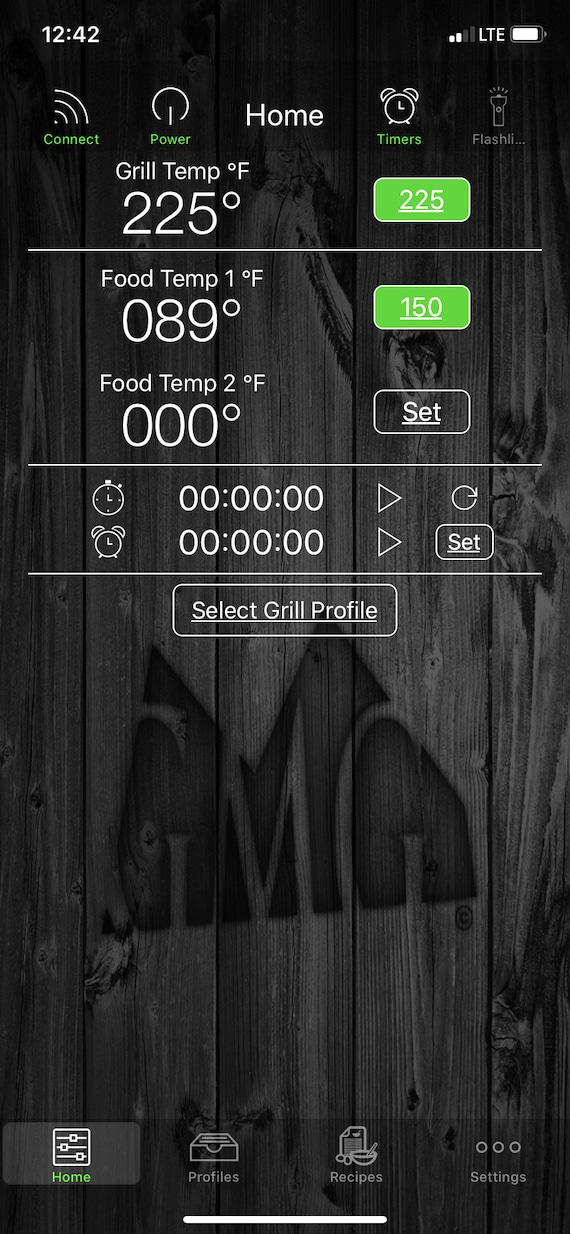 Pastrami was up next. I'd already made corned beef for St. Patrick's Day using Meathead's recipe. I figured why not go all in and smoke that beef into pastrami? I desalinated the beef, let the rub sit on it for a couple days, then smoked it at 225°F. But this time I controlled Ledge via the app. I felt like a master puppeteer manipulating my marionette with WiFi. Using my home network, I powered up Ledge from inside my house and watched it go through the startup cycle from the kitchen window. As Ledge came to life, I could see the smoke pouring out. It was ready. I adjusted the temps, carried the corned beef outside, put it on the smoker, inserted a meat probe and went back inside. It was pretty cold outside that day, so I hunkered down with a mug of hot coffee in my favorite armchair. I'd set the finish temp for the meat at 150°F. I wanted it super tender. A few hours later, I took a screenshot of the app showing the actual and set temps (shown in green) for the cooker and the meat.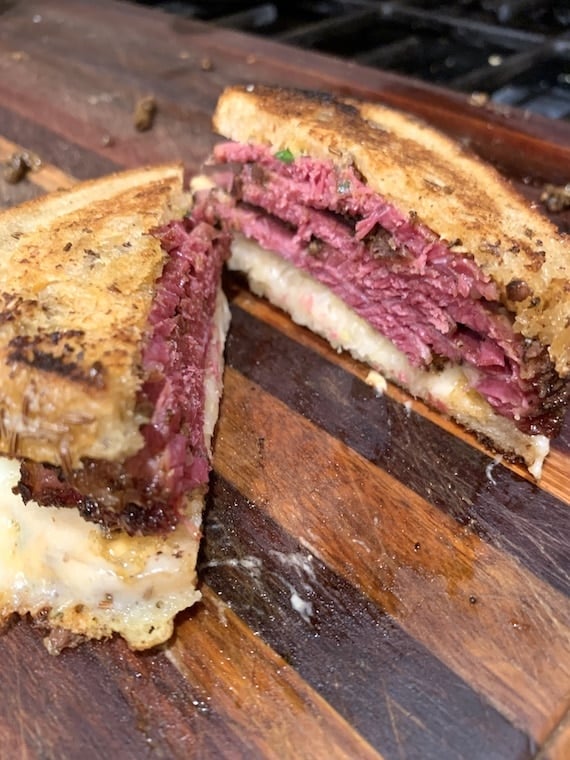 At this point, I stepped out for rye bread, and let Ledge do its thing. When I came back, I could smell the black pepper and coriander wafting from the cooker. Then I steamed the meat in a bamboo steamer I bought on the cheap at a pan-Asian grocery store near me. When it hit 203°F, I sliced it and slapped together some reubens. Damn, were they tasty.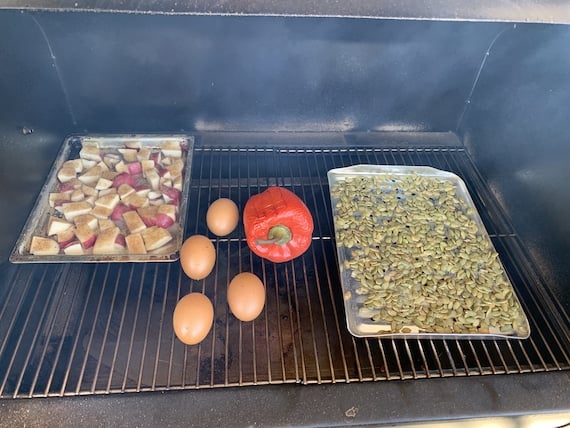 Over the next few months, I threw a bunch of food off the Ledge. I smoked chicken wings, more pork shoulder, and a batch of random stuff like pumpkin seeds, potatoes, peppers, and eggs. Yes, smoked eggs.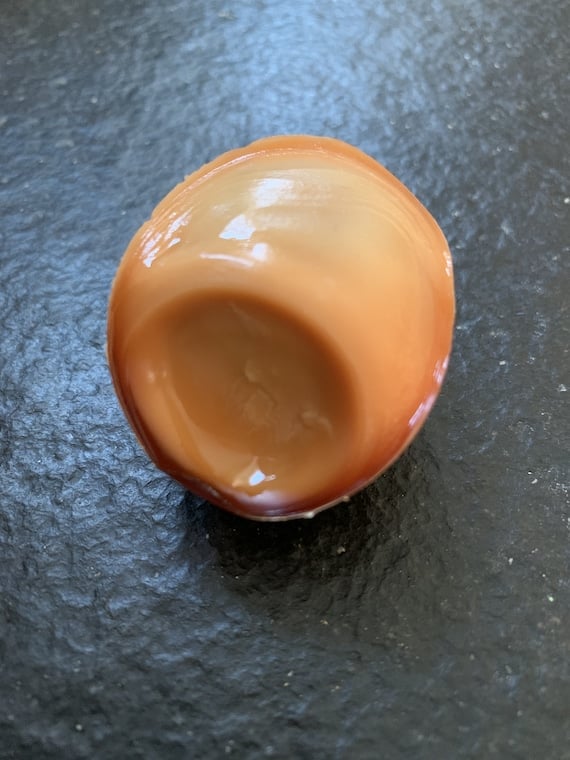 Smoked eggs cook much like hardcooked or soft-cooked eggs, but the egg white turns smoky brown. The smoke flavor is subtle, but it's there. It makes a fun twist on egg salad sandwiches when you use smoked eggs.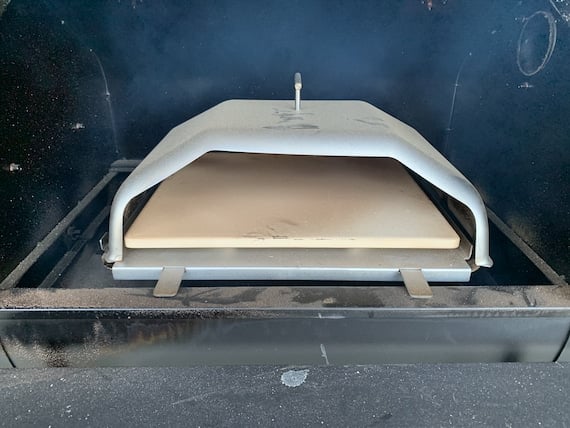 Green Mountain makes lots of accessories, and I'm a pizza fanatic, so I was psyched to try the pizza attachment. To use it, you remove both the grease tray and heat shield. The attachment consists of a funnel shaped metal box that sits directly over the firepot. A ceramic pizza stone rests on top of the box and you set a metal lid over the unit to help trap the heat. At first, I disregarded GMG's recommendation to keep the heat at a moderate 350°F. I cranked it! Then I shot a laser thermometer on the pizza stone. It registered 925°F!! Way too hot. But it's good to know you can get raging hot temps on this thing. I dialed the heat back down to 350°F so I wouldn't burn the hell out of my pizza. Then I checked the stone temp again, and this time it was at 650°F. Perfect.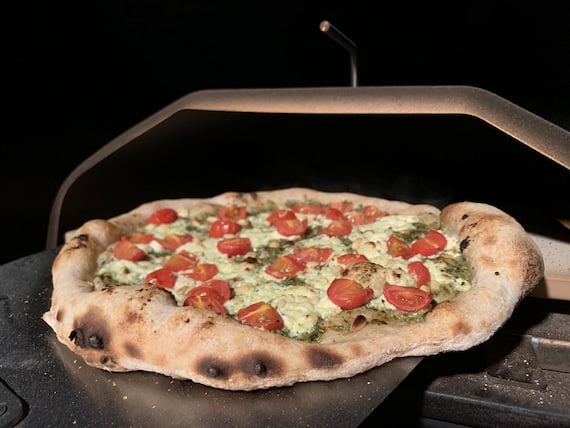 I made a few pies and was pretty impressed. The stone recovered its heat in just a few minutes between pies. The bottom crusts got nice and crisp. The lid could have used just a tad more top heat to bubble up the rim of the crust, but that's a minor quibble. This pizza attachment works very well. For more detailed info on GMG's pizza attachment, click here to check out our full review.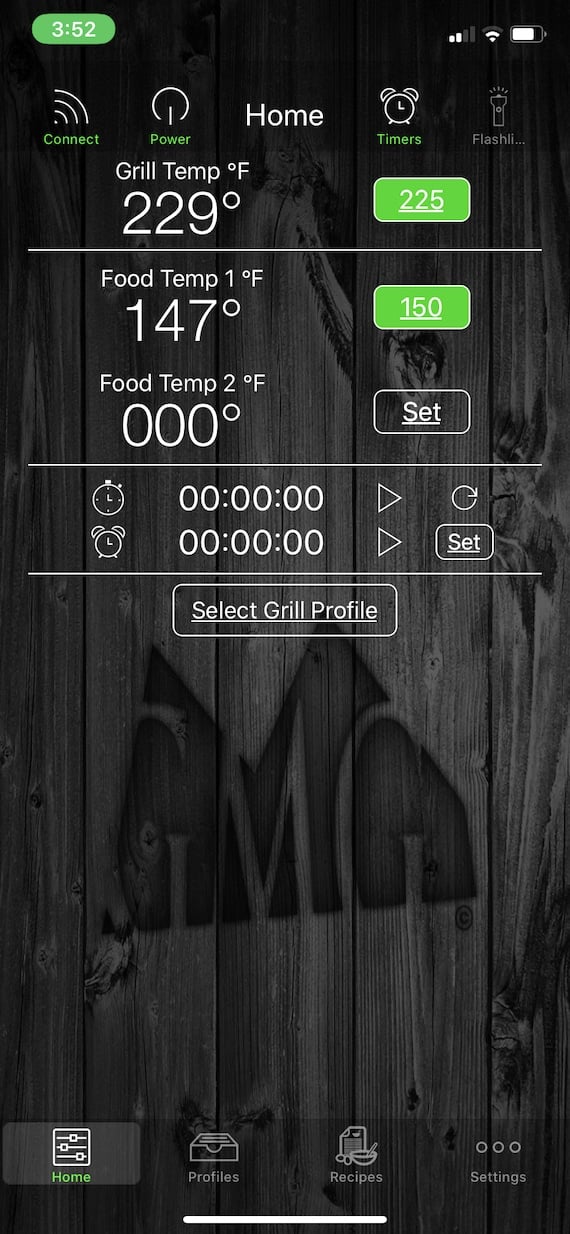 Using the App
Connecting Ledge to WiFi and using the GMG app really takes the convenience of pellet cooking into the 21st century. You can connect via Bluetooth or WiFi, and once you do, the app allows you to monitor and control Ledge remotely. As mentioned above, it was a treat on a chilly day to power up, set the cooker and meat temps, and smoke pastrami while monitoring everything from the comfort of my favorite armchair inside.
The app has a fairly intuitive interface with buttons across the top of the home screen for "Connect," "Power," "Timers," and a flashlight button in case you need to illuminate your food. The Home screen displays actual and set temps (in green) for both the grill and food (you can monitors 2 foods at once with the provided probes). Below that, you can see the timers, if you set any.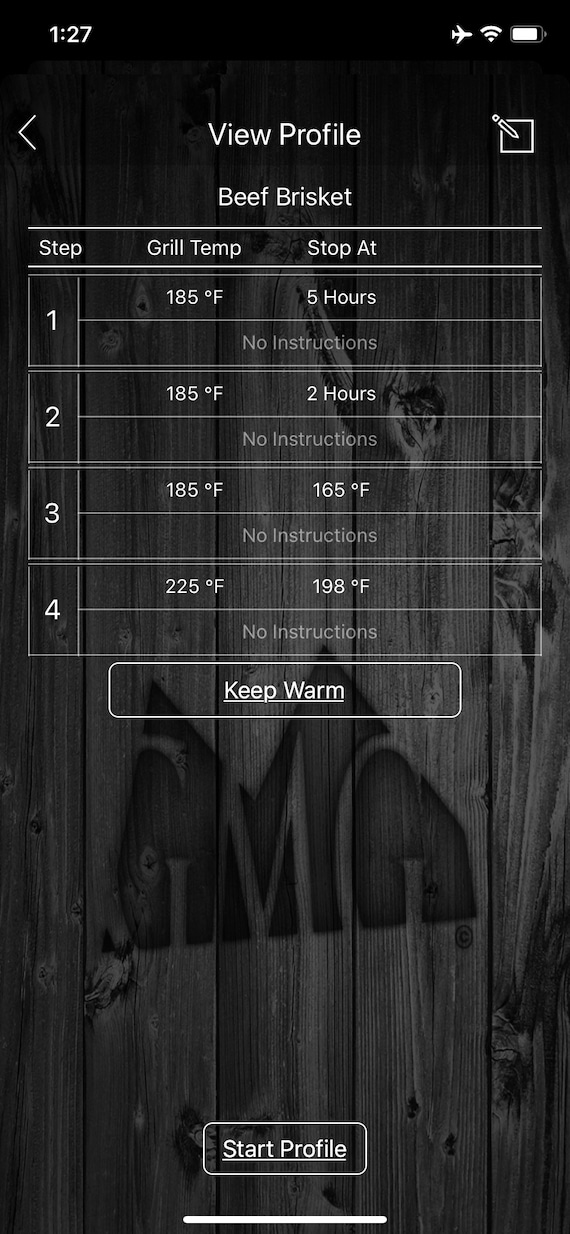 You can also "Select Grill Profile" which takes you to preset grill temps and timers for common smoked and grilled foods like beef brisket, beef tri tip, pulled pork, and smoked salmon. The brisket profile shown here takes you through several cooking steps. Once you "Start Profile" the cooker automatically proceeds through these steps to cook the brisket. Personally, I like to be a little more involved in the cooking, so this type of total autopilot feature is a bit much for me. But I know some folks who love this sort of automation, and the GMG app provides it.
Along the bottom of the Home screen, you see buttons for Profiles (the same ones just described), Recipes, and Settings. The recipes section is very impressive, including 50+ recipes with color photos, prep and cook times, and complete instructions. The recipes even recommend various types of wood pellets to complement the food, although we think the flavor differences among most wood types are pretty minor. Click here to read more on that. The Settings button allows you to update the WiFi firmware, connect to your home network, set the temp displays to °F or °C, and monitor multiple GMG grills at once. There are even buttons for App Support and Grill Support with tutorials on things like connecting and performing a Hot Start, as well as dozens of FAQs to answer just about any question you've got. And just in case they missed something or Ledge starts acting funny, the About GMG button includes GMG customer service email and phone numbers. Having contacted GMG's customer service to solve some connectivity issues, I can confirm that their customer service is among the best in the business with real people on the other end who are both quick and knowledgeable.
Lots of pellet cookers are app-driven now, and they all have their idiosyncrasies. Each requires a unique setup. One handy feature on GMG's cookers is that initial WiFi password is the serial number printed on back of the cooker. Even so, the first time I used the app, I couldn't connect. A quick call to GMG solved the problem: I hadn't updated the grill's firmware. Once I did, I was able to configure it to connect through my home WiFi network and reset the password. Then I could control Ledge right from my phone. While the app and WiFi worked as promised, consistent remote control is only as strong as your WiFi connection. I did lose the connection a couple times in my cook tests. Having experienced this before with other "smart" pellet cooker tests, I didn't set the grill for complete autopilot. So it was easy to go back out to the cooker and re-establish the connection to keep monitoring temps from a distance. Even though it wasn't a big issue, I called Jason Baker at Green Mountain to ask about general connectivity issues, and he told me they are currently developing the app connectivity to make it is easier for folks to connect. The update should be rolling out soon.
Green Mountain also offers a larger model with a 658 square inch cooking surface named the Peak Prime. Also available in a stainless steel model.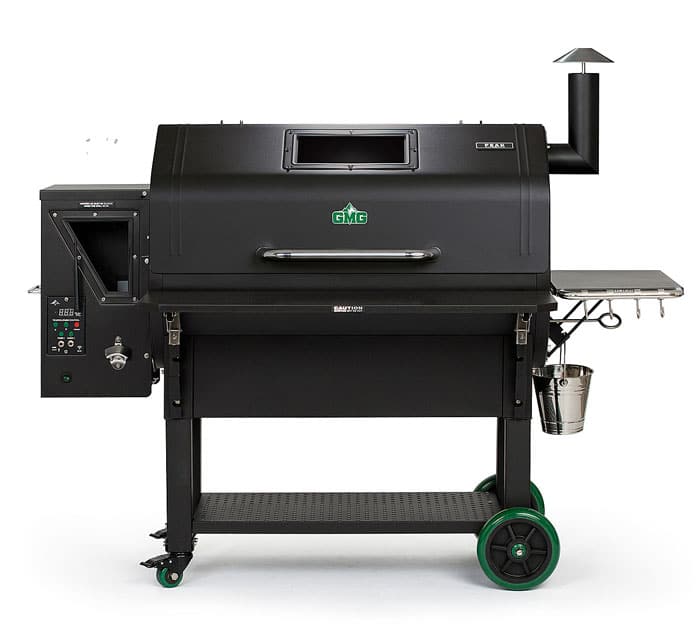 And a small portable named Trek Prime.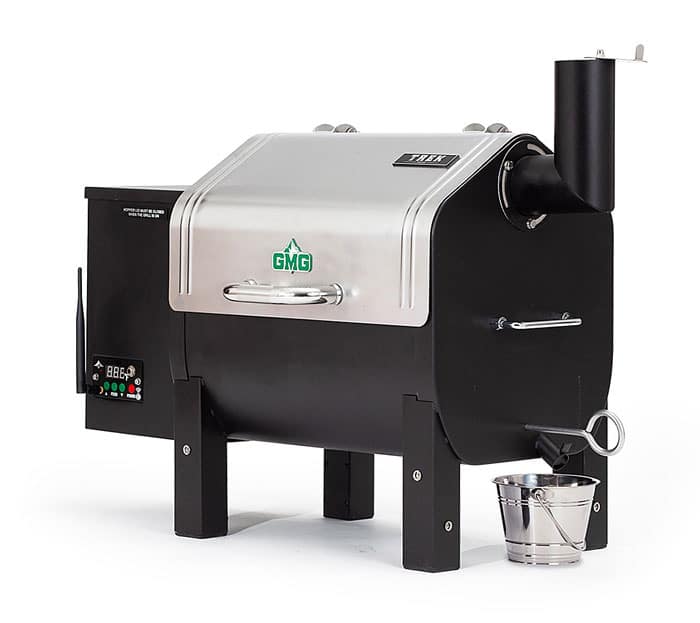 Assembly and packaging
Green Mountain does a fantastic job securely packaging the grill and parts so they can be easily unwrapped and assembled. They even throw in a socket wrench so you don't need extra tools. Once the legs, wheels, bottom shelf, front and side shelves, tool hooks, and chimney are bolted and screwed onto Ledge Prime, inserting the heat shield, grease tray, and grill grates is simple. Then you're ready for the initial burn in, and it's time to cook.
Get a sneak peak at Meathead's next book. He shares chapters with members of our Pitmaster Club as he finishes them. Click here for a free 30 day trial. No credit card needed. No spam. Click here to Be Amazing!
Conclusion
Green Mountain Grills are made in China, which is probably one reason why their prices are so reasonable. On Ledge Prime, the cookbox and lid are constructed of somewhat thin 14 gauge enameled steel, which also helps keep the price down. The viewing windows in the grill lid and pellet hopper are nice touches, but the one in the lid will inevitably darken unless you clean it right after every cook with glass cleaner. One last nit to pick: there was a slight gap between the lid and the cookbox that leaked smoke. This isn't the most airtight cooker we've tested, but it's not nearly the priciest either. That said, I had zero problems maintaining temperatures on Ledge in typical warm weather of 60° to 70°F. As mentioned above, if you regularly cook in cold temperatures below 40°F, I would recommend a thermal blanket to help reduce your pellet fuel use.
Compared to some other grills, the steel side shelf on Ledge Prime feels somewhat thin as well. But I had no problems when loading the side and front shelves up with trays full of 30+ pounds of meat to smoke. Green Mountain seems to have found that sweet spot with middle-of-the-road construction materials and reliable performance suited to almost everyone's needs at an affordable price.
Speaking of which, at the time of my tests, Daniel Boone Prime (now renamed Ledge) and all its WiFi connectivity sold for just $599 on Black Friday . That's a steal: if you can wait for that magic shopping day.
Even at list price, Ledge Prime has quite a few features that most other brands don't, making it a great value. That coupled with its solid performance, ease of use, and Green Mountain's excellent customer service lands the Ledge Prime a solid Gold Medal.
Warranty
3 years on workmanship and materials. We thank Green Mountain Grills for providing a model for our tests.