New York's finest delis have nothing on this flavor packed homemade Reuben sandwich.
Name a better sandwich than the Reuben. I didn't think you could.
Its invention is disputed. The estimable Craig Claiborne, for many years the New York Times' food editor and author of numerous cookbooks, tried to trace the sandwich's origin. He came up with two plausible sources:
One story is that the sandwich was popularized by a waitress, Fern Snider of Omaha, NE, who took first prize with it in the 1956 National Sandwich Contest. She got the idea from one of her employers, the Blackstone Hotel in Omaha at the time. Seems the owner belonged to a weekly poker group from 1920 to 1935 and part of the evening's entertainment was making sandwiches. One player, a grocer named Reuben Kay came up with the recipe of corned beef brisket, kraut, and Swiss on rye. When the Blackstone served it, Reuben's name was attached.
Soon after Claiborne was told that story by the National Kraut Packers Association, he got as letter from Patricia Taylor of Manhattan. She made the plausible claim that the sandwich had been invented by her father, Arnold Reuben, the proprietor of a legendary, now defunct, deli on 59th Street. She wrote "The year was 1914. Late one evening a leading lady of actor Charlie Chaplin came into the restaurant and said, 'Reuben, make me a sandwich, make it a combination, I'm so hungry I could eat a brick.'
"He took a loaf of rye bread, cut two slices on the bias and stacked one piece with sliced Virginia ham, roast turkey, and imported Swiss cheese, topped off with coleslaw and lots of Reuben's special Russian dressing and the second slice of bread. He served it to the lady who said, 'Gee, Reuben, this is the best sandwich I ever ate, you ought to call it an Annette Seelos Special.' To which he replied, 'Like hell I will, I'll call it a Reuben's Special.'"
Arnold Reuben's invention may have come first, but Reuben Kay's sounds a lot more like the classic sandwich we make today, practically unaltered. According to Claiborne, Bernard Schimmel, chef at the Blackstone and son of the poker player, considered making the Reuben an art, and insisted it be served on pumpernickel, preferably sourdough. Sometimes he served it cold, otherwise it was served warm on the outside and cold on the inside. He laid the bread slices side by side and put the beef on one side, the cheese on the other. He mixed the kraut with Russian dressing, plopped it on one side or the other, buttered the outside of the bread, and heated it on the griddle.
I have made one significant alteration to the traditional recipe. The original has Russian dressing which is ketchup and mayo mixed together. I have substituted tomato based BBQ sauce, Kansas City style, for the ketchup. You don't have to ask why do you?
Spotlight on our favorite products
The Good-One Is A Superb Grill And A Superb Smoker All In One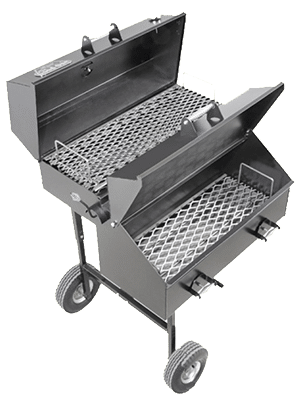 The Good-One Open Range is dramatically different from a traditional offset smoker, placing the heat source behind and under the smokebox instead of off to the side. Click here to read our complete review.
– THIS IS NOT AN AD –
Preparing corned beef for sandwiches or other dishes
Corned beef comes in two forms:
Uncooked corned beef is usually a hunk of beef that is in a brine solution of curing salts, regular salt, and pickling spices. It is then packaged in a sturdy plastic bag with some of the brine. It is very salty and has not been cooked.
Cooked and ready to eat corned beef is cured in a brine with curing salts, regular salt, and pickling spices, then cooked, and usually packaged in slices or sliced at the deli counter.
There are three popular cuts: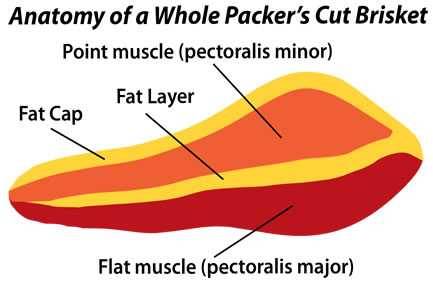 Whole packer is a massive slab 10 to 18 pounds (4.5 to 8.2 kg). You rarely find them corned.
Flat, which is flat, lean, evenly striated and it makes for perfect slices. But it can be tough because it has little marbling. Typically 3 to 5 pounds (1.4 to 2.3 kg).
Point, which is a second muscle on top of the flat that has better marbling and therefore richer flavor, fuller mouthfeel, and is more tender. It is usually sitting on top of a layer of flat with a fatty layer in between. Typically 3 to 5 pounds (1.4 to 2.3 kg).
A grocer named Reuben Kay came up with the recipe of corned beef brisket, kraut, and Swiss on rye. Name a better sandwich than the Reuben. I didn't think you could.
Serve with: a Brooklyn lager.
---
---
Makes:
---
Takes:
---
Ingredients
2

teaspoons

tomato based Kansas City style barbecue sauce or ketchup

2

teaspoons

mayonnaise

3

tablespoons

sauerkraut

2

teaspoons

melted butter

2

slices pumpernickel or rye bread

6

thin slices of corned beef or pastrami, preferably home made

1

slice Swiss cheese, Emmentaler, or Jarlsberg, about 1/8" (3.2 mm) thick
Metric conversion:
These recipes were created in US Customary measurements and the conversion to metric is being done by calculations. They should be accurate, but it is possible there could be an error. If you find one, please let us know in the comments at the bottom of the page
Method
For Uncooked Corned Beef
Prep. If you made corned beef from scratch, or if you bought a package of uncooked corned beef in a plastic bag with brine still in the bag, it is still raw and you must remove some of the salt and cook it before eating it.

Open the package and dump out all the liquid. If you have made your own corned beef, remove it from the brine. Rinse thoroughly. Some packages have some pickling spices in a packet. It is a joke. There is nowhere near enough to do anything useful and if the meat has been corned properly, there is more than enough flavor in it. Throw it out.

Some cuts have a thick layer of fat on the surface of one side, called a fat cap. Trim it all off. This fat is not like marbling in beef. It brings nothing to the party but calories and it just makes scum if you simmer the meat. If you bought the point section of a brisket, there is probably a layer of fat on top of a layer of meat, then another layer of fat, and finally another layer of meat. Trim off the surface fat and leave the center fat layer intact. It will be easy to remove after it is cooked.

Simmer. Place the meat in a large pot along with enough hot water to cover it by at least 1" (2.5 cm) and put the lid on. Turn the heat to medium low, bring it to a simmer at about 190°F (87.8°C) and keep it there for 30 minutes. Do not boil! If you boil it, it will get tough and shrink a lot. Beware that the meat is cold, so when it warms the water will slowly move from simmer to boil. Keep an eye on it and do not to let it boil.

Simmer some more. After 30 minutes of simmering, dump out the water and cover the meat with fresh hot water, again about 1" (2.5 cm) above the meat. Bring to a low simmer again, this time for 3 hours or until it is about 190°F (87.8°C) or fork tender. Some really cheap cuts will never get tender (and that's why it is best to make your own). Keep the meat submerged even if you have to weight it down with a small plate.
For Cooked Corned Beef
Prep. If you are using raw corned beef, you must follow the instructions above. If you have bought corned beef at the deli counter it has already been cooked so move to the next step. If you are using pastrami, it has already been cooked. It is better warm, so throw it in the microwave or steam it.

Dressing. Make the dressing by combining the BBQ sauce and mayo in a bowl or coffee cup. Some folks like to add a teaspoon of sweet pickle relish. If that's what you like, go for it.

Squeeze the sauerkraut in your fist to drain as much of the liquid as possible. Spread it on a paper towel until you are ready to assemble the sandwich.

Fire up. Preheat the grill in a 2-zone setup. Place a griddle or frying pan with an oven safe handle on the hot side of the grill and close the lid.

Prep again. On the insides of the bread spread the dressing. Slice the meat if necessary, and on one side layer the meat, then the kraut, and then the cheese. Now cover the pile with the other slice of bread.

Cook. Paint a thin layer of melted butter on one side of each slice of bread with a basting brush. Make sure the edges are buttered so they don't burn. Put the sandwich on the hot griddle or pan. If you wish, you can grill it right on the grill grates, but you won't get all over browning. Press it down lightly with a spatula and close the lid, but don't go away. In about two minutes peek at the bottom. Get the bread golden brown or as dark as you like it, but don't burn it. Flip and repeat.

Serve. Slice in half on an angle and serve with chips and a beer.
---