While not traditional BBQ ribs, these Chinese pork ribs are just as delicious. Here's how to make Char Siu ribs at home.
I love the "barbecued" pork and ribs in Chinatown. Unlike traditional Southern American low-and-slow smoke roasted BBQ ribs, there is no smoke flavor, even though there is a pink ring beneath the surface of the meat. How do they do it?
Well, it turns out that Char Siu, even though it sounds like charcoal, is not grilled or smoked. It is roasted in a special oven, usually gas fired. And most of the time it gets its ruddy tone from red food coloring (some chefs use a red bean paste, or beets, but that's not common). But it still tastes great. You can buy Char Siu sauce in Chinese specialty stores, but it is thick and gooey. It makes a fine glaze, but it doesn't make ribs that taste like Chinese restaurant ribs. That's because you need to marinate the meat first. I've worked on this recipe for a while and I think I've really nailed the technique for making Chinatown Char Siu Ribs at home in the oven or on the grill. Here's how to do this dizzyingly delicious favorite.
This marinade is especially good on pork, but I used it on chicken, turkey, and duck with great success.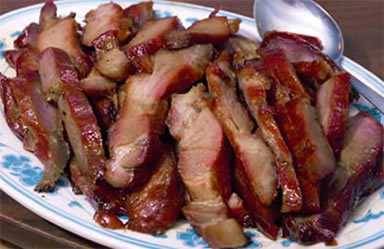 Hungry for more ribs recipes, tips, and techniques? Click here to download our ebook "Amazing Ribs Made Easy" $3.99 on Amazon (free Kindle app runs on all computers and devices). Or, get this book and others FREE as a member of the AmazingRibs.com Pitmaster Club. Click here to join.
Learn more about roast pork by clicking here.
Everybody loves Chinese restaurant "BBQ" ribs. They have a distinct pork flavor, a glossy sheen that implies the sweet glaze beneath, and a glowing red-pink color that penetrates the surface. Here's a simple recipe for making Chinatown char siu ribs at home on your grill or in the oven featuring a flavorful marinade. You can use any cut of ribs.
Serve with: your favorite Asian beer brand.
---
---
Makes:
Servings:
servings, 1/2 rack each
---
Takes:
---
Notes:
About the ribs. Many Chinese restaurants use spareribs that are chopped into 3-4" (8-10 cm) riblets with a cleaver. If you want, your butcher can make you riblets with her band saw. If not, you can do them whole. I like baby backs for this recipe because they are meatier on top of the bone. About the Asian ingredients. There are no substitutes for hoisin sauce, five spice powder, or sesame oil. They are responsible for most of what we think of as the flavor of Chinese and Asian-inspired food in the US. Five spice powder is easy to make at home (click the link above for my recipe), but the others are not easily made. Click on the links for more info on these ingredients. If you have trouble finding them in your grocery store, try Amazon.com. About the hot sauce. If you have an Asian-style chili sauce you can use it, but any old hot sauce will work fine in this marinade since it provides more heat than flavor. The recipe above produces mild heat. Add more if you love pain. About the food coloring. Food coloring is necessary for the authentic color. I am told by readers that you can substitute beet root powder for the red food coloring or fermented bean red curd, but I've never tried them. There is very little used in this recipe and most is discarded with the unused marinade. There are natural food colorings made from achiote and its seeds annato, or cochineal (a.k.a. carmine), an insect. If you want to leave it out, the food will still be great, but it won't have the traditional festive color.
---
Metric conversion:
These recipes were created in US Customary measurements and the conversion to metric is being done by calculations. They should be accurate, but it is possible there could be an error. If you find one, please let us know in the comments at the bottom of the page
Method
Prep. Remove the membrane from the rack of ribs. Cut the rack in to individual ribs.

Mix the marinade thoroughly in a bowl. Don't skip the booze. It helps penetrate, and even if you're a teetotaler, don't worry, there isn't any measurable alcohol in the meat. Yes, I know alcohol can dry meat out, but I just think it works well in this case. If you must skip it, substitute apple juice or water. You can substitute fresh ginger and garlic for powdered ginger and garlic if you wish.

Marinate. Marinate the meat for 1 to 2 hours in a metal bowl or zipper bags. Discard the used marinade. It is contaminated with meat juice. Don't marinate in a plastic bowl if you use the food coloring. It might stain.

Fire up. As much as we are fans of outdoor cooking, this meat also tastes great cooked in an indoor oven. Either way, heat your cooker or oven to about 225°F (107.2°C) in the indirect zone.

Cook. If you are grilling, set up in a 2-zone or Indirect system. Make sure the meat is not directly over the flame on a grill. Indoors, put a pan of water with a rack on top of it under the meat. This is important or drippings will burn in the pan. Roast ribs for about 3 hours, loin strips for about 1 1/2 hours. If you grill, skip the smoking wood. I think it is cleaner and brighter sans lumber.
---
A Dissertation Upon Roast Pig
Everyone has a theory of where barbecue originated. Well here's an explanation that I find irresistible. It was written by Charles Lamb (1775-1834), an English writer whose essays often ran to the fanciful and humorous. His version of the discovery of roast pork was first published in 1822. It is believed to be the source of the common idiom "burn the house to roast the pig", meaning, essentially, overkill. It is probably also the source of the name cracklings for cooked pork skins, and explains why so many barbecue cooks are called Bubba. Clearly Mr. Lamb was a pork lover. Click here to read his tale.
Barbecue pork at Sun Wah
Sun Wah Bar-B-Q Restaurant (5039 N. Broadway St., Chicago, IL 60640, phone 773-769-1254) has been an Uptown Chicago destination since 1987. Owner Eric Cheng learned Chinese barbecue, in Guangdong Province in Southern China, home of Cantonese cuisine. He fled Mao Zedong's Cultural Revolution in China in 1972 by swimming eight hours to Hong Kong where he apprenticed and became a Barbecue Master. He emigrated to New York in 1976 and Chicago in 1986. Here's how he makes barbecue pork (the photos were taken at his previous location):
Strips of pork loin marinate for 20-30 minutes in red bean curd paste, soy bean paste, sugar, salt, monosodium glutamate, oyster sauce, ginger, and dried shallots.
The marinated pork loin strips are skewered and hung in the oven to roast for about 50 minutes. Some ovens use charcoal, but most use gas. The burners go around the bottom of this well-insulated cabinet. There is no smoke.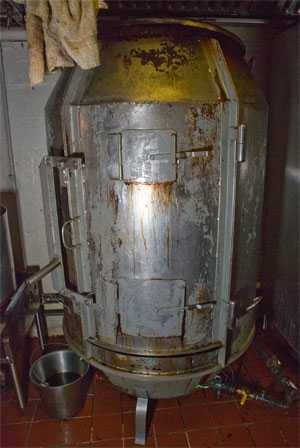 When done they are dunked in a molasses based sauce similar to Char Siu sauce. Barbecue pork loin sections can be bought in slabs or sliced.