A Kentucky original, this bold sauce and mop is perfect for cutting through the richness of lamb and mutton.
The first sheep came over with Columbus on his second voyage and were grown more for their fleece than their meat. Demand for wool kept the US herd up near 60 million head through WWII, and it has been on a steady decline since then, down to about 6 million head today. Tender young lamb is still a popular meat, but far less popular than beef, pork, and chicken.
When a lamb is no longer producing enough wool, more than 1 year old, it is slaughtered for food and the meat is called mutton. It has a distinctive and gamier taste than younger, more succulent lamb. As with so many other BBQ meats such as pork ribs and beef brisket, mutton found its way to the low slow smoker because it is tough, full of connective tissue, and less desirable than lamb.
And why Western Kentucky? Once upon a time, in the 1800s, Kentucky was the largest lamb producing state. It has now fallen to number 34. But the tradition of BBQ mutton lives on in dozens of barbecue joints and church socials. The cuts of choice are shoulder and rear leg.
Black BBQ Sauce sounds weird, but it is remarkably effective. I was pretty skeptical, but once I tasted it, I understood. Sweet sauce would be all wrong. This thin tart sauce cuts the rich fat, which is more intensely flavored than beef, pork, and chicken by far. The sauce is used as a baste, called a dip, because it is thin and penetrates. It is also used as a finishing sauce.
Spotlight on our favorite products
The Cool Kettle With The Hinged Hood We Always Wanted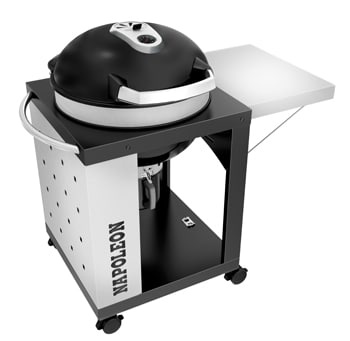 It's hard to beat a Weber kettle, but Napoleon holds its own and adds some unique features to make their 22″ Pro Cart a great alternative!
Click here for more about what makes this grill special.
– THIS IS NOT AN AD –
The meat is prepared in a similar fashion to pulled pork, but it is usually not shredded, it is sliced. It is then doused with the thin sauce that enters all its the openings it can find.
Some places, like the Moonlite Bar-B-Q Inn, the most famous of all the Western Kentucky BBQ joints, have two slightly different recipes, one for basting, and one for serving. Moonlite published some of their recipes in a cookbook, Family Favorites from Moonlite
, which I tried, and frankly, wasn't impressed. So I studied their published recipes, ordered a bottle from their website, set about trying to reverse engineer it, and then I amped it up a notch. In head to head blind tasting, everyone liked mine better. So I called it Sunlite just to make sure there is no confusion.
Now keep in mind, this is a technique for long low and slow smoked mutton in the fashion of pulled pork. Shoulder or leg can be cooked this way, but for leg of lamb, I prefer a much different method. You can also break shoulder down into cubes and do spiedies or mechoui.
In Western Kentucky the BBQ is mutton, and the sauce is vinegary, spiked with Worcestershire sauce. Here's a recipe for black BBQ sauce inspired by Moonlite Bar-B-Q Sauce and Dip. This thin tart sauce cuts the rich fat, making it perfect for use as a deeply penetrating baste as the meat cooks or as a finishing sauce.
Serve with: a stout or porter.
---
---
Makes:
---
Takes:
---
Ingredients
The Sauce
2

cups

water

1/2

cup

Lea & Perrins Worcestershire

1/2

cup

distilled vinegar

1/2

teaspoon

white pepper

7

tablespoons

brown sugar

1/4

teaspoon

allspice

1/4

teaspoon

onion powder

1/4

teaspoon

garlic powder

1

tablespoon

Morton Coarse Kosher Salt

1 1/4

teaspoons

lemon juice
The Meat
1

shoulder of mutton or lamb
Notes:
About the salt.
Remember, kosher salt is half the concentration of table salt so if you use table salt, use half as much. Click here to read more about salt and how it works.
Metric conversion:
These recipes were created in US Customary measurements and the conversion to metric is being done by calculations. They should be accurate, but it is possible there could be an error. If you find one, please let us know in the comments at the bottom of the page
Method
Prep the sauce. Mix all of the sauce ingredients in a pot.

Cook the sauce. Simmer the sauce for 10 minutes.

Prep the meat. Prepare a shoulder of mutton or lamb by removing all the surface fat and the tough silver skin hiding under it.

Fire up. Preheat your smoker to about 225°F (107.2°C). If you are using a grill, set it up for 2-zone cooking and get the indirect zone to 225°F (107.2°C).

Cook the meat. Smoke it low and slow as you would a pork shoulder for pulled pork bringing it up to 203°F (95°C). Beware of the stall. It can make the process take hours longer. How long will it take? Depends on how thick your meat is, and whether or not you use the Texas Crutch. But it could take up to 8 hours. Start early and have a faux cambro on hand.

Serve. Cut the meat off the bone in 1/8 to 1/4" (3.2 to 6.4 mm) thick slices and douse with warm sauce just before serving.
---