The best aged Kentucky Bourbons and Tennessee Whiskeys are the Cognacs of the country. And their flavors really amp up barbecue sauce.
Bourbon is named for Bourbon County, Kentucky, and, although law requires Bourbon to be 51% corn, the best are 75% or more corn, with the balance wheat, rye, or barley. Although they are not called Bourbon, Tennessee whiskeys such as Jack Daniel's are made pretty much the same way as Bourbon and are comparable in taste.
The fermentation is induced by the introduction of "sour mash", some of the fermenting mash from previous batches, a process similar to the way sourdough bread is made. The mash ferments and is distilled to 80% alcohol (160 proof), which is aged in oak barrels for two years or more. Most are aged four years, and the best are aged eight years or more. They are blended with water and bottled from 80 to 90 proof.
In recent years Bourbon has grown in popularity, in part because some producers have begun bottling single barrels, aging for longer periods, and using fancy bottles.
Spotlight on our favorite products
The Undisputed Champion!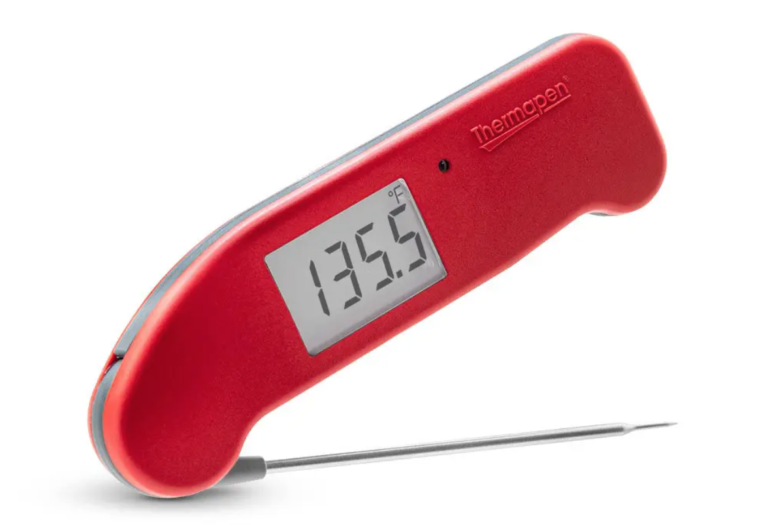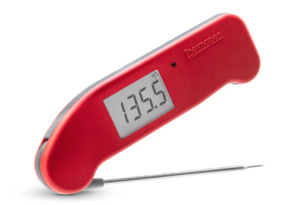 ThermoWorks' Thermapen ONE provides an accurate reading in one second or less. The ONE also includes features that are common on high-end instruments: automatic backlight, rotating display, and water resistant seals. Don't accept cheap substitutes.
Click here to read our comprehensive Platinum Medal review
– THIS IS NOT AN AD –
This Inspiration For This Sauce
The Jack Daniel's World Championship Invitational Barbecue is considered by many to be the most prestigious competition in the world. It is held in the holler just behind the distillery's home, Lynchburg, Tennessee. A few years back they added a sauce competition, but all sauces had to have Jack Daniel's in them. Inventive chefs cooked up some mighty nice sauces, and many of them have found their way into bottles.
Aged corn whiskeys have a wonderful sweet vanilla flavor that is great in BBQ sauces, but it is easily lost among the bold flavors of the alcohol and the other ingredients of a barbecue sauce. To showcase the whiskey flavors, my sauce does not have many ingredients, but it still is very complex. The secret is that we begin by gathering the essence of Bourbon by reducing a cup to a few tablespoons of magical elixir, and in the process, ridding it of the overbearing alcohol.
I named my sauce after the holler in which I got the inspiration, right next to the Jack Daniels distillery.
Jack Daniels Tennessee whiskey is the key to this delicious BBQ sauce recipe, a perfect complement to countless BBQ and grilling main dishes. We keep the other ingredients to a minimum to showcase the complexity of flavor whiskey provides.
Serve with: a Jack Daniels-based cocktail.
---
---
Makes:
---
Takes:
---
Ingredients
2

cups

Jack Daniel's Black Label or a bourbon

1

cup

ketchup

1

tablespoon

lemon juice

2

tablespoons

Worcestershire sauce

2

tablespoons

malt vinegar

4

tablespoons

dark or blackstrap molasses

1/2

teaspoon

liquid smoke

(optional)
Metric conversion:
These recipes were created in US Customary measurements and the conversion to metric is being done by calculations. They should be accurate, but it is possible there could be an error. If you find one, please let us know in the comments at the bottom of the page
Method
Prep. Test the whiskey to make sure it is up to your standards. Pour 1 cup (236.6 ml) of whiskey into a saucepan and set aside the remaining whiskey.

Heat. Bring a saucepan to a boil and reduce the liquid to about 2 tablespoons. Don't let the alcohol flame. Taste the unused whiskey to make sure it hasn't gone bad.

Add 1/2 cup (118.3 ml) of the whiskey and the other ingredients. Simmer over a low heat for 30 minutes and reduce it by about 1/3.

Serve or store. Use it immediately as you would your favorite BBQ sauce or bottle it and keep it in the refrigerator for a month or more. Drink the remaining whiskey.
---