How to make perfect breadcrumbs for Mac & Cheese, chicken and MORE!
Look at a box of seasoned breadcrumbs. I have one in my hand right now. All kindsa stuff in there. All I want is bread and seasonings. Here's how I make breadcrumbs perfect for topping my Mac & Cheese or breaded chicken.
Seasoned Breadcrumbs Recipe
Skip the store bought seasoned bread crumbs and make your own more flavorful ones with this tested recipe. Instead of only featuring breadcrumbs and seasoning, manufactured versions include tons of additives. I buy baguettes and Italian loaves often. I love good artisinal breads for sandwiches and appetizers. But I often don't finish the loaf before it starts getting hard. So I leave it out on the counter for a day or two and they are ready. You need a blender or food processor to grind them up into homemade bread crumbs.
Course. Lunch. Dinner. Bread. Sauces and Condiments.
Cuisine. American.
Makes. About 1 cup
Preparation time. 10 minutes
Ingredients
2 tablespoons Simon and Garfunkel Spice Rub For Poultry Recipe or The Best Italian Seasoning You've Ever Used
1 cup freshly grated breadcrumbs
Do this
1) Take the dried bread and break it into golfball size chunks. Whenever I do this in the kitchen I get yelled at for making the floor crunchy, so now I do this outdoors where the birds can benefit from my clumsiness. One cold day I put the hard bread in a paper bag and smashed it with a rolling pin. This is a very effective technique. The big chunks then go into the blender or food processor and are pulsed until they are about the size of kosher salt.
2) Run the crumbs through a colander, not a strainer, into a bowl so large bits are left behind. Pulse the left behinds. Now measure out 1 cup quantities and store them in zipper bags in the freezer. They stay fresh longer in the cold, and then you can season each bag however you like.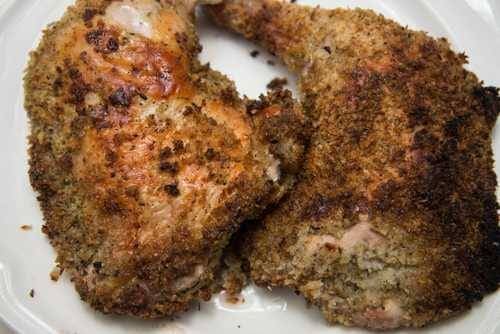 "To barbecue is a way of life rather than a desirable method of cooking."Clement Freud
Published On:
12/03/2013
Last Modified:
12/16/2018