No self-respecting BBQ joint can call itself "authentic" without Mac 'n' Cheese because it is the perfect wingman for BBQ, especially for BBQ with tomato-based sauces
If you go to the grocery you can find numerous versions in boxes, quick, easy, and loaded with salt and preservatives. The homemade version is not only better, but better for you. It is a little time consuming compared to the boxed stuff, but so worth the effort. It is so good and so addictive, I call it Crack 'n' Cheese.
Mac 'n' Cheese is also an important historic dish. The internet is full of unsubstantiated tales of its invention, including the popular misconception that it was created by Thomas Jefferson (see sidebar). The first recipe I can find comes from the book "The Experienced English House-Keeper", by Elizabeth Raffald, published in 1769. It contains macaroni, cream, butter, flour, and cheese, much the same as contemporary recipes.
Cheesy Mac became an American favorite, especially among children, when Kraft Foods introduced the Kraft Dinner in a box 1937. It contained dry macaroni and powdered processed cheese. Just boil water, add the pasta, drain, add milk, margarine, the cheese powder, and bake. It became a popular meal in the US during World War II (1941-1945) when meat, cheese, and milk were rationed. In the 1950s husbands knew their housewives were really stylin' when they riffed on the recipe on the box by adding Velveeta, broccoli, chicken, or even ground beef to make it into a festive entree.
Variations on a theme
The concept of the dish is elegantly simple and brilliant: Chewy tubes of firm pasta filled with rich creamy cheese that sizzles when it comes out of the oven. Actually a casserole because it is baked, it consists of four components: The pasta, the cheese sauce, the mix-ins, and the topping, and they can be varied endlessly. You can keep it simple by just using elbow macaroni and one cheese, or amp it up with a cheese blend, tasty mix-ins, and a fun topping.
Elbow macaroni is the reliable standard, but there's no reason why you can't use rigatoni or penne, a bit larger and capable of holding more wonderful creamy cheese.
To make the cheese sauce you have your choice of many cheeses, and I recommend several winning combos below. The All American classic is just plain cheddar, but adding zing from fontina, or asiago, or Cougar Gold is encouraged.
You can go with the straight cheese sauce, or mix in everything from bacon to bell pepper to lobster. Then there's the topping. You can go chewy gooey with more cheese, or crunchy with croutons.
Julia Moskin makes her case in the New York Times: "Resist the temptation to fiddle around with bread crumbs, corn flakes, tortilla chips and other ingredients that have nothing to do with the dish. When there is enough cheese in and on top of your creation, a brown, crisp crust of toasted cheese will form naturally. There is nothing more delicious. The moral of the story: When in doubt, add more cheese."
You can do this dish ahead by preparing the casserole with the macaroni, mix-ins, toppings, and cheese sauce separately and refrigerate them a day. Don't combine them until just before you bake it or things can get soggy. And make extra. It's fine as leftovers.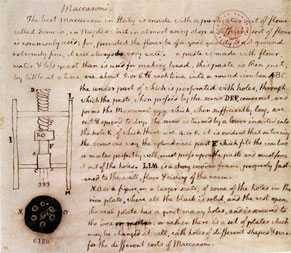 Thomas Jefferson & Macaroni
Macaroni, the generic name for pasta from Italy at the time the Yankee Doodle ditty was written, was all the rage in London and Paris in the mid 1700s. As a spinoff of the term, a man who hewed to trends and dressed in the latest fashion, perhaps even a bit over the top, was often mockingly called a macaroni. Since American colonists were thought to be unkempt and unfashionable by Europeans, smart aleck British soldiers made fun of the Yankee Doodles by singing "He stuck a feather in his hat and called it macaroni." And how are those red coats working out for you guys?
From 1785 to 1789, Thomas Jefferson was our first ambassador to France, a great lover of food and drink, and he too was swept up by the pasta craze. While visiting Italy in 1787 he sketched a macaroni machine (above, from the Library of Congress). The text describes how macaroni is made from finely ground semolina flour in Naples and how it is inserted into the press and extruded in strands. The parts are carefully labeled and described.
While in France, Jefferson had a slave trained as a cook, and brought his French butler back to the US as well as recipes for pastas, French fries, sauces, fruit tarts, desserts, blood sausages, pigs' feet, rabbits, and pigeons, many of which he served to his guests at Monticello.
When he was our third president Jefferson spent more on wine than on food. Can you imagine the scandal if this happened today? It is believed that he served Macaroni and Cheese in the White House in 1802, but it is not likely that he invented it as is popularly believed. Interestingly, his cousin, Mary Randolph, published a cookbook in 1828 with a recipe for macaroni with cheese and butter baked in the oven. You've gotta love the complete title: The Virginia Housewife; or The Methodical Cook. Method is the Soul of Management. There is also a recipe for Barbecue Shote, a.k.a. whole hog.
One thing is sure: Jefferson's Mac 'n' Cheese did not come from a box.
The secret to great macaroni and cheese is to have a big, rich, gutsy, cheesy flavor. To get there, you can shred just one cheese or a blend of cheeses with the large holes of a box grater. With each cheese you use, you add a layer of complexity. Just be careful, not every cheese will work in this dish. Check out some recommended combos below.
---
---
Makes:
---
Takes:
---
Ingredients
Optional Mix-Ins (Highly Recommended)
Cheese Sauce
4

ounces

cheese, shredded

(see above)

2

tablespoons

butter

2

tablespoons

all-purpose flour

1 ½

cups

whole milk or 2% milk

(not 1% or skim)

1

teaspoon

paprika

½

teaspoon

ground black pepper

¼

teaspoon

Morton Coarse Kosher Salt
Topping
2

ounces

grated Cheddar cheese

1

teaspoon

paprika
Notes:
About the macaroni. Rigatoni, ziti, penne, and mostaccioli are fatter tubes than elbow macaroni, so there is more room inside for cheese and sauce to collect. Other pastas work fine, especially fusilli (corkscrews), spiral rotini, and cavatelli. Don't spend a lot of money on artisan pasta, it just gets lost. It is really just a vehicle for the cheese and sauce. Click here for a fun website that shows scores of pasta shapes.
About the cheese. Get good cheese and shred it yourself! Pre-shredded cheese may have been coated to keep it from clumping in the bag and it is much more expensive, and cheese loses flavor once it is grated. A box grater is cheap. If you have a food processor you can even use that. To go another way altogether, one of my recipe testers swears by queso and gorgonzola cheese as a topping.
About the salt.
Remember, kosher salt is half the concentration of table salt so if you use table salt, use half as much. Click here to read more about salt and how it works.
A) All American. To make the classic All American version use medium cheddar or a blend of equal amounts of mild cheddar and sharp cheddar. Make it Southern by turning it into a Pimento Mac 'n' Cheese by adding a medium chopped grill roasted red bell pepper.
B) Italiano. 2 parts fontina, 1 part asiago, 1 part Parmigiano-Reggiano.
C) Ole Smoky. 2 parts smoked cheddar, 1 part smoked gouda
D) Dutch Treat. Equal amounts edam and gouda.
E) French Accent. Brie or camembert and fresh chevre
F) International. Mix and match from any of the above or try gruyère, manchego, or appenzeller.
G) Tried and true. Use a blend of cheddar, gruyère, and gouda.
About the jalapeño. You may want to omit the jalapeño/serrano if kids are eating this dish. On the other hand, if you use green jalapeños and red bell peppers, kids and wusses can pluck out the greenies. For extra heat, substitute chipotle powder for the paprika in the sauce and or the topping. But go easy, that stuff is hot.
More optional mix-ins. Create your own signature Crack 'n' Cheese by adding one or more of these: 1/2 cup chopped cooked lobster, crab, shrimp, smoked chicken; leftover pulled pork (without the sauce); 1/4 cup chopped sun dried tomatoes (not the kind in oil) soaked in warm water for 30 minutes and drained; 1/4 cup chopped broccoli; 1/4 cup fresh or frozen peas an/or sweet corn and/or black beans; 1 raw apple, peeled and chopped into 1/4" cubes; or 1/2 tablespoon shredded truffles. For a little kick, add 1/2 chipotle in adobo sauce, chopped fine.
For a creamier version. Add 3 ounces cream cheese and substitute cream or half and half for the milk.
About the topping. You may need more or less topping depending on the diameter of your pot.
For a crunchy topping. Melt 2 tablespoons of butter and mix in 1/4 cup plain bread crumbs, panko, croutons, crumbled Ritz crackers or saltines, or French's fried breaded onions from the can, or a blend. I'm partial to Ritz Crackers with French's Onions. Add this last after the cheese.
Optional toppings. Sprinkle fresh parsley, chives, or chopped green onions on top before serving or you can put them in a bowl on the table for people to use if they wish. Caramelized onions have a big wow factor.
A secret. For a brighter yellow color, add 1/4 teaspoon turmeric to the cheese sauce. I also like to add 1/2 teaspoon of mustard powder. In a pinch, you can use a one of those packets of mustard that come with Chinese carryout. Make sure it is fresh. It does not age well.
Metric conversion:
These recipes were created in US Customary measurements and the conversion to metric is being done by calculations. They should be accurate, but it is possible there could be an error. If you find one, please let us know in the comments at the bottom of the page
Method
Heat the oven and water. Preheat the oven to 400°F (204°C) and put a 2 quart pot (1.9 L) with 1 quart (1 L) of water on a hot burner, add 1/2 teaspoon salt, and crank it up. You'll need it boiling by the time you get to step 4.

Make the optional mix-ins. You can skip the mix-ins, but they really amp this dish up to 11. In a frying pan cook the bacon over a medium heat until done on one side, turn, and cook until crunchy. Remove the strips and set aside. Eat one strip. Meathead's rule: Always cook an extra strip for the chef. Chop the rest into 1/4" (6.3 mm) chunks. Pour off all the rendered fat except about 1 tablespoon. Finely chop the onions and peppers (seed the peppers first) and mince the garlic and jalapeño (seed the jalapeno too). Add the onions and peppers, and cook until they get a little limp, but not cooked through. Leave a little crunch. Add the garlic and cook for one minute. Set aside.

Make the cheese sauce. In a 2 quart (1.9 L) saucepan or Dutch oven, melt the butter over a low heat. Add the flour, and, with a whisk, mix them together, and cook for 5 minutes, or until it turns the color of straw. This is called a blonde roux. Be patient if it takes longer. This takes the raw pasty flavor out of the flour and eliminates the grit. Add the milk slowly and whisk thoroughly while adding it, so there are no lumps. Cook over medium heat, stirring frequently so it doesn't burn, until it bubbles and thickens a bit, like latex paint. This is called a béchamel sauce. Add the cheese mix, 1/3 at a time, and continue stirring until the cheese is melted and there are no lumps. Mix in the salt, black pepper, paprika, and the add-ins. Turn off the heat.

Boil the mac. Add the macaroni to the boiling water, and stir. When the water comes back up to a boil, turn the heat down a bit and boil until they are almost al dente, still noticeably crunchy, about 2/3 of the time recommended on the package, probably about 6 minutes from the time it begins to boil. Stir occasionally. Take them off when they are still just a bit chewy because it will cook some more in the oven. Drain in a colander shaking vigorously to get as much water out of the tubes as possible, and leave them in the colander in the sink until the cheese sauce is done. Pour the Mac into the cheese sauce and stir thoroughly.

Optional: You can cook the mac until it is tender, then pour it in the sauce, mix and serve if you are in a hurry. But to amp it up to 11, proceed to the next step.

Optional. If you are adding the smoke dried cherry tomatoes (and you should) add them now and mix them in.

Bake. If you used a 2 quart (1.9 L) pan and the handle is oven safe, you can bake it right in the pan. Otherwise, pour the whole macaroni shebang into a 2 quart (1.9 L) Pyrex or CorningWare baking dish. If you prefer, pour it into individual serving size oven proof dishes or ramekins. Sprinkle with the cheese topping and then the paprika. If you are going to add a crunchy topping, add it now. Bake at 400°F (204°C) for 30 minutes or until it begins burbling. Keep an eye on it so the top does not burn.

Rest. Let it cool for about 15 minutes so nobody's tongue is scalded. That cheese holds heat.
Leftovers
Scoop any leftovers into an oven proof bowl or ramekin.

Grate enough cheese to cover the top and sprinkle with paprika or chipotle powder.

Bake at 400°F (204°C) for about 30 minutes or until the top is bubbly and it begins to brown.
---