Up your burger game with these mouthwatering lamb burgers with tzatziki sauce.
Making real gyros at home is tricky, but you can come close. Restaurant gyros in the US is usually made from ground lamb, often blended with beef and pork, heavily and heavenly compressed into a giant cone. In Greece, it is not uncommon to find it made from whole slabs of chicken or pork stacked on a spear very much like Mexican Al Pastor.
The cone of meat is speared with a rotisserie and stood vertically in front of a glowing infrared burner. As it rotates, the exterior browns, and when you place your order the cook slices off a thin shaving of the crunchy brown outside layer. The meat is then served on a pita flatbread and usually dressed with chopped tomatoes, shredded iceberg lettuce, sliced red onions, cucumber, and tzatziki sauce made from yogurt, mint, cucumbers, and garlic.
The concept of the vertical rotisserie browning the outside layer, shaving it off, and browning the inside layer, is used for doner kebabs, shawarma, and tacos al pastor. Below is a picture of a typical gyros setup from Kronos, a company that makes Gyros.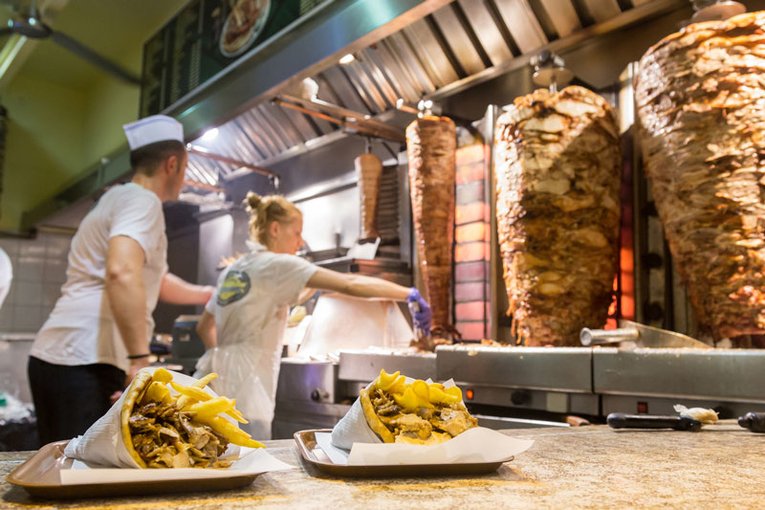 The challenge is making the meat cone, which usually consists of 10 to 40 pounds of meat, plus the vertical rotisserie. I've tried to make it work on a horizontal rotisserie, and the meat just sags and falls off. But you can come close by making a patty and grilling it crispy on both sides, and you can even leave it pink in the center. When cooked properly, I like lamb burgers better than beef burgers! Next time you have a burger jones, make it a lamb burger. Most groceries carry ground lamb. Often in preformed patties. Preparing these burgers is a snap and you might not go back to beef burgers.
Making the burgers couldn't be simpler. The sauce is the key. I know you want to put ketchup on your burgers, but lamb has been a staple of the Greek diet for centuries, and it really does taste best with tzatziki. The sauce below, developed by my wife, is not traditional tzatziki, but it's close, and I like it better. You'll be surprised at how well it works on lamb burgers. We serve them with a big green salad and use the sauce as a salad dressing too. I've even been known to pack the salad into a pita and eat it that way.
If you are a fan of traditional greek gyros then this ground lamb burger recipe is for you!
Serve with: a cola or amber ale.
---
---
Makes:
---
Takes:
---
Ingredients
1 1/2

pounds

ground lamb

1

tablespoon

vegetable oil

1

teaspoon

 Morton Coarse Kosher Salt 

1/2

teaspoon

ground black pepper

1/2

teaspoon

garlic powder

4

pita pockets

2

medium tomatoes, chopped

1/2

cup

shredded lettuce

1

small red onion
Notes:
About the salt.
Remember, kosher salt is half the concentration of table salt so if you use table salt, use half as much. Click here to read more about salt and how it works.
Optional. Chopped cucumbers are nice on this.
Metric conversion:
These recipes were created in US Customary measurements and the conversion to metric is being done by calculations. They should be accurate, but it is possible there could be an error. If you find one, please let us know in the comments at the bottom of the page
Method
Prep. Prepare the tzatziki yogurt sauce according to the recipe found here. You can do this the night before and that will help pull flavor out of the herbs. Also thinly slice the onion.

Fire up. Prepare your grill for hot direct heat. If your gas grill has a sear burner or infrared burner, this is what it is for. The burgers can also be cooked easily on a hibachi.

Prep again. Form the meat into patties about 4 to 6 ounces (112 to 168 g) each, 1/4 to 1/2" (6.3 mm to 13 mm) thick and shaped like a football so they will fit neatly into pita halves. Coat them with the oil, and then with the spices. That may seem like a lot of spices, but we want to form a nice crust.

Cook. Put the burgers on the grill, close the lid, and stand there. Sing Mary Had a Little Lamb four times or about four minutes, then check the underside. You want it dark, but not black. Cook the burger until it hits a safe temp of 160°F (71°C). Toss the pitas on the grill for 30 to 60 seconds on each side, enough to warm them.

Serve. Serve the burgers by cutting the pitas in half. Press the sides gently to pop open the pocket. Spoon about a tablespoon of sauce in, put some chopped tomato, lettuce, and onion in, squeeze the burger in on top, and slather more sauce on the burger. Make sure everyone has plenty of napkins.
---