As I explain in my article on the science and myths of marinades, they don't penetrate most foods very far. The exceptions are seafood and vegetables. This one is based on a wonderful, herby salad dressing that my wife created. I have added more salt to to make it into a brinerade. Best of all, it allows the flavor or seafood and veggies to come through without burying them under strong flavors. Click here to see how to use it to make wonderful Tuscan style ribs. Elegant.
Spotlight on our favorite products
Groundbreaking Hybrid Thermometer!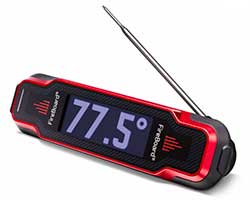 The FireBoard Spark is a hybrid combining instant-read capability, a cabled temperature probe, Bluetooth, and Wi-Fi connectivity. Couple that with high standards of design and workmanship and it's a "must own." Click here to read our comprehensive Platinum Medal review.
– THIS IS NOT AN AD –
This is my standard marinade for seafood and vegetables such as zucchini and eggplant. I occasionally use it on pork or chicken.
---
---
Makes:
---
Takes:
---
Notes:
About the salt. Remember, kosher salt is half the concentration of table salt so if you use table salt, use half as much. Click here to read more about salt and how it works.
Metric conversion:
These recipes were created in US Customary measurements and the conversion to metric is being done by calculations. They should be accurate, but it is possible there could be an error. If you find one, please let us know in the comments at the bottom of the page
Method
Combine the vinaigrette, salt, and water. I keep it in a bottle in the fridge for months. Shake well before using.
---