Why settle for bland bottled hot sauce when you can create your own?
There are a gazillion hot pepper sauces on the market. The problem I have with most of them is that they are all about the heat. Well I'm all about the flavor. So I needed a recipe for a fiery sauce with multiple dimensions, complexity, and depth of flavor because sauce too hot makes me cry like a Cubs fan. I was inspired by the Japanese mix of seven powdered spices called shichimi, which features red pepper flakes, orange peel, and ginger.
I know you have your favorite commercial bottled hot sauce, but I have long believed that once you reach a certain age, you should have a handful of signature recipes that you can proudly call your own. Among them are a house barbecue sauce from scratch, a Bloody Mary recipe, and a hot pepper sauce. You serve them, and when, inevitably, you are asked for the recipe, you can just smile wryly and say quietly "It's my secret and it will go to the grave with me". Then you can give them a bottle as a very personal gift. Alternatively you can use the recipe as a bargaining chip.
Spotlight on our favorite products
The Efficiency Of A Kamado Plus The Flexibility Of The Slow 'N Sear Insert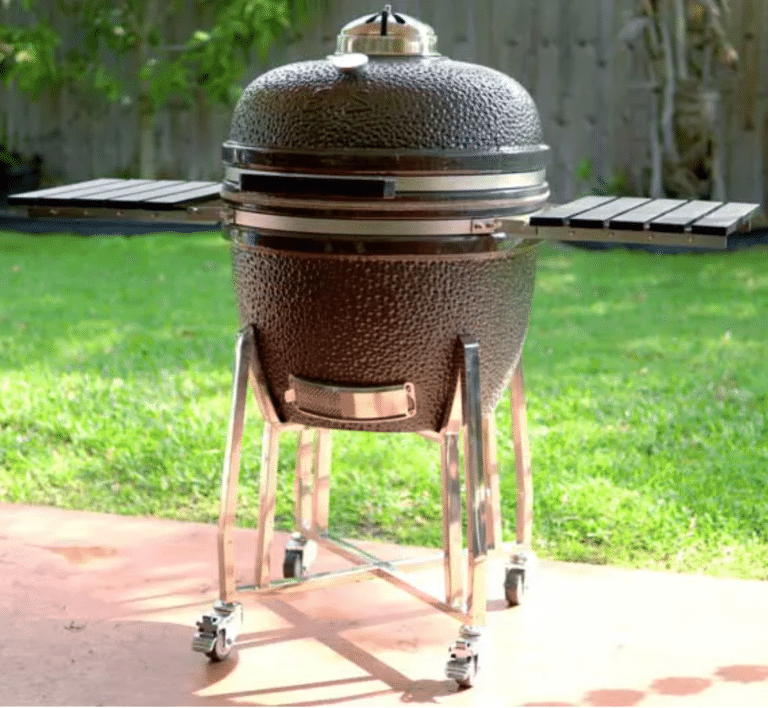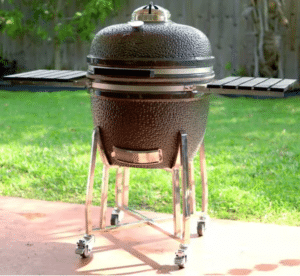 Built around SnS Grill's patented Slow 'N Sear charcoal kettle accessory, this 22-inch kamado is a premium ceramic grill that brings true 2-zone cooking to a kamado. Click here for our article on this exciting cooker.
– THIS IS NOT AN AD –
Barbecue sauce recipes abound on this site and we even have a killer smoked Bloody Mary, so here's your hot sauce. I call it "Controlled Burn Hot Sauce" because it has a serious kick, but it also has strong pepper flavor, it is very complex, and it works well as an ingredient in barbecue sauces or other dishes. Use it in chili recipes. Drizzle it on eggs, clams and oysters, burgers, fajitas, burritos, pizza, hot dogs, burgers, in baked beans, or anything Cajun or Creole, and a lot of Chinese and Mexican dishes. Mix it 1:1 with fresh chopped tomato and a little cilantro for a killer salsa. Mix it 1:1 with catsup to make a killer shrimp cocktail sauce. Add Worcestershire, soy, oil, and honey for a smokin' wing sauce. As you can see, it is chunky, but it can easily be run through a strainer to make a pucketa pucketa sauce. You get the picture. It is a building block.
For another great source of heat, check my recipe for Harissa Hot Pepper Paste. It is easy to make and I use it on more and more foods all the time. For more info about hot stuff, read my article on the Science of Chiles.
Here's a recipe for a signature hot pepper sauce you can easily make at home. Focused on flavor first, our controlled burn hot sauce is infinitely more complex than most sauces and has just the right amount of heat to amp up foods without overpowering them. The recipe makes enough to give some away as gifts.
---
---
Makes:
---
Takes:
---
Ingredients
1

pound

pepper blend

(see below)

⅓

cup

sweet Kansas City style barbecue sauce

1

cup

distilled white vinegar

⅛

cup

balsamic vinegar

¼

cup

triple sec

(orange liqueur)

4

cloves

garlic

1

small onion

1

can

chipotle in adobo sauce

(4 oz can)

1

tablespoon

peeled and grated ginger

½

tablespoon

ground black pepper

2

teaspoons

Morton Coarse Kosher Salt

1

teaspoon

dried oregano

¼

teaspoon

mustard powder

½

cup

pineapple juice

1

lime, juiced

½

teaspoon

vanilla extract
A Good Red Pepper Blend:
½

pound

fresh sweet red bell peppers

(about 1 large one)

¼

pound

fresh habanero or Scotch bonnet peppers

(100,000 - 350,000 Scoville Heat Units)

¼

pound

fresh red jalapeño peppers

(5,000 - 10,000 SHU)

¼

pound

fresh red serrano peppers

(about 25,000 SHU) or cayenne peppers (30,000 - 50,000 SHU)
Notes:
About the pepper blend. The recipe calls for 1 pound of pepper blend, but the raw components weigh more than 1 pound. After you remove the seeds and stems, you should have about 1 pound remaining.
About the vinegar. The vinegar is needed to extract flavor and act as a preservative. I like the neutral flavor of distilled vinegar because it lets the peppers shine. Other vinegars, like cider vinegar, have too much flavor.
About the salt.
Remember, kosher salt is half the concentration of table salt so if you use table salt, use half as much. Click here to read more about salt and how it works.
Stylin'. I encourage you to stick close to my recipe at first, and then riff on it. Make it your own to suit your taste. If you want afterburner heat, increase the habaneros content. Sweeter? More pineapple juice. More garlic? Go for it. Try adding lemon juice, orange juice, orange marmalade, mango, papaya, pineapple, molasses, honey, Worcestershire, tequila, roasted carrot, tomatillo, cumin, cilantro, or curry powder. Try grilling the peppers, garlic, and onion. Switch the triple sec to Grand Marnier, or Bourbon. Add 1/2 teaspoon liquid smoke.
Metric conversion:
These recipes were created in US Customary measurements and the conversion to metric is being done by calculations. They should be accurate, but it is possible there could be an error. If you find one, please let us know in the comments at the bottom of the page
Method
Prep. Put on rubber gloves. Don't attempt this without them. You might even want to wear safety glasses while making it. Habaneros are no foolin', mister. That's pepper spray. Start by cutting off the stems of the peppers. Slice the peppers in half lengthwise. Pull out the seeds, but leave in the white veins. Cut out any soft or rotted sections. Rinse them inside and out, and chop them into chunks about 1/2" (1.3 cm) each. Put them into a food processor with the barbecue sauce. Turn it on and let 'er rip for 2 to 4 minutes until it is pureed and slushy. Dump into a 2 quart non-reactive pot. Add the two vinegars and triple sec.

Peel and chop the garlic and onion into pea-size chunks. Put the garlic, onion, chipotle in adobo, grated ginger, black pepper, salt, oregano, mustard powder, pineapple juice, lime juice, and vanilla extract into the food processor, puree, and add to the pot. Stir.

Cook. The next step is cooking, and I recommend you do it outside. This pot will puts out some strong, but not objectionable, vapors. But surely someone will complain. So use your grill, or your grill's sideburner. Bring to a boil, then dial back to a simmer and let it burble with the cover on for about 30 minutes.

Put in a clean tight lidded bottle and store in a cool dark place. To preserve its fresh brightness, store in a refrigerator. If you prefer, after aging it for a week or more, you can run it through a fine mesh strainer and bottle it without the chunks, like a commercial hot sauce.

Serve. Use this flavorful sauce as you would any hot sauce.
---