What better way to start the day then with some coffee-laced redeye gravy and a hearty ham steak!
Ham and Redeye Gravy is a hearty breakfast traditionally made in a cast iron pan designed to charge Mom and Dad for a hard day of work. But it is also popular with campers as an easy eye-opener. Ham and coffee are the core ingredients, but there are variations on the theme.
Traditionally they are made with country ham, a dry brined American ham, but many people find these to be a bit too strong and funky. I prefer this recipe with a wet cured city ham or even thick cuts of Canadian bacon. Redeye Gravy can also be made with dried beef, a progenitor of chipped beef on toast or "shit on a shingle" as it was called by WWII soldiers. In Louisiana it is sometimes made with chickory instead of coffee, and I have even heard of it being made with cola or Dr Pepper. Bleeah. 
When you cook it the traditional way in a non nonstick pan, the ham will make a little fond, the brown bits that stick to the pan, but the ham cooks so quickly and has so little fat, there is no real advantage to cooking the meat in the pan, so I prefer to grill it (I know you are shocked to hear that), make the gravy on the side, and amp up the flavor a notch. If you like, make some biscuits, split them open, lay the cooked ham on top, and spoon the gravy over.
For something a little different, also be sure to check out our balsamic and brown sugar glazed ham steak.
Grilled Balsamic and Brown Sugar Glazed Ham Steak Recipe
This delicious glazed grilled ham steak recipe is perfect with eggs, fills out a brunch menu, or can be served for supper. Plus, it's super fast.
Check out this recipe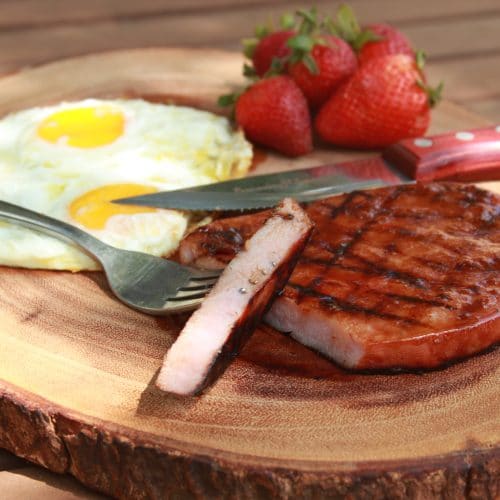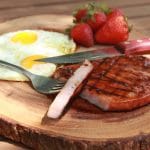 This tasty recipe will get you wake you up and get you ready for a heavy work day.
Serve with: coffee.
---
---
Makes:
---
Takes:
---
Ingredients
1

wet cured pork

(see note below)

2

tablespoons

bacon drippings or unsalted butter

2

tablespoons

all purpose flour

1

cup

black coffee

2

teaspoons

dark brown sugar

1/2

teaspoon

ground black pepper

1/8

teaspoon

hot sauce
Notes:
About the pork. Sometimes I use a ham steak at least 1/4" (6mm) thick and about 6 to 8 ounces (170g to 227g). Sometimes I use 2 slices of Canadian bacon, at least 1/4" (6mm) thick. In the picture above I used a wet cured bone-in pork loin chop, which is pretty much the same as Canadian bacon with a bone.
Metric conversion:
These recipes were created in US Customary measurements and the conversion to metric is being done by calculations. They should be accurate, but it is possible there could be an error. If you find one, please let us know in the comments at the bottom of the page
Method
Cook. Place a small sauce pan on medium heat. Toss in the bacon fat and when it is melted sprinkle in the flour. Whisk them until they are blended together, there are no lumps, and it turns the color of peanut butter.

Turn down the heat to medium low, add the coffee, sugar, black pepper, and hot sauce, and whisk. Cook until the coffee begins to thicken and it reduces to about 1/2 to 2/3 cup (64g to 85g). Taste and adjust the seasonings. You can add salt if you want, but remember the meat is salty.

While the sauce is thickening, grill the ham steak. Remember it has already been cooked so you only need to heat it to 145°F (63°C), and that shouldn't take long. If it is almost done and the sauce hasn't thickened and reduced, turn the heat under it up.

Serve. Plate the meat and spoon some gravy over it. Serve immediately.
---