Take breakfast or brunch to new heights!
Hit the grill with this simple recipe for grilled balsamic and brown sugar glazed ham steak. To round out the meal, I like to toss a skillet on the grill and fry a few eggs or fire up one of AmazingRibs.com's other great breakfast/brunch recipes such as grilled French toast, shrimp and grits, or steak and eggs Benedict.
Spotlight on our favorite products
Big. Bold. Flavor.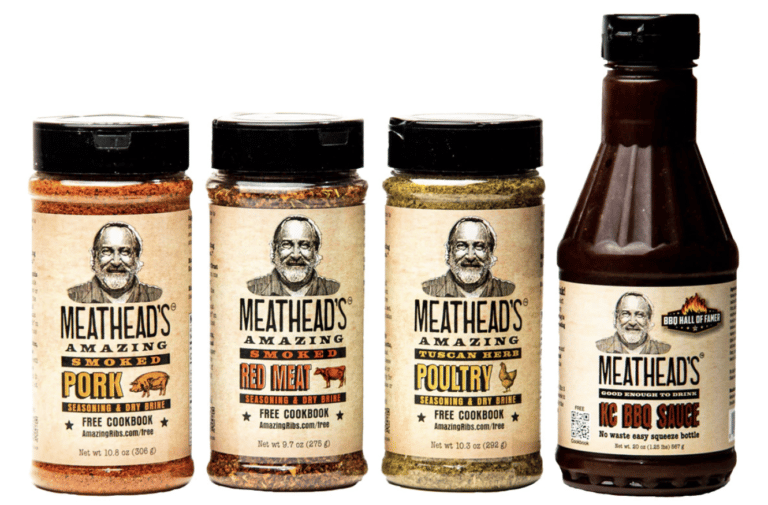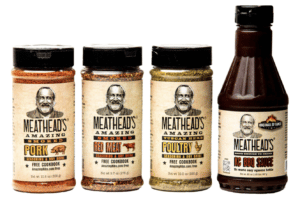 Introduce big, bold flavor to your BBQ and grilling creations thanks to the Meathead's Amazing line of pork, red meat, and poultry rubs as well as a KC-style BBQ sauce. Click here to read more and to purchase.
– THIS IS NOT AN AD –
This delicious glazed grilled ham steak recipe is perfect with eggs, fills out a brunch menu, or can be served for supper. Plus, it's super fast.
Serve with: a cold, crisp Mimosa.
---
---
Makes:
---
Takes:
---
Metric conversion:
These recipes were created in US Customary measurements and the conversion to metric is being done by calculations. They should be accurate, but it is possible there could be an error. If you find one, please let us know in the comments at the bottom of the page
Method
Fire up. Prepare a grill for 2-zone cooking by placing a chimney full of pre-heated charcoal briquets on one side of the grill's charcoal grate in order to create direct and indirect cooking zones. Open the grill vents fully for high heat cooking (a.k.a. Warp 10) on the indirect side, at least 450°F (232°C). On a gas grill, adjust the temperature knobs so that one half of the grill is off and the other half is as hot as possible.

Cook. Combine the brown sugar, balsamic vinegar, butter, and Dijon mustard in a small saucepan. Place the saucepan on the hot side of the grill and heat until the sugar has melted and the mixture is smooth, approximately 4 minutes. Move the glaze to the cool side of the grill to keep warm.

Grill the ham steak on the hot side of the grill until lightly charred, approximately 2 to 3 minutes per side. Brush the top of the ham steak with the glaze and flip to set the glaze over direct heat, approximately 20 seconds. Repeat with the other side of the ham steak so that it is completely glazed. Brush both sides of the ham steak again with glaze and move it to the indirect side of the grill until ready to serve.

Serve. Remove the glazed ham steak from the grill, plate, and serve immediately.
---
Nutrition per Serving
Calories:
305
kcal
|
Carbohydrates:
29
g
|
Protein:
23
g
|
Fat:
11
g
|
Saturated Fat:
5
g
|
Trans Fat:
1
g
|
Cholesterol:
66
mg
|
Sodium:
1534
mg
|
Potassium:
426
mg
|
Fiber:
1
g
|
Sugar:
28
g
|
Vitamin A:
180
IU
|
Vitamin C:
37
mg
|
Calcium:
36
mg
|
Iron:
2
mg