New Haven is famous for Yale, but to foodies, it's an old haven for pizza, the most famous of which is the white clam pie at Frank Pepe Pizzeria Napoletana, founded in 1925. Pepe's is so popular that Zagat Guide called it "Connecticut's most popular restaurant". Period.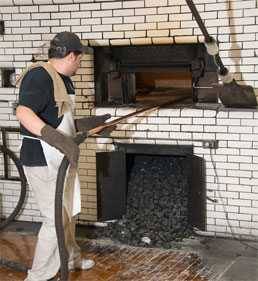 The main building at 157 Wooster St. has two large dining rooms, and when the line finally delivers you to the front door, the first thing you see is a huge tile encased coal burning oven built in 1936. That's coal they burn, not charcoal, and it runs at about 600°F (315.6°C)! The menu includes a full range of apizza (it is pronounces ah-BEETS, and that's what the locals call it in their colloquial Italian-American). There are the standard "tomato pies", but the most distinctive menu item, a Pepe's original and now an icon and menu staple even at Pepe's competitors, is the white clam pizza.
Making White Clam Pizza At Home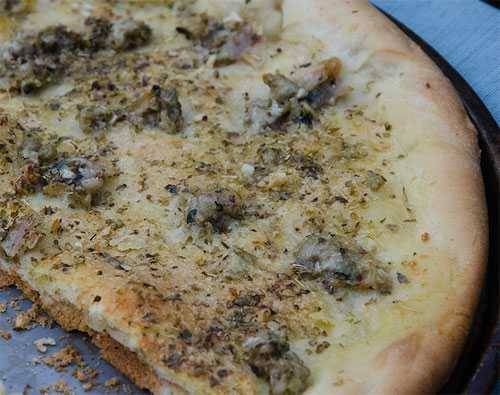 The locals call their crust Neapolitan style, but it is definitely not like the original Italian Neapolitan style. The dough is more like a Roman dough, heavier, no doubt mixed with oil, and more breadlike, puffed up along the edges where it is crackly, and slightly charred underneath.
Whatever they call it, it is wonderful, and the white clam pie couldn't be simpler: Rhode Island Littleneck clams, freshly shucked on the premises, garlic, dried oregano, a dusting of grated Pecorino Romano cheese, and good olive oil. No tomato sauce. No mozzarella (called mootz by the locals). No sausage or pepperoni. So simple.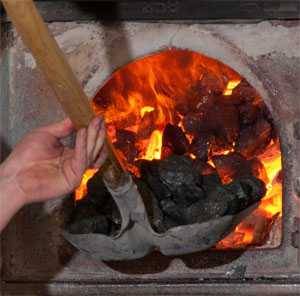 Pepe's is one of those wonderful "only in America" stories. Frank Pepe was born in 1893 in the village of Maiori on the Amalfi coast of Italy, southwest of Naples. Broke, illiterate, and only 16 years old, he made the crossing with waves of immigrants in 1909. He worked for a short while in a factory and then returned to fight for Italy in WWI. He married Filomena Volpi, also from Maiori, in 1919, and the moved to New Haven where he worked for others making macaroni and then bread on Wooster St. Then, in 1925 he got up the cash and courage to set out on his own, starting a bakery at 163 Wooster. Apizza was among his products, and it took off. He hired his half brother, cousin, and three nephews, one of whom set out on his own and created Sally's Apizza, Pepe's closest competitor to this day, just up the street.
In 1937 Pepe bought the larger building next door, now the main restaurant. The original location, with the original oven, is still running under the name Frank Pepe's The Spot. Frank, Filomena, and their daughters Elizabeth and Serafina lived upstairs. Filomena could read and write and learned English quickly and was essential to operating the business side.
The signature white clam pie first appeared in the 1960s. The restaurant had been selling raw clams on the half-shell as an appetizer, and somebody had the great idea.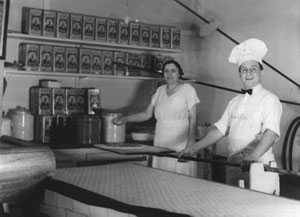 As Frank's health faded, the women took over. Frank died in 1969 at age 76, Filomena died in 1972, and in the early 1990s, his daughters retired. The business passed to their seven children. They still own and operate the side-by-side Wooster St. locations, and have opened locations in Fairfield, Manchester, Danbury, and at the Mohegan Sun Casino in Uncasville, CT. They also have a location in Yonkers, NY.
Today there are long lines in front of the New Haven restaurant, and tens of thousands of memories cherished by Yale students who dated there, children who had their first pizza there, and family milestone parties held there.
Every conscientious restaurateur will tell you he makes his food with the best ingredients and a not-so-secret ingredient: Love. And when I talked to one of the owners, one of Pepe's grandchildren, Jennifer Bimonte-Kelly, love is unmistakably in her voice. A full-time waitress since 1985, she clearly loves the place, loves its employees, and loves her customers. "Money is there but its not in the forefront. It's respect for history. And our employees have the same feeling and respect, like it's an honor to work at Pepe's. I'm always blown away by the stories of our customers tell me. It's unbelievable. It makes tears come to my eyes. Pepe's is part of American history."
Yes it is.
Up your game: Join our Pitmaster Club. Try it out for free for 30 days. No credit card is needed. No spam. Join now and Be Amazing!
Pepe's on Wooster St. in New Haven CT is one of the most famous pizza places in the world, and their most famous pie is the White Clam Pizza. Duplicating Pepe's pies is impossible, but you can come close at home with the right ingredients, and a little love. Here's the recipe for creating a delicious white clam pizza in your kitchen.
Serve with: with a cold lager beer, a wheat beer, or a crisp Sauvignon Blanc.
---
---
Makes:
Servings:
slices (one 14" (36 cm) thin crust pizza)
---
Takes:
Equipment
Pizza stone or 15" (38 cm) pizza pan
---
Ingredients
16

ounces

Roman style pizza crust

3

tablespoons

all-purpose flour

2

tablespoons

cornmeal

½

cup

freshly grated real Italian Pecorino Romano cheese

2

cloves

garlic, peeled and minced fine

4

tablespoons

extra virgin olive oil

2

tablespoons

dried oregano
Notes:
About the clams. Pepe's uses whole, live fresh Littleneck clams from Rhode Island and shucks them on site. You can do this too, but it is a lot easier to get pre-shucked fresh or fresh frozen clam meats. Whole shucked clams cook at about the same rate as the crust, but if you can only find chopped clams, they'll do, they just be a little chewier. I'd advise against minced clams because they are so small and will get rubbery. Canned whole clams are cooked in the canning process and have an inferior flavor and they can be very chewy, but in a pinch, they work.
For this recipe I try to find fresh shucked clams first, fresh frozen second, and sometimes, I buy live clams and then I cheat. I put them in a pot with about 1/4" (6.4 mm) of water, cover the pot, turn the flame on high, and in about 3 minutes they pop open. I watch them carefully so they don't cook. I want them as close to raw as possible, but this step makes shucking them sooooo much easier. I let them cool for a few minutes, and pop them open easily with my fingers. If Frank Pepe knew I did this he would ban me from his establishment for life, but it works fine, and there is no Meathead blood in the pizza. If you're shucking raw clams, add 40 minutes to the prep time here. 
Quahogs, Cherrystones, and Littlenecks, are all Quahogs of different sizes, in descending order. You need Littlenecks to be authentic, but the bigger clams can be used. If you get large Quahogs, cut them in half so they cook properly. Topneck, Longneck, Wellfleet, or other small clams can be used. Geoduck are too large. Some species have a thin black stocking over their "foot" that must be peeled before you put them on the pizza. To learn more about your options, and how best to shuck live clams, read my article on the Science of Clams.
Salt. I know you want to add salt, but it is not necessary. The clams and cheese are salty enough.
Optional. If you want, a few flakes of red pepper are nice, and if you absolutely must, a few chunks of chopped tomato are good, but heretical.
Metric conversion:
These recipes were created in US Customary measurements and the conversion to metric is being done by calculations. They should be accurate, but it is possible there could be an error. If you find one, please let us know in the comments at the bottom of the page
Method
Fire up. Preheat the grill or oven to at least 450°F (232.2°C). If you can get it hotter, do. If you are using a stone, put it into the cold oven and let it heat at least 30 minutes.

Shape the dough. You can use a frozen dough from the grocer, just not a precooked dough. But I strongly recommend you try making your own by using my simple Roman style no knead pizza crust recipe. It has the right amount of oil in it for the same kind of crispy crust you find at Pepe's.

Toss the flour on your work surface and spread it thin. Place the dough in the center and begin working it outward and roll it thin, less than 1/4" (6.4 mm). Move it to a peel if you are cooking on a pizza stone or to an oiled pan. Either works fine. Throw some cornmeal on the peel or pan to help the dough slide on and off, and for a bit of flavor.

Add the toppings. Pat the clams dry and place them on the dough, spreading them out evenly, and take them to within 1" (2.5 cm) of the edge. Then sprinkle on the garlic, cheese, oregano, and finally drizzle on the oil. The oil will pool but don't worry, it will spread out in the oven. I like to take a brush and paint a little oil on the edges of the dough.

Cook. Bake until the dough on top and the bottom is tan to golden. If you wish, push your luck and let it go until there is a slight blackening on the bottom, but beware, too much char can ruin your pie. Whatever you do, don't pull the pie until the clams are cooked through. Raw clams, although they are popular on the half-shell, are susceptible to contamination and a common source of food-borne illness. You will notice what looks to be a lot of oil on the surface while it is cooking, but don't worry, it will be absorbed. You will also notice a strong garlic smell. It will keep away the vampires.

Serve. Remove, slice, and serve hot.
---
Nutrition per Serving
Calories:
79
kcal
|
Carbohydrates:
4
g
|
Protein:
3
g
|
Fat:
6
g
|
Saturated Fat:
1
g
|
Trans Fat:
1
g
|
Cholesterol:
6
mg
|
Sodium:
88
mg
|
Potassium:
26
mg
|
Fiber:
1
g
|
Sugar:
1
g
|
Vitamin A:
50
IU
|
Vitamin C:
1
mg
|
Calcium:
61
mg
|
Iron:
1
mg