Tender, juicy, smoky, delicious, spectacular looking, and fast. Could you ask for anything more?
Pork loin is a lean tender tube of muscle attached to the ribs on one side and the spine on the other. It is the same muscle as the prime rib on a steer. When they talk about eating high off the hog, this is the cut they mean.
Spotlight on our favorite products
The Cool Kettle With The Hinged Hood We Always Wanted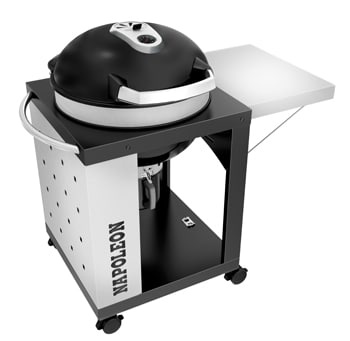 It's hard to beat a Weber kettle, but Napoleon holds its own and adds some unique features to make their 22″ Pro Cart a great alternative!
Click here for more about what makes this grill special.
– THIS IS NOT AN AD –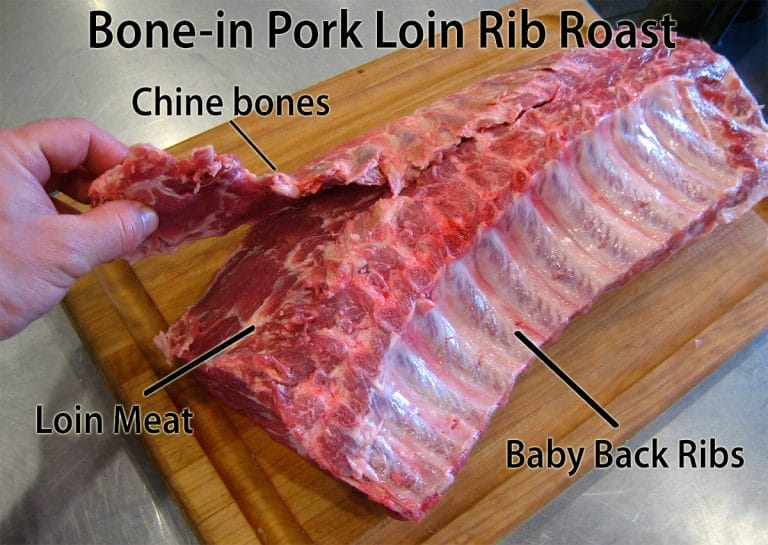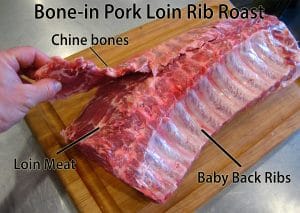 Because it is so lean, it is a great cut for stuffing with something moist. If you cook it properly, serve it at 140°F (60°C), it will be tender and juicy. Because it can be showy, this dish has special occasion written all over it.
It's tender, juicy, smoky, delicious, spectacular looking, and fast.This is a delicious recipe for a smoked stuffed pork loin roast.
You can get a pork loin with the bone in or off in sizes from about 5 to 15 pounds (2.7 to 6.9 kg). I like to order a whole monster pork loin with the bones on, and, because we'll be stuffing this little piggy, I take the bone off and save the slab of ribs for cooking another day. When I remove the ribs I leave about 1/2 to 3/4" (13 to 19 mm) of meat on the bones. That gives you a slab of baby backs that is far meatier than those the butcher sells.
I then trim the roast so it is almost the same thickness all along its length. Trim off the fat layer and the tough silverskin just below it. Don't leave any fat on. It can't penetrate the meat. Try to make the tube of meat uniform in thickness so it will not be overdone on one end and underdone on the other. You'll end up with a cylinder of goodness.
Serve with: a slightly sweet Riesling.
---
---
Makes:
Servings:
6 ounce (170 g) servings
---
Takes:
---
Notes:
About the salt. The rule of thumb for dry brining is 1/2 teaspoon of Morton coarse kosher salt per pound of meat.
About the salt. Remember, kosher salt is half the concentration of table salt so if you use table salt, use half as much. Click here to read more about salt and how it works.
About the stuffing. I like bread stuffing best, especially my Bread & Butter Stuffing with Cranberries. Another approach I like is to stuff it with an herb paste, like pesto. I thin it with olive oil and toss in some raisins and toasted pine nuts. Sometimes I soak the raisins in rum and microwave it for about 30 seconds to speed the soaking. I then drink the rum that has not been absorbed. Occasionally I make a stuffing of dried fruits, whatever I have on hand, mix in some chopped walnuts or pecans, some melted butter, and some sweet red wine.
Optional, but recommended. Make 1 cup piccata sauce. Spoon about 3 tablespoons on each plate when serving, and lay a slice of the meat on top.
Metric conversion:
These recipes were created in US Customary measurements and the conversion to metric is being done by calculations. They should be accurate, but it is possible there could be an error. If you find one, please let us know in the comments at the bottom of the page
Method
Dry brine the meat. Sprinkle the salt all over the meat and rub it in. Let it sit in the fridge for 2 to 4 hours.

Bread stuffing. Make about 1 pound (454 g) of your favorite bread stuffing. I use my Bread & Butter Stuffing with Cranberries. It's moist, fruity, slightly sweet, slightly tart, and really complements the pork. Make it extra moist, don't cook it before you stuff the pork, and make extra, so you can cook and serve some on the side.

Prep the meat. Slice open the meat. You can simply take the tube and slice it across the middle like a hot dog bun, stopping about 1/2" (13 mm) from cutting all the way through, leaving a hinge as shown below (that's a bread stuffing).

A more elegant method, that also gives you more stuffing and moisture, is to insert a long, sharp knife about 3/4" (19 mm) above the cutting board work the knife along at the same height sort of unrolling the meat, as shown below.

Now pile on the stuffing. Try to level it from edge to edge, front to back (that's a pesto stuffing below).

Roll the meat back over the stuffing and, with butcher's twine, tie the bundle every inch or so. Coat the meat with olive oil, and sprinkle with an herb rub, something without salt since we have dry brined it. The oil helps brown the meat, keeps moisture in, and pulls flavor from the oil soluble herbs. I use my Simon and Garfunkel Rub. Insert your meat thermometer probe in the center of the thickest part.

Fire up. Set up the grill in a 2-zone configuration or get the smoker started, and get the indirect zone up to about 225°F (107°C).

Cook. Add the meat and the wood for smoking at the same time. Go easy on the wood. We only want a hint of smoke. This is delicate meat. At 225°F (107°C) the roast will cook to 140°F (60°C) in about 2 hours, depending on how thick it is, what is in the stuffing, and how steady you can keep the temp. Take it off at 140°F (60°C) and it will rise to 145°F (65°C) from carryover. As usual, if the meat is done early, hold it in a faux cambro until the rest of dinner is ready. Below is a roast stuffed with chopped dates, raisins, walnuts, and moistened with sweet red wine.

Cut in 1/2" (13 mm) slices and serve with soused apple slices, extra stuffing on the side, and a slightly sweet Riesling.
---
Nutrition per Serving
Calories:
245
kcal
|
Carbohydrates:
5
g
|
Protein:
31
g
|
Fat:
10
g
|
Saturated Fat:
4
g
|
Cholesterol:
86
mg
|
Sodium:
699
mg
|
Potassium:
529
mg
|
Fiber:
1
g
|
Sugar:
1
g
|
Vitamin A:
82
IU
|
Vitamin C:
1
mg
|
Calcium:
18
mg
|
Iron:
1
mg