Our Pitmaster Club members post recipes in The Pit and occassionally we ask for permission to share the best recipes with the public. Here is one by Mosca (Tom Brenholts). That's him, below.
This tasty spin on potato salad is a bit sharper tasting than traditional American style potato salad, thanks to a healthy dose of vinegar in the dressing. It is more akin to German style potato salad without the mustard and served cold instead of warm. Try swapping this recipe for the old stand by at your next backyard party.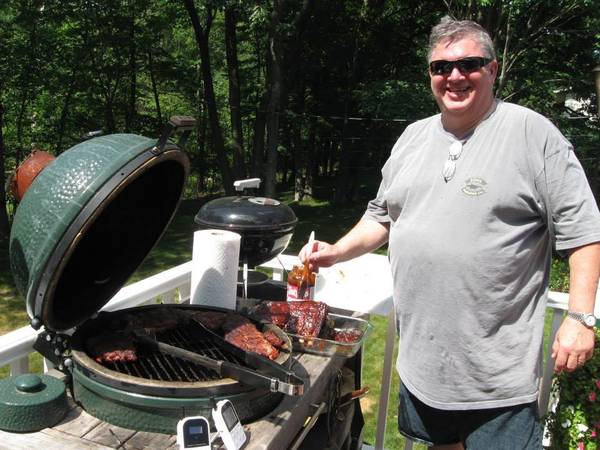 This recipe gives you a tasty spin on the traditional potato salad side dish with white balsamic vinegar and hard cooked eggs.
---
---
Makes:
---
Takes:
---
Ingredients
Notes:
Optional addition. Sprinkle in some crumbled bacon for added flavor and a nice contrasting textural element. About the scallions. Rinse any grit or dirt off, trim off the root end and slice thinly starting at the white end and stopping when the stalks transition from light to dark green. The dark green is too coarse in texture here. You want to avoid using the dark green tops. About the vinegar. The taste of white balsamic vinegar varies widely from sweet to sharp. If you don't have access to white balsamic, you can substitute another vinegar like rice vinegar, white wine vinegar, or even apple cider vinegar.
Metric conversion:
These recipes were created in US Customary measurements and the conversion to metric is being done by calculations. They should be accurate, but it is possible there could be an error. If you find one, please let us know in the comments at the bottom of the page
Method
Cook the spuds. Quarter the potatoes (leave the skins on) and add them to a pot large enough to cover them fully with water. Add plenty of salt to the water to season the potatoes, and bring the water to a simmer. Simmer until the potatoes are soft enough to pierce through with the tip of a knife or toothpick, maybe 15 to 20 minutes. Then strain and cool them.

Mix everything else. Chop the celery, scallions, and parsley. Peel and coarsely chop the hardcooked eggs. In a large bowl, whisk the vinegar while very slowly adding the oil, whisking until the mixture thickens slightly. Add the cooled potatoes, celery, scallions, parsley, eggs, salt and pepper, and toss everything together well until all of the dressing has been absorbed and the salad is thoroughly mixed.

Season and chill. Taste the salad and adjust the seasonings to your taste preference. If you find it too tart, add a pinch of sugar to sweeten it up. Pop the salad into the fridge for an hour to allow the flavors to meld. The salad can even be made a day ahead of time to save prep time on the day of a large cookout.

Serve. Serve cold or at room temperature.
---
Nutrition per Serving
Calories:
264
kcal
|
Carbohydrates:
25
g
|
Protein:
5
g
|
Fat:
16
g
|
Saturated Fat:
3
g
|
Cholesterol:
56
mg
|
Sodium:
401
mg
|
Potassium:
704
mg
|
Fiber:
3
g
|
Sugar:
5
g
|
Vitamin A:
625
IU
|
Vitamin C:
20
mg
|
Calcium:
38
mg
|
Iron:
2
mg