Our Pitmaster Club members post recipes in The Pit and occasionally we ask for permission to share the best recipes with the public. Here is one by lonnie mac (Lonnie McAllister). That's him, below.
Pickled eggs are typically hard boiled eggs that have been de-shelled and then submerged in a vinegar-based brine. The brine can be salty, sour, sweet or spicy, depending on your preference. The eggs sit in the brine anywhere from a couple days to several months and will take on the flavor of the brine as they sit. Pickled eggs have long been associated with pubs and bars, where they can often be found in jars on the counter and offered as a free snack for drinking customers but they are also a great BBQ side dish. This recipe gives the pickled eggs a touch of spice along with a good strong punch of tartness from the vinegar.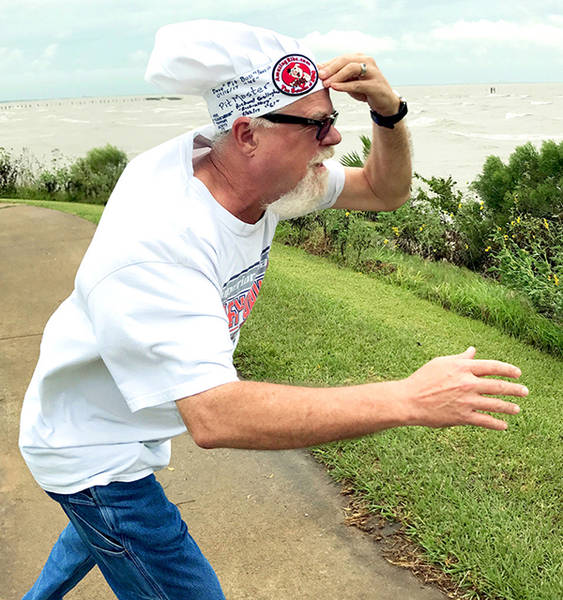 Bring your favorite pub home with this recipe for pickled eggs. Customize it to bring back your best memories.
---
---
Makes:
---
Takes:
Equipment
1 quart (946.4 ml) mason jar or other lidded container
---
Ingredients
1

dozen

hardcooked eggs

2 ¼

cups

apple cider vinegar

¾

cup

red wine vinegar

1

tablespoon

Morton Coarse Kosher Salt

1

tablespoon

sriracha hot sauce

(or 1 teaspoon chili flakes)

1 to 2

tablespoons

brown sugar

(more if you like it sweeter)

1

bay leaf

1

tablespoon

black peppercorns

4

cloves

garlic, peeled and halved
Notes:
About the eggs. Use your favorite method to prepare the hardcooked eggs. You can even buy pre-peeled hardcooked eggs at many markets. I like to make them and usually start the eggs in room temperature water, bring the water to a boil, and as soon as the water boils, shut off the heat and let the eggs rest for 10 minutes in the water. Then, just drain the eggs, shock them in an ice water bath to stop the cooking. This method results in fairly consistent hardcooked eggs with firm yolks.
About the spices. I suggest starting with the spices in this recipe as a good base line. You can also make adjustments to levels of sweet and heat by adjusting the sugar and sriracha (or chili flakes) up or down.
About the salt. Remember, kosher salt is half the concentration of table salt so if you use table salt, use half as much. Click here to read more about salt and how it works. 
Metric conversion:
These recipes were created in US Customary measurements and the conversion to metric is being done by calculations. They should be accurate, but it is possible there could be an error. If you find one, please let us know in the comments at the bottom of the page
Method
Prep. Once your hardcooked eggs are cool enough to handle, peel them and give them a good rinse to remove any small pieces of shell.

Make the brine. Heat all of the remaining ingredients in a saucepan just until the mixture boils. Cool this mixture in an ice bath or the fridge before adding it to your eggs to prevent the hot liquid from overcooking the eggs.

Place as many eggs as you can fit into a clean 1 quart (946.4 ml) or larger container such as a mason jar.

Pour the cooled brine over the eggs, making sure the eggs are completely submerged. Seal the lid of your container, and refrigerate for at least a week before serving.

Serve. These pickled eggs will last several months in the fridge, but be warned: the longer they marinate the more intense the flavor will become until the eggs have absorbed as much brine as they can physically soak up.
---
Nutrition per Serving
Calories:
79
kcal
|
Carbohydrates:
1
g
|
Protein:
6
g
|
Fat:
5
g
|
Saturated Fat:
2
g
|
Cholesterol:
187
mg
|
Sodium:
123
mg
|
Potassium:
68
mg
|
Fiber:
1
g
|
Sugar:
1
g
|
Vitamin A:
260
IU
|
Vitamin C:
1
mg
|
Calcium:
26
mg
|
Iron:
1
mg