Harissa [hah-REE-suh] has become my favorite hot sauce. I use it on everything from fajitas to stews, soups, couscous, fish, and meats. It's great mixed in mayo, ketchup, and barbecue sauce. Use it full strength or thin it with olive oil. So versatile. So good.
If made properly, it is a very deep, rich, complex paste, much more interesting than any bottled hot sauce. You can buy it in cans, jars, and even tubes, but it is easy to make.
The ancient recipe may be from North African, or the Middle East, or maybe even Albania, and there is no single definitive recipe. A few years ago, harissa was unknown in the US except in Middle Eastern and North African communities. Nowadays it is hard to pick up a cooking mag without reading a recipe that calls for it.
In the picture above you see store-bought red harissa from a can on the left, and my home made, from home-smoked jalapeños and pablanos. Most of my home-grown chilis were green, so the color is greener than the commercial harissa, but I think you can tell from the picture which version my guests liked best.
Recipe
Makes. 2 cups
Preparation time. 30 minutes to soak the chilis, and 20 minutes to assemble the rest
Ingredients
1 roasted red bell pepper, with the skin removed
2 ounces ancho chiles (dried poblanos)
2 ounces chipotle chiles (dried and smoked jalapeños)
4 cloves garlic
2 tablespoons lemon juice
1 teaspoon ground coriander
1 teaspoon ground caraway seed
1 teaspoon Morton's kosher salt
1/2 cup extra virgin olive oil
About the peppers. Smoked red jalapeños are called chipotles, and can be bought dried or in a can with a sauce called adobo. You can use either. Anchos are usually only available in dried form. Chipotles and anchos are easy to find in any store that serves a Latino community, or online. You can even use any other hot chili that you want. Here's a bowl of my smoked jalapeños. They are made by simply cutting fresh home-grown green jalapeños in half, discarding the stems and seeds (why does this expression sound familiar?), and smoking at about 200°F until dry, but still pliable. Keep the temp under 212°F, boiling temp, in order to dehydrate rather than roast.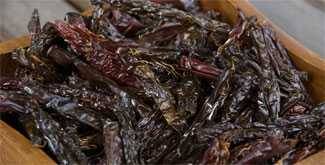 Method
1) Cut the bell peppers in half and grill them over high heat until the skin blackens. Put them in a bowl and cover for about 10 minutes. The steam will make peeling the skin easier. When they cool, peel or scrape off the skin with a serrated knife. Don't worry if you don't get it all off.
2) Wear gloves and break off the stems of the dried anchos and chipotles and trash them. Cut them open, scrape out the seeds, and trash them too. Put the rest in a bowl and cover with boiling water for 30 minutes, then drain.
3) Blend everything in a food processor. Taste and adjust as you see fit. Don't be afraid to add more oil if it is too thick, but be careful with the lemon juice. Add enough to brighten the flavor, but too much can happen fast. Put it in a jar and refrigerate.