In Memphis it is common for BBQ joints to offer their ribs "dry," without sauce, just a liberal sprinkling of spices and herbs. The most revered Memphis style dry ribs are served at Charlie Vergos' Rendezvous (called "The Vous" by some fans). In fact, The Rendezvous is probably the most popular ribjoint in the world. It is easy to understand why.
As background for this recipe, please read my article on the Science of Rubs.
About Rendezvous Famous Seasoning
Founded in 1948, Rendezvous is crammed with memorabilia, romance, and history. Plus, you can't beat the location right downtown Memphis in an alley.
Baby backs are the cut of choice, they are cooked hot and fast, and they are sprinkled liberally with their top secret seasoning. "We call it a seasoning, not a rub, because it is sprinkled on, not rubbed in," says Nick Vergos, Charlie's grandson.
Because The Rendezvous is so famous and popular, people, especially the media, are always asking the owners for their seasoning recipe. But, and I know this might shock some of you, the one they give out is most definitely not the one they use in the restaurant or sell in the bottle! Yet the bogus recipe is all over the internet.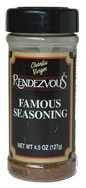 How can I be so sure? The bottle label of Rendezvous Famous Seasoning says "Spices, paprika (color), garlic, monosodium glutamate, salt and less than 2% silicon dioxide added to prevent caking." The recipe they give the media contains only salt, pepper, garlic powder, oregano, celery seed, paprika, and chile powder. But if you eat there or buy a bottle and sprinkle some in your hand, you can't miss the whole coriander seeds, mustard seeds, and allspice seeds, among other things. So I have tried to reverse-engineer it. My version is a lot closer to the real thing than the one so widely circulated.
Now for my disclaimer: When in Memphis, you've gotta do The Rendezvous because it is so much fun, the staff is great, and it reeks of history. But it is not even in my top five in the area in my book. One of my complaints is that the raw uncooked rub is sprinkled on the cooked ribs and then served. Most other restaurants that serve dry ribs sprinkle it on the raw meat, cook, and perhaps sprinkle on some more and cook some more. The spices lose their coarseness and bloom their full flavors when cooked in the oils of the meat. And forgive me if I'm biased, but most folks think Meathead's Memphis Dust is a better BBQ pork rub. But if you are a fan of Rendezvous, this recipe will take you back.
Since there is no salt in this recipe, (click here to read why our rub recipes do not have salt), salting the meat first is a must. This process is called dry brining. Salt will penetrate deep into meat so you should get it on in advance, perhaps overnight. The rest of the spices and herbs cannot penetrate very deep, so the rub can go on anytime, even just before you start cooking. The general rule of thumb is 1/2 teaspoon Morton Coarse Kosher Salt per pound (453.6 grams) of meat (don't include bone, and ribs are about half bone).
Special thanks to several readers who have also attempted to duplicate the Vous technique and offered feedback.
In Memphis it is common for BBQ joints to offer their ribs "dry," without sauce, just a liberal sprinkling of spices and herbs. This recipe is my Rendezvous-style Dry Rub Recipe.
---
---
Makes:
---
Takes:
---
Ingredients
8

tablespoons

American paprika

4

tablespoons

powdered garlic

4

tablespoons

mild chili powder

3

tablespoons

ground black pepper

4

teaspoons

whole yellow mustard seed

1

tablespoon

crushed celery seed

1

tablespoon

whole celery seed

1

tablespoon

dried crushed oregano

1

tablespoon

dried crushed thyme

1

tablespoon

whole allspice seeds

1

teaspoon

ground allspice

1

tablespoon

whole coriander seed

1

teaspoon

ground coriander

1

teaspoon

Accent
Notes:
About the Accent. The label of the Rendezvous Famous Seasoning states that there is Monosodium Glutamate (MSG) in the blend. Ac'cent is made of MSG and you can find it in the spice section of your store. MSG, also known as glutamic acid, is a flavor enhancer as well as a natural byproduct of some aging and fermentation processes. Click here to read more about it.
Where's the salt? The bottled stuff has a lot of salt in it, but I have left the salt out of this recipe. Read why in my article on the Science of Rubs.
About the salt. Remember, Morton's coarse kosher salt is half the concentration of table salt so if you use table salt, use half as much. Click here to read more about salt and how it works.
Metric conversion:
These recipes were created in US Customary measurements and the conversion to metric is being done by calculations. They should be accurate, but it is possible there could be an error. If you find one, please let us know in the comments at the bottom of the page
---