Like John, you're sure to be hoppin' with joy over this classic black eyed pea recipe.
Around the world different cultures have their special traditions for welcoming the New Year and to insure good luck. According to Jessica B. Harris in the New York Times, "In Spain, grapes eaten as the clock turns midnight – one for each chime – foretell whether the year will be sweet or sour. In Austria, the New Year's table is decorated with marzipan pigs to celebrate wealth, progress and prosperity. Germans savor carp and place a few fish scales in their wallets for luck. And for African-Americans and in the Southern United States, it's all about black-eyed peas." Or in it most popular form — Hoppin' John.
Comprised of beans, rice, and pork, this dish is especially popular in coastal South Carolina and Georgia. It probably originated with black slaves from the Caribbean brought in through Charleston around which there were large rice plantations.
It is still very popular among the Gullah people on the Carolina coastal islands where Hoppin' John is widely served on New Year's Day for good luck. Many people believe that eating beans on New Year's Day will bring better eats in the year to come. According to one tradition, a coin is added to the pot and whoever gets the coin will get rich.
Spotlight on our favorite products
Bring The Heat With Broil King Signet's Dual Tube Burners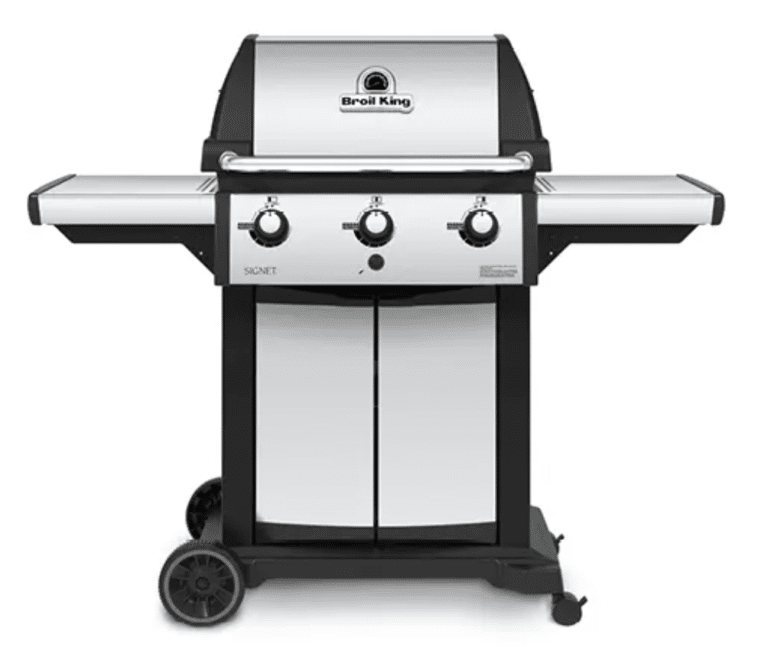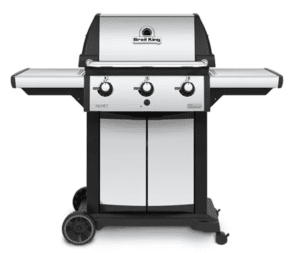 The Broil King Signet 320 is a modestly priced, 3-burner gas grill that packs a lot of value and power under the hood including dual-tube burners that are able to achieve high, searing temps that rival most comparatively priced gas grills. Click here to read our complete review.
– THIS IS NOT AN AD –
There are several poetic explanations for how the dish got its name. One claims that it got its name in the early 1800s when it was peddled on Charleston streets by a one legged black man named John. Likewise there are a number of explanations for why beans symbolize good luck. Some ascribe their magical properties to fables like Jack And the Beanstalk, others call it a symbol of fertility, others say the black-eye saved the South from starvation during the Civil War.
I've kept this Hoppin' John recipe simple and traditional, but there are numerous variations, so feel free to riff on it. I've been known to add red pepper and thyme. To modernize it, hold the green peppers until you add the rice to retain their brightness and crunch. In the original recipe the peppers kind of disintegrate. If you hold them til the end they add life. Before you get cooking, also be sure to read our comprehensive article, The Science of Beans.
Celebrate a Happy New Year and give yourself some good luck with the ultimate black eyed pea recipe, flavor packed Hoppin' John beans and rice. Black-eyed peas' most popular expression is Hoppin' John, a steaming bowl of beans, rice, and pork that is especially popular in coastal South Carolina and Georgia.
Serve with: Reisling or chardonnay.
---
---
Makes:
Servings:
main course servings
---
Takes:
---
Ingredients
2

tablespoons

vegetable oil

2

smoked ham hocks

1

green bell pepper

1

large onion

4

cloves

garlic

2

teaspoons

hot pepper flakes

3

bay leaves

4

cups

chicken broth

1

15-ounce can

black-eyed peas

1

cup

white rice

1/2

teaspoon

Morton Coarse Kosher Salt

1/4

teaspoon

ground black pepper
Notes:
About the beans: Click here to read our article, The Science of Beans, for tips on working with beans and equivalents for dry, canned, and cooked beans. If you plan to use dried beans, follow the instructions there for preparing them.
About the salt.
Remember, kosher salt is half the concentration of table salt so if you use table salt, use half as much. Click here to read more about salt and how it works.
Metric conversion:
These recipes were created in US Customary measurements and the conversion to metric is being done by calculations. They should be accurate, but it is possible there could be an error. If you find one, please let us know in the comments at the bottom of the page
Method
Prep. Remove the stem, core, and seeds from the green bell pepper. Coarsely chop the pepper.

Cut the ends off of the onion, remove the skin, and coarsely chop.

Press the garlic with a garlic press or coarsely chop.

Cook. Get a large pot hot and add the oil. Add the ham hock, onion, green pepper, garlic, pepper flakes, and the bay leaf. If you can't find a ham hock, you can use bacon, just skip the vegetable oil and start by cooking the bacon in the bottom of the pot and pour off all the bacon grease except 2 tablespoons.

Drain and rinse the black-eyed peas.

When the onions are limp, add the chicken broth and bring to a boil. Add the beans, bring back to a boil and dial it back to a simmer quickly. Do not boil for more than a minute or two. Simmer for at least an hour.

Remove the bay leaf and if you use ham hocks, cut off the meat, add it to the pot, and discard the bones and skin.

Add the rice and simmer with the cover on for about 25 minutes or until the rice is tender and most of the liquid is absorbed.

Serve. Serve with salt and pepper at table. Hoppin John gets a lift from fresh ground pepper at the table.
---