Beef ribs are tough but flavorful. The best way to tenderize tough cuts is by slow cooking. Slow smoke roasted Barbecue beef ribs are my first choice in warm weather, but when the snowballs fly, braising indoors in a flavorful liquid is the way to go. Regardless of the weather, I like to do both, smoke the meat for an hour or two to pick up some smoky goodness, and then braise it! This is definately not the classic prep from France where tradition starts the recipe by browning the meat in oil in a pot. Starting it on the smoker gives the final dish a complexity and elegance heretofore unknown.
Hungry for more ribs recipes, tips, and techniques? Click here to download our ebook "Amazing Ribs Made Easy" $3.99 on Amazon (free Kindle app runs on all computers and devices). Or, get this book and others FREE as a member of the AmazingRibs.com Pitmaster Club. Click here to join.
Braising is a method of cooking in a flavorful liquid low and slow, just like barbecue, so the meat tenderizes and all the flavors meld into a harmonious symphony. The liquid is kept to a low simmer, tiny bubbles, not big ones. When you boil meat at 212°F, the proteins contract and muscle fibers squeeze out their juiciness. Yes, you can make meat dry by cooking it sum=b merged in liquid! But if you simmer at about 190°F, the meat tenderizes and remains juicy.
Smoked And Braised Beef Short Ribs Sorta Provencal Recipe
I like to serve these braised beef ribs on a bed of egg noodles, but you can use any other pasta, mashed potatoes, polenta, rice, cous cous, or serve it straight with a crusty loaf of bread.
Course. Dinner. Entree.
Cuisine. American, French.
Makes. Serves 4
Takes. 30 minutes prep time and 4 hours to cook
The Beef
4 pounds beef short ribs, bone in
3 tablespoons butter (either salted or un)
2 large onions, coarsely chopped
2 large carrots, trimmed, peeled, and cut into bite size coins
2 ribs celery, trimmed and cut into bite size chunks
6 cloves of garlic, peeled, and cut in half
2 teaspoons dried herbes de Provence (or fake it with equal parts thyme, basil, and tarragon)
2 whole bay leaves
2 tablespoons Dijon-style mustard
2 (14.5 ounce) cans unsalted broth (beef, chicken, veggie, or a combo)
1 (14.5 ounce) can chopped, diced, or whole tomatoes
1 bottle full-flavored dry red wine such as syrah or shiraz
12 prunes
Salt and pepper to taste
The Noodles
8 ounces of egg noodles
The Garnish
4 tablespoons chopped fresh parsley, chives, or green onion
Optional. 1/2 cup Nicoise olives, pitted (small, brine-cured olives) added 10 minutes before serving.
Wine. Serve with a big red wine, like a French wine from the Rhone region (which is near Provence). Another option is a wine from the US or Australia labeled Syrah or Shiraz. These are the same grape, and a big part of the blend used in the Rhone region.
Method
1) Cut the meat into single bone sections. If you buy a normal 4 bone section they will be about 8 inches long. Or you can buy them cut into more bite-size riblets, shown above. Trim off as much surface fat as possible off the meat and bone. Sprinkle the meat side lightly with salt and pepper. Throw them on the smoker at about 225°F for about an hour, on the indirect side of a grill. Use lots of wood to generate lots of smoke. That won't cook them much, but it will impart a nice smoke undertone.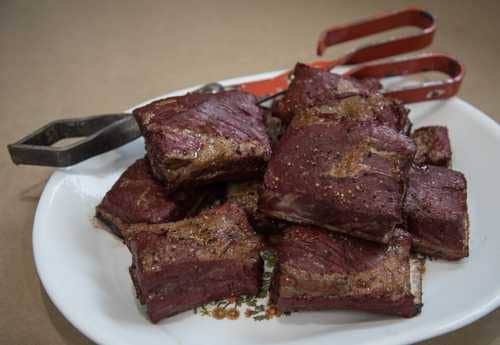 2) In a large heavy pot, about 4 quarts, melt the butter. Add the onions, carrots, celery, garlic, herbes de Provence, and bay leaves and cook over medium heat until the carrots begin to soften, about 20 minutes. Don't let the onions burn.
3) Add the mustard, prunes, wine, tomatoes, and broth. Bring the liquid to a boil but don't let it boil for more than a few seconds, and then dial the temperature to a gentle simmer. Add the meat bone side down and submerge it. Cook for about 3 hours without a cover. Check every 30 minutes or so to make sure it is not burning on the bottom. It should not stick if you used the right amount of butter and if you aren't cooking too hot. If it does burn resist the temptation to scrape the bottom. That burned stuff will ruin it. Just pour it into a new pot. As the liquid cooks down the meat will stick out at the surface and darken and form a crust. You want about 4 cups of stew, not counting the meat, so add a lid if it starts getting low. If it has reduced too much add more water or stock. If it is too thin, leave the lid off and cook it some more.
4) About 30 minutes before serving, start a 2 quart pot of water boiling and add 1/2 teaspoon of salt. Add the noodles and boil according to the instructions on the package.
7) About 10 minutes before serving, remove the bones if you wish, they should slide easily off the meat, and add the the olives to the stew if you decide to use them, to warm them. Taste and adjust salt and pepper.
8) Place the noodles on the plates, put the meat and veggies on top, pour the liquid over, sprinkle with parsley.
Published On:
01/02/2017
Last Modified:
12/16/2020
Beef ribs are a desirable component in a braised dish because they contain so many flavorful elements, fat, connective tissue (collagen that turns to gelatin), marrow, and, of course, beef. Click here to learn more about the different cuts of beef ribs.
Based on a classic French stew from Provence, this recipe fills the house with seductive aromas and, if you prepare it on Saturday, refrigerate it overnight, and serve it on Sunday, the house will smell great for two days straight. Besides, braised meat often tastes better the next day, after all their flavors have intermingled. Some recipes call for boneless ribs, but you should leave the bone in because water is a solvent and will extract some of the marrow adding to the richness of the stew. Also, the meat is held onto the bone by a sleeve of connective tissue that can be tough as leather when cooked with dry heat, but in this prep it remains soft, supple, and eminently edible. Deep, meaty, flavorful, and hearty, this is the ideal winter meal with a rich red wine to be followed by an evening wallowing on the couch with a movie.
This recipe calls for cooking in a heavy pot on the stovetop, but you can easily adapt it for cooking in a slow cooker.
I like to serve this on a bed of egg noodles, but you can use any other pasta, mashed potatoes, polenta, rice, cous cous, or serve it straight with a crusty loaf of bread. Try it with a simple salad of chopped lettuce and blue cheese on the side with a big, full-bodied red.