This marinade, I call it my Sheep Dip, is great on all cuts of lamb including rack, leg, and kebabs. If you don't think you like lamb, this will convert you. The output is amazingly flavorful and tender and juicy and succulent and...
Loin chops are the porterhouse steaks of the lamb, with a T-bone separating the strip steak on one side and the filet mignon on the other. But they are a lot smaller than beef porterhouses. Typically cut 1 to 1.5" thick, they are no bigger than a child's fist.
Lamb Loin Chops in Sheep Dip Recipe
This marinade, I call it my Sheep Dip, is great on all cuts of lamb including rack, leg, and kebabs.
Course. Lunch. Dinner. Entree.
Cuisine. American.
Makes. 2 servings
Takes. Just over 1 hour total. 10 minutes to make the marinade, 30 minutes for the marinade to come together, 20 minutes to marinate, 15 minutes to cook.
Serve with. Spring lamb is prized so serve this in spring with another spring dish, grilled asparagus. Asparagus reaches its peak flavor when grilled. Click here for my recipe for grilled asparagus. Complete the plate with yet another spring treat, new potatoes. Click here for my recipe for a Warm French Potato Salad that is also the World's Easiest Potato Salad. Pour a big rich red wine. Break out the good stuff for this dinner.
Marinade ingredients
1/4 cup red wine vinegar
1/4 cup balsamic vinegar
1/4 cup olive oil
3 tablespoons toasted sesame oil
3 tablespoons fresh rosemary, stripped from the stems
6 cloves of fresh garlic, minced or pressed
Meat
6 lamb loin chops, at least 1" thick
1/2 teaspoon kosher salt
About the lamb. Loin chops are the most tender and juicy meat on the animal, but the chops are small. Be sure to get them thick. Serve them rare to medium rare, no more than 130°F.
About the rosemary. If you have fresh rosemary, chop it up so it will ooze it's deliciousness into the marinade. If you use dried rosemary, crush it with a mortar and pestle or grind it between your palms. Alex Sebastian, owner of the famed Wooden Angel restaurant in Beaver, PA, near Pittsburgh, has been seen to serve a fresh sprig of rosemary with his lamb chops and then flagellate them at tableside. That's right, he beats the meat with the rosemary sprig. And it works! The flavorful oils in fresh rosemary are right on the surface and they give the meat a nice lift.
Method
1) Trim and salt the meat about 1 hour before cooking. Get all the surface fat off or else it will cause serious flareups during the cooking. Whisk the marinade ingredients in a non-reactive pan large enough to hold the meat but not much larger. You can crowd them in. Let the marinade sit for 30 minutes so the flavors marry before you put the meat in.
2) Add the chops, turn them so all sides are wet, and let them sit for 10 minutes per side. Do not marinate any longer than 20 minutes. This meat soaks up the flavor and you don't want to hide the meat's own taste.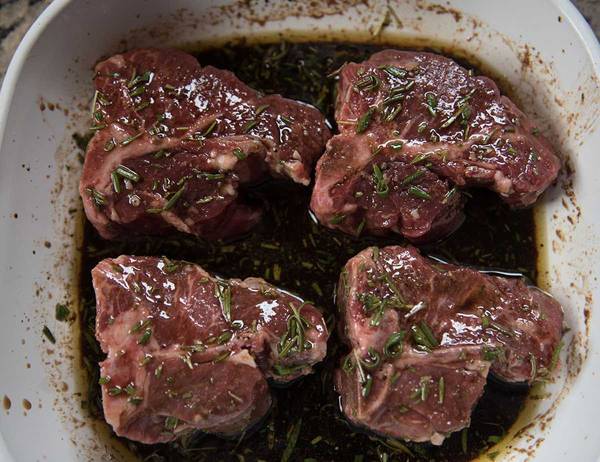 3) Set up your grill for 2-zone cooking. Get the hot side as hot as you can get it. Cook on the hot side with the lid up so all the energy is pumped into one side while the other side cools, and turn frequently, until it is 125°F to 130°F in the center. It's OK if they get really dark, that's the balsamic talking, but don't let them burn and for heaven's sake, do not overcook! Use the cool side to hold chops as they finish. If the exteriors are really dark and the interiors are not done, there are two tricks: Either move them all to the indirect side and close the lid for about 5 minutes or stand them on end, flat side of the T-bone down.
"Just a little sheep dip. Panacea for all stomach ailments."
Published On:
03/14/2015
Last Modified:
12/28/2020