Grilled asparagus develops rich flavors you just can't get by boiling or steaming.
Seasoned, grilled, drizzled with good olive oil and balsamic vinegar, and topped with curls of Parmigiano-Reggiano cheese, this is by far my favorite prep for the perfect BBQ side dish.
Asparagus is freshest, sweetest, and crispiest in spring. Look for spears with firm closed tips and select bunches that are about the same diameter so they cook uniformly. Watch out for soft mushy tips. Some folks think that skinny spears are best, but I've had fabulous fat asparagus. The Michigan Asparagus Advisory Board says "Larger diameter spears are more tender." So there. Just make sure to cut off the woody part of the bottom of the stalk. Whatever you do, don't substitute canned asparagus. Like other canned vegetables, it is mushy and just does not taste right. Frozen is better, but there is no substitute for fresh.
Spotlight on our favorite products
Is This Superb Charcoal Grill A Kamado Killer?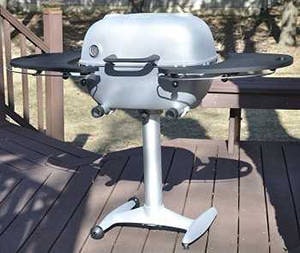 The PK-360, with 360 square inches of cooking space, this rust-free, cast aluminum charcoal grill is durable and easy to use. It is beautifully designed, completely portable, and much easier to set up for 2-zone cooking than any round kamado. Click here to read our detailed review of the PK 360 and get a special AmazingRibs.com price!
– THIS IS NOT AN AD –
Some fun facts about asparagus:
Asparagus is a lily and it is grown from a root ball called a crown.
After planting it takes about three years before the farmer will harvest them.
The roots will produce for up to 15 years.
Under ideal conditions it can grow 10 inches in one day.
White asparagus is just asparagus that has had dirt mounded over it as it grows so it doesn't turn green.
Asparagus makes your pee smell funny, but some people can't smell it.
If they aren't harvested, the spear heads sprout into ferns and produce red berries.
If you can't use asparagus in a few days after purchase, cut about a half inch off the bottoms and stand them up in a glass with about a half inch of water in the bottom.
Not surprisingly there is a band named "The Horror Asparagus Stories." Not surprisingly, their music is horrible.
This tested recipe for grilled asparagus develops rich flavors you just can't get by boiling or steaming. Seasoned, grilled, drizzled with good olive oil and balsamic vinegar, and topped with curls of Parmigiano-Reggiano cheese, this is by far my favorite prep. Asparagus is freshest, sweetest, and crispiest in spring.
It is a myth that thick asparagus is inferior. The issue is that the older, thicker stalks can be woody near the bottom. You can cut it off or shave off the woody layer with a carrot peeler. What lies beneath is just as tender and juicy as thinner stalks. And for grilling, I prefer the thicker stalks.
---
---
Makes:
---
Takes:
---
Notes:
About the Simon & Garfunkel spice mix. This is an excellent spice blend that you should make and keep on hand for a number of my recipes, but if you don't want to bother, just season this dish with 1/4 teaspoon each of freshly ground black pepper, garlic powder, onion powder, chipotle powder, paprika.
About the finishing oil. Most of the cooking oil drips off, so adding a little fresh oil at the table really perks things up. At the table you can substitute butter for the olive oil if you wish, especially if you cooked with butter. If I cook with olive oil, I finish with olive oil.
About the balsamic. I recommend a reduction of an inexpensive balsamic as described in my article The Science of Balsamic Vinegar. Just gently boil the vinegar and reduce it by half. If you don't have balsamic (and just why don't you?), then use a splash of fresh lemon or lime juice.
About the salt. Remember, kosher salt is half the concentration of table salt so if you use table salt, use half as much. Click here to read more about salt and how it works.
Optional. Sometimes I like to throw some macadamia nuts, cashews, or peanuts in a pan and heat them on medium high for a few minutes until they toast but don't burn, and then I sprinkle them on the asparagus just before serving. One-quarter cup is more than enough for this recipe.
Metric conversion:
These recipes were created in US Customary measurements and the conversion to metric is being done by calculations. They should be accurate, but it is possible there could be an error. If you find one, please let us know in the comments at the bottom of the page
Method
Prep. Chop off the woody part of the spear near the bottom, about ½ to 1 inch (12.7 to 25.4 mm). If the stalk is woody, shave it with a carrot peeler. Lay the asparagus on a platter or in a pan and pour the oil over them and roll them around until they are lightly covered. Sprinkle on the salt and the spices. Shave the cheese on the long shaving side of a box grater so you have wide ribbons and set it aside.

Fire up. Set up in 2 zones, preheat the grill to medium hot on the direct side. Although we will cook in the hot zone, I always like to have a safe zone on the other side in case some cook too fast. Place the asparagus over direct heat at a right angle to the grid of the grill grates so they don't fall through. If you have a grill topper this is a good time to drag it out. Asparagus are among the best reasons to buy a product called GrillGrates. They can't fall through. If one commits suicide, just leave it alone. Don't try to retrieve it now.

Cook. Grill the asparagus, lid on, until they brown slightly on one side, about 5 minutes, roll them and grill for only 2 to 3 minutes on the second side. A few char marks are OK while grilling, but don't incinerate them. Stand by your grill. Bite into one near the base to make sure the doneness is the way you like it (I like it with a bit of crunch). The skinny ones will finish first so yank them off as soon as they are tender and bend when lifted by tongs.

Serve. Arrange the spears on a platter so they are all pointing in the same direction. Let them cool for about 5 minutes. They do not have to be red hot when served, in fact they can be served at room temp. Now drizzle with the vinegar and top with the cheese ribbons.
---
Nutrition per Serving
Calories:
312
kcal
|
Carbohydrates:
9
g
|
Protein:
23
g
|
Fat:
21
g
|
Saturated Fat:
10
g
|
Cholesterol:
39
mg
|
Sodium:
1495
mg
|
Potassium:
330
mg
|
Fiber:
3
g
|
Sugar:
4
g
|
Vitamin A:
1450
IU
|
Vitamin C:
7
mg
|
Calcium:
719
mg
|
Iron:
4
mg