How To Make Caramelized Onions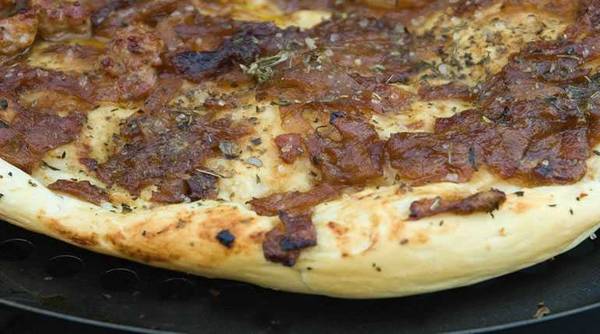 Mahogany colored caramelized onions are a wonderful sweet savory ingredient in French Onion Soup, and as a topping for ribs, brisket, caramelized onion pizza, chops, steaks, burgers, hotdogs, baked potatoes, your lover…
As amazing as it seems, onions can be very sweet if cooked slowly. The process converts the natural sugars to caramel. Naturally, the sweeter the onion, the better the outcome. If they are in season, try to use Vidalias from Georgia (May and June), Walla Wallas from Washington State (June through August), Texas Sweets (April through June), Mauis from Hawaii (summer through November), Sweet Imperials from California, and OsoSweet from Chile (January through March). These breeds are usually 3-6% sweet and can even get up to 10% sweet. As a bonus, they are also lower in pyruvic acid, the stuff that gives onions bite and makes you cry when cutting them.
My friend, Allen Kelson, says "When onions are cheap, we freeze baggies of caramelized ones; they're great for moistening sandwiches and also for a gazillion other things."
Caramelized onions have a million uses, and then some. Here's the best way to make them. The recipe makes enough for topping a 12" pizza, for topping 6 sandwiches, or for topping 6 baked potatoes
---
---
Makes:
---
Takes:
---
2

cups

sliced sweet onions

3

tablespoons

unsalted butter

2

pinches

salt
Options. If you are using regular onions, you can sweeten them with a pinch of sugar, brown sugar, honey, or even molasses.
Add a pinch or two of hot pepper flakes when you add the onions to the pan. Just because you can.
When the onions are mostly brown, add 1/2 teaspoon of inexpensive balsamic vinegar. This amps up the sweetness, and balances it with some tartness. Cook another 10 minutes until the vinegar is fully absorbed.
When the onions are ready, add 2 teaspoons of fresh rosemary, thyme, or oregano and cook for 5 minutes. If you use dried herbs, add them before the onions turn brown so the herbs can absorb some moisture and give up more of their flavor.
Prep. Peel the onions and and cut them into 1/8 to 1/4" slices (I wear swim goggles to keep from crying). Separate them thoroughly.

Cook. Get a large frying pan. It is important that you spread the onions out over a large surface, so don't do this in a saucepan or a small frying pan. And non-stick is best. Over a low heat, melt the butter, stir in the onions til coated, and add the salt. Cover for 15 minutes so they can steam with their internal moisture. Uncover, turn the heat up to medium, and let them cook, stirring every 5 minutes or so, until they are brown all over but not burned. The idea is to slowly extract most of the moisture, burn off the acrid stuff that makes you cry, and turn the copious natural sugars to caramel. Use immediately or keep in the fridge for a week or two.
---
Related articles
Published On: 4/14/2013 Last Modified: 4/20/2021
Meathead - Founder and publisher of AmazingRibs.com, Meathead is known as the site's Hedonism Evangelist and BBQ Whisperer. He is also the author of the New York Times Best Seller "Meathead, The Science of Great Barbecue and Grilling", named one of the "100 Best Cookbooks of All Time" by Southern Living.

---