The very best hot dog recipe is nothing without a perfectly prepared hot dog bun.
There are several ways to handle buns. Many hot dog stands steam them and many toast them on the griddle. You pick.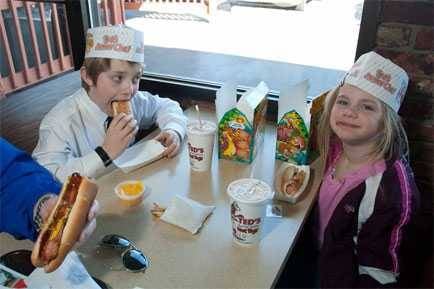 Steaming your buns
I like hard buns only at my health club. Steaming the buns makes them warm and soft, but steaming them too much makes them mushy and sticky. There are several ways to steam buns at home:
1) Start a little water boiling in a double boiler or Chinese bamboo steamer and put the buns in for about 20 seconds. That's all they need.
2) Take a sheet of paper towel and lightly sprinkle it with water until about 20% of it is wet. Wrap the buns in the moistened paper, and microwave for about 10 seconds. If the bun is frozen, nuke it for 30 secs. Exact timing will vary because microwave temps can vary.
Spotlight on our favorite products
The Pit Barrel Cooker May Be Too Easy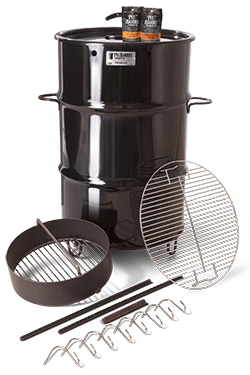 The PBC has a rabid cult following for good reason. It's among the best bargains for a smoker in the world. This baby cooks circles around cheap offset smokers because temperature control is so much easier. Click here to read our detailed review and the raves from people who own them.
– THIS IS NOT AN AD –
3) Get a pot of water boiling. With tongs, hold the buns over the steam for about 30-60 seconds. If you are doing dirty water dogs, this is the easiest method.
4) Reader Mark Leonard of El Dorado Hills, CA, sent me this tip: "I very lightly mist the outsides of the buns with water (if they're a little older I mist a little on the insides as well), wrap them tightly in foil in one package and then toss them on the grill, flipping once, while the dogs cook. Works great." I'll bet it does!
Toasting your buns
Since I grill most of my franks, I usually toast the buns on the grill right next to the meat. I simply open them up and lay them on the grates. Depending on how hot the grill is, they can burn in as little as 30 seconds, so do not leave your buns unattended. Check them frequently. If they get a little too black on the edges, you can usually scrape awar the char with a serrated knife.
If you really want to amp it up, spread a little butter or oil on the cut face of the buns before you grill them. Yum.