Smoke and open flame elevate French toast to unexpected heights.
Rich boats of bread waterlogged with eggs, laden with fresh fruit, floating in a sea of real maple syrup. Sheer heaven.
Just about the simplest breakfast this side of a bowl of cereal, French toast is the perfect way to start a Sunday morning, or a Tuesday morning for that matter. Or a Thursday lunch. And if you compete on the barbecue circuit, cooking a French toast breakfast for your team will make them warm on the inside and forgive you for making them tend the smoker all night.
French toast should be toasted, not fried in a pan. That's why they call it toast! In France, they also call it pain perdu or "lost bread," a reference to the common practice of using leftover bread. And French toast on the grill is killer. Here's the ultimate French Toast recipe, a snap to make on a grill.
Spotlight on our favorite products
The Efficiency Of A Kamado Plus The Flexibility Of The Slow 'N Sear Insert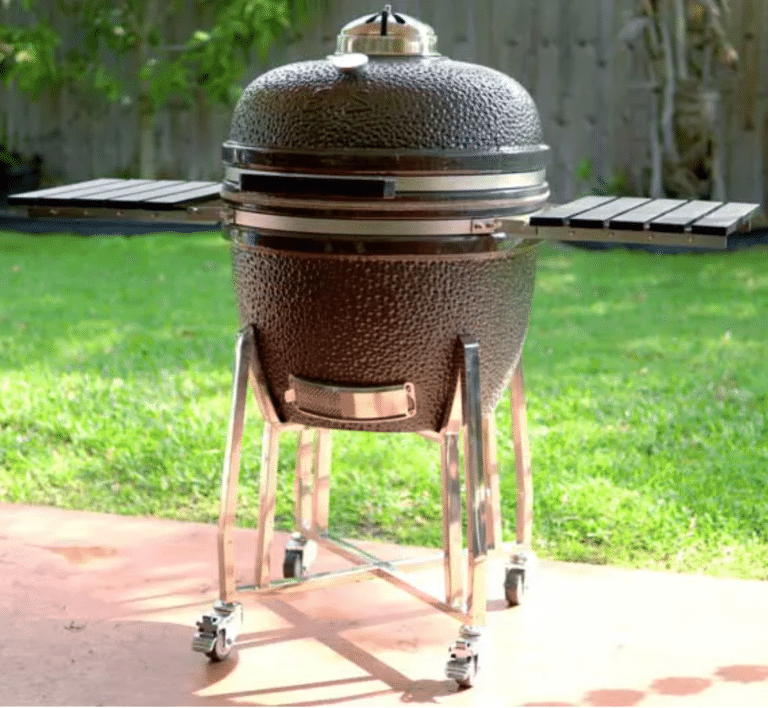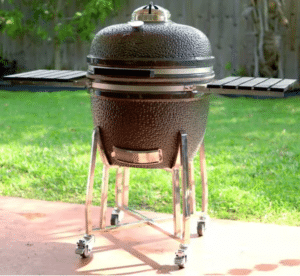 Built around SnS Grill's patented Slow 'N Sear charcoal kettle accessory, this 22-inch kamado is a premium ceramic grill that brings true 2-zone cooking to a kamado. Click here for our article on this exciting cooker.
– THIS IS NOT AN AD –
Freezing French toast
Make a big batch and freeze it. It's that simple and it tastes great leftover. You can reheat it in the microwave, on a grill on low heat, or in the oven on low. Microwave is easiest. Just put it on a plate, pour on the cold syrup, and nuke for 30-60 seconds on high.
If you want it crispier, defrost it in the microwave for about 30 seconds and then crisp it on the grill, in a toaster oven on toast or broil, or under the broiler of your oven. It's that easy!
A recipe for a heavenly breakfast, French Toast, toasted on the grill. As it should be done.
---
---
Makes:
Servings:
large thick slices
---
Takes:
---
Ingredients
2

large slices of crusty bread, about 3/4-inch (2 cm) thick, a bit stale is OK

2

eggs

2

ounces

milk

(2% or higher fat content is best)

2

tablespoons

butter if you use a griddle

1/3

cup

pure Grade B maple syrup

Fresh fruit
Notes:
About the bread. Use an uncut Italian bread or something with a nice crunchy crust, but not as crusty as a French baguette. Ironic that French bread is too crusty for French toast, no? Challah, brioche, raisin bread, and pannetone are wonderful choices. Keep it to about 3/4-inch (2 cm) thick or less so the egg in the center cooks until it is safe. The crust adds a nice texture, but just as important, it helps prevent the soggy bread from falling apart. If you use sliced white bread, one egg will do two slices.
About the egg/bread ratio. My rule of thumb is 1/2 egg for a slice of sandwich bread. Large thick slices can absorb up to a whole egg.
About the egg/dairy ratio. You can also use half and half or cream. On Christmas morning we use egg nog. The rule of thumb is an egg averages 2 ounces (59.1 mL), and you use 1 ounce (29.5 mL) of milk for 2 ounces  (59.1 mL) of egg. If you're out of milk you can use water. 
Optional flavorings. Whisk in a pinch of cinnamon and 2 drops of vanilla per egg. Go wild and add a pinch of nutmeg and allspice.
About the toppings. I prefer darker maple syrup. The real stuff. It is more flavorful and infinitely better than the ersatz stuff. Fresh fruit is great on French toast, especially peaches, blueberries, bananas, and strawberries. A sprinkle of confectioner's sugar give it a real downtown look. Some folks like to top it with fruit syrups, honey, Lyle's golden syrup, cane syrup, liqueurs, jams, apple sauce, more butter, powdered sugar, sugar with cinnamon, sour cream, creme fraiche, yogurt, peanut butter, melted cheese, or even baked beans. Use your imagination.
Go savory. Try making French toast with rye bread or sourdough bread and whisk in salt and pepper. Serve savory French toast with without syrup. Just sprinkle on some fresh herbs such as rosemary, tarragon, or thyme, and top with grill-roasted peppers and Italian sausage.
Metric conversion:
These recipes were created in US Customary measurements and the conversion to metric is being done by calculations. They should be accurate, but it is possible there could be an error. If you find one, please let us know in the comments at the bottom of the page
Method
Prep. Take the chill off the syrup by putting it in a coffee cup and letting it sit at room temp or heat it in the microwave for 20 seconds or in a saucepan on low for 5 minutes. Select your toppings and get them ready.

Whisk the eggs, milk, vanilla, and cinnamon thoroughly in a wide bottom bowl. Leave no streaks, and make sure the cinnamon isn't lumpy.

Dunk both sides of the bread in the egg mix for about 20 seconds per side. We want it well saturated. Put the bread on a flat plate. If there is egg leftover, pour it on top of the bread slices and let it soak in.

Toasting on grill grates. If you are using charcoal, use fewer briquets than normal and spread them out so they are not stacked on top of each other and so they are not touching. If you are using a gas or electric grill, turn the knobs to medium and when the grates are hot, clean them thoroughly. Oil the grates with a paper towel soaked in vegetable oil or with a silicon basting brush. Put the egg soaked bread on the clean, oiled grates, and stand there. Don't wander away. Check after two minutes. Use a spatula rather than tongs. Depending on the heat of your grill, they can go from beautifully golden to burnt in a minute or two. They are ready when GBD (Golden Brown and Delicious) and the surface no longer looks wet. Don't let them get too hard.

Toasting on a griddle. Crank up the grill to high, heat the griddle, and back it down to just above medium. Add enough butter to coat it well, and when it is melted, place the bread on and press it gently with a spatula so the surface is in contact with the oil. Close the lid and give it 5-10 minutes on the first side until it is golden. The second side should not take as long.

Serve. Transfer the toast to serving plates immediately and crown it with the toppings of your choice. Serve with coffee.
---