Grilling takes bacon wrapped jalapeño poppers, a.k.a. ABTs, to a whole new level of deliciousness.
Jalapeño Poppers are great appetizers. While standard restaurant jalapeño poppers are usually breaded and fried, my outdoor grilled version is smoked and much more flavorful. This BBQ and grilling appetizer is a big hit with people who like a little bit of heat in their food, but you can remove most of the heat to accommodate wimps if you wish.
There are many variations on grilled jalapeño poppers. Most call for wrapping the halved jalapeños with bacon and holding it in place with toothpicks (a.k.a. ABTs). That's too much of a pain for me, the dripping grease can put all kinds of soot on things, and by the time the bacon cooks, the chiles are limp and dull. I like them with some snap. So I prefer to put the bacon in the filling.
Jalapeños are chile peppers with a measurable amount of heat, but they are not too hot for most folks. The cool part (pun intended) is that the best way to extinguish capsaicin heat is with cooking and dairy fat. Cooking somehow disarms jalapeños, and the cheese in this recipe not only tastes good, it also helps control the fire. If you remove the seeds and ribs, you can remove 90% of the heat if you wish, and the flavor is wonderful.
Grilled Jalapeño Poppers Recipe
A cheesy appetizer with a kick, this easy recipe is sure to please, and the smoked and grilled versions are better than the fried version. This appetizer is a big hit with people who like a little bit of heat in their food, but you can remove most of the heat to accommodate wimps if you wish.
Course. Appetizer. Side Dish. Snack. Vegetable.
Cuisine. Mexican. American.
Makes. 24 pepper halves
Takes. 30 minutes prep time, 20 minutes cooking time
Ingredients
12 slices bacon
8 ounces of Home-made Boursin-style Cheese Spread
1/2 cup sharp cheddar
1/4 cup minced pineapple
12 fresh jalapeños
1 teaspoon paprika
For One-eyed Jalapeño Poppers. You'll need 24 green olives with pimento stuffing
About the bacon. Leftover pulled pork is a good substitute. Or go upscale and mix some crab meat, lobster, or shrimp into the stuffing. Sundried tomatos are nice too.
About the jalapeños. If you like things really hot, use habaneros.
About the cheese.You can use storebought boursin, but making it is easy and a lot cheaper. Try replacing the cheddar with blue cheese, mozzarella, jack, queso quesadilla, or queso asadero.
Optional, but strongly recommended. Mango works well too.
Method
1) Cook the bacon to the level of doneness you prefer. It will not cook any more once you stuff the jalapeños with the cheese. Let it cool and chop it into bits.
2) Prepare the Home-made Boursin-style Cheese Spread and mix in the bacon, cheddar, and pineapple.
3) Put on rubber gloves to work on the peppers. If you are going to halve them, with a thin sharp filleting or paring knife, cut the stems off and discard them. Then cut them in half lengthwise. Run the blade along the inside wall of the pepper removing the seeds and the white ribs. If you like hot stuff, leave the ribs in. If you are going to leave them whole and cook them in a rack, slice off the stem and cap and use a potato peeler to remove the seed pod. It will be hard to remove the ribs this way, so they will be hotter than the sliced peppers.
4) You can cut them in half, remove the seeds, and stuff them as show at the top of the page. The stem is woody and not very good to eat, so you use it as a handle and bite it off just below the cap.You can cut them in half, remove the inedible cap, and keep the cheese from oozing out with an olive as a plug. Hence the name "One-Eyed Jalapeño Poppers". The olive is not only functional, it tastes great.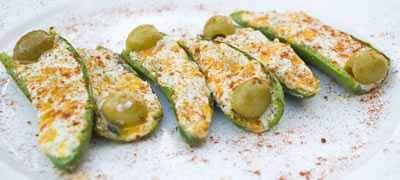 If you have a jalapeño grilling rack like the King Kooker Stainless-Steel 36-Hole jalapeño Rack with Corer shown here, you can just chop off the top, cut out the seeds, and stuff them.
You can also cut a small hole in the side and using a pastry bag pipe the cheese in.
5) Spread the cheese mix into the peppers, but not so much that it will overflow when cooking. To make them one-eyed, put an olive at the stem end. Sprinkle the paprika on top.
6) Fire up the smoker or grill with a 2-zone setup and cook at about 225°F over indirect heat until the cheese melts and the pepper gets a little soft. Try not to let the peppers go limp, they're better with a little crunch. Remove gently with a spatula and let them cool a bit before serving. They are also fine at room temp or right out of the fridge. Make sure you have plenty of cold beer on hand.
"Spicy food and I have a close relationship—an obsessive one, in fact. If it's spicy, I want it. I want to sweat and shake and go half blind from the searing pain . . . which, now that I put it that way, seems really suggestive. But spicy stuff is addictive. That's a known fact of science."Maureen Johnson
Published On:
11/28/2013
Last Modified:
12/28/2020