Get ready to gobble, gobble up this mouthwateringly moist and tender grilled turkey breast!
When it comes to meats, turkey breast may just be the biggest pain there is. Undercook it and you can get a bad tummy ache or worse from salmonella. Overcook it and it is cardboard (click here for more info about the proper temperature for turkey and other meats).
Turkey breast is white meat, and is on the bland side, not as flavorful as the dark meat like thighs. But it is a blank canvas to accept other flavors and show them off.
Bobby Flay, the Food Network celebrity chef, the owner/executive chef of nine restaurants, and the author of nine cookbooks, shared a creative solution with me when I interviewed him in November 2009. He soaks the meat in a flavorful mayonnaise based marinade before he roasts it.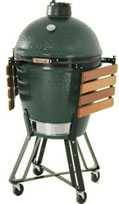 Flay calls his recipe "tandoori" style, a bit of a stretch because poultry cooked tandoori style is usually marinated in spiced yogurt, not mayo, and it is cooked on a tandoor, a cylindrical clay or ceramic charcoal grill used widely in India. This ancient method of cooking is making its way west and today there are several commercial grills that are similar. The popular Big Green Egg ceramic grill and smoker (above) is very much like a tandoor. There are others on my Buyer's Guide to Charcoal Smokers.
In the spirit of true "tandoori style" I have modified Flay's recipe for cooking on a grill. Don't tell me you're surprised.
In the spirit of true "tandoori style" I have modified Bobby Flay's recipe for cooking on a grill.
---
---
Makes:
Servings:
3-oz (85 g) servings
---
Takes:
---
Ingredients
¾

cup

Hellman's Real Mayonnaise

1

medium yellow onion, coarsely chopped

6

cloves

garlic, chopped

3

tablespoons

good quality curry powder

Zest of 1 fresh lime

Juice of 2 fresh limes

1

boneless, skinless turkey breast, about 4 to 5 pounds (1.8 to 2.3 kg)

¼

cup

chopped fresh cilantro

Salt and freshly ground black pepper
Notes:
About the mayo. Flay is sponsored in part by Hellman's, and that's OK with me. It is my favorite mayo, too.
Metric conversion:
These recipes were created in US Customary measurements and the conversion to metric is being done by calculations. They should be accurate, but it is possible there could be an error. If you find one, please let us know in the comments at the bottom of the page
Method
Prep. Combine the mayonnaise, onion, garlic, curry powder, lime zest, and juice in a food processor and blend until smooth. Pour the mixture in a large bowl, add the turkey breast and cilantro, and turn to coat the entire turkey in the marinade. Cover and refrigerate for at least 2 hours and up to 8 hours.

Cook. Remove the turkey from the marinade, season well with salt and pepper, and put the meat on the indirect side of the grill, and close the lid. Add 2 ounces (56 g) of smoke wood if you wish. If you are cooking indoors in an oven, place the meat on a baking rack set in a small roasting pan or a baking sheet. Roast until an instant read thermometer inserted into the center of the breast registers 160°F (71.1°C), about 90 minutes.

Serve. Remove the turkey breast from the grill, slice, and serve.
---
Nutrition per Serving
Calories:
175
kcal
|
Carbohydrates:
2
g
|
Protein:
26
g
|
Fat:
7
g
|
Saturated Fat:
1
g
|
Trans Fat:
1
g
|
Cholesterol:
75
mg
|
Sodium:
320
mg
|
Potassium:
31
mg
|
Fiber:
1
g
|
Sugar:
1
g
|
Vitamin A:
28
IU
|
Vitamin C:
2
mg
|
Calcium:
29
mg
|
Iron:
2
mg