Mashed sweet potatoes are a classic on holiday menus but this recipe elevates the dish to new heights
For many Americans, especially those in the South, no Thanksgiving meal would be complete without at least one sweet potato dish. At some homes, the roots show up cubed and candied, although they are often misidentified as yams, which are mostly found in Asia, Africa, and the Caribbean. Other folks can't do without a marshmallow topped sweet potato casserole. Clean your plate and there might even be a slice of sweet potato pie waiting for you!
Variations on these dishes may have become family traditions in your home, but it's worth trying something new. To expand my own repertoire, I set out to create a new mashed sweet potato dish for this year's Thanksgiving table.
As a serial griller, I knew that my version had to start with smoke. Figuring out the best way to introduce it turned out to be the biggest challenge! For my first stab at smoked sweet potatoes, I tried cooking them whole on the grill over moderate indirect heat. It seemed like an efficient plan but ended up taking nearly 2 hours. When the orange-hued flesh was finally soft, a quick sample left behind nothing but the bitter taste of disappointment: no smoke flavor! While I am not a scientist, my guess is that the skins are simply too thick and dry to take on any smoke.
Next, I decided to cut the sweet potatoes into 1 inch (2.5 cm) cubes prior to smoking them. This method softened the sweet potatoes significantly faster, but the surfaces of the cubes dried out and there was still very little smoke flavor.
Spotlight on our favorite products
Our Favorite Backyard Smoker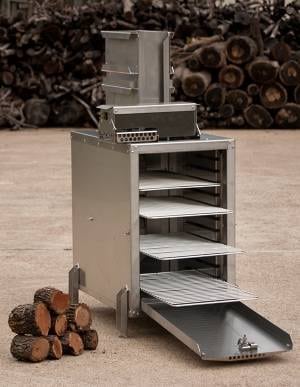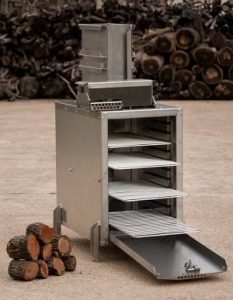 The amazing Karubecue is the most innovative smoker in the world. At its crux is a patented firebox that burns logs above the cooking chamber and sucks heat and extremely clean blue smoke into the thermostat-controlled oven. Click here for our review of this superb smoker.
– THIS IS NOT AN AD –
For my third try, I boiled the sweet potatoes whole until tender and then cut them in half before grilling them just long enough to take on some smoke. After 15 minutes, the halved sweet potatoes were still perfectly cooked and had just the right amount of smoke flavor. Success!
The testing could have ended there, but one of the reasons I grill during the holidays is to free up space in the kitchen. To eliminate the boiling step, I next tried wrapping halved sweet potatoes in foil and allowing them to grill slowly until tender. After one hour of indirect grilling at 325°F (162.8°C), I unwrapped the sweet potatoes and returned them to the cooler side of the grill to smoke for 15 minutes. It worked like a charm.
Finally, it was time to round out the flavor. First came a bit of butter for richness, then an equal amount of maple syrup for sweetness, and, lastly, just enough Sriracha to bring a touch of heat. After whipping all the ingredients until smooth, I finally had a mashed sweet potato dish worthy of becoming a new family favorite!
Get a sneak peak at Meathead's next book. He shares chapters with members of our Pitmaster Club as he finishes them. Click here for a free 30 day trial. No credit card needed. No spam. Click here to Be Amazing!
Sweet maple syrup and spicy sriracha make a fantastic combination in this recipe for smoked mashed sweet potatoes. Grilled until smoky and tender, the mashed sweet potatoes are combined with butter for richness, maple syrup for sweetness, and just enough Sriracha to bring a touch of heat. It's sweet potato bliss!
Serve with: Pumpkin ale
---
---
Makes:
About 2 pounds (907.2 g)
---
Takes:
Equipment
Aluminum foil

Two to three chunks of your favorite smoking wood.

Stand mixer (optional).
---
Ingredients
6

sweet potatoes

¼

cup

unsalted butter, softened

(1/2 stick)

¼

cup

pure maple syrup

1 ½

tablespoons

Sriracha

(add more according to the level of heat you desire)

Morton Coarse Kosher Salt (learn more about the science of salt here)

Freshly ground black pepper
Notes:
About the salt.
Remember, kosher salt is half the concentration of table salt so if you use table salt, use half as much. Click here to read more about salt and how it works. 
Metric conversion:
These recipes were created in US Customary measurements and the conversion to metric is being done by calculations. They should be accurate, but it is possible there could be an error. If you find one, please let us know in the comments at the bottom of the page
Method
Fire up. Prepare a charcoal grill for indirect cooking by placing a chimney full of lit charcoal briquets on one side of the grill's charcoal grate in order to create direct and indirect cooking zones. Adjust the smoker or grill vents to bring the ambient temperature to about 325°F (162.8°C). On a gas grill, adjust the temperature knobs so that one half of the grill is off and the other half is heated enough to maintain a temperature of approximately 325°F (162.8°C) on the indirect side.

Prep. As the grill comes to temperature, cut each sweet potato in half lengthwise and wrap each half in a single layer of aluminum foil.

Cook. Place the foil wrapped sweet potatoes on the main cooking grate as far away from the heat source as possible. Cover the grill, and allow the sweet potatoes to cook until the flesh is fork tender, about 1 hour.

Remove the foil wrapped sweet potatoes from the grill and add 2 to 3 chunks of your favorite smoking wood to the hotter side of the grill. For a gas grill, fill a smoking box or smoking pouch with wood chips and add to the grill.

Once the wood begins to smoke, remove the sweet potato halves from the foil and set them cut side up on the cooler side of the grill. Set the lid on the grill with the top vent fully open and positioned directly above the sweet potato halves in order to force the smoke over and around them. 

Allow the sweet potatoes to smoke for 15 minutes. Remove from the grill.

Use a spoon to scoop the soft flesh from the sweet potato skins. Place the sweet potato flesh, butter, maple syrup, and Sriracha in a stand mixer fitted with the flat beater, and beat on medium speed until smooth. You can also mash everything together by hand in a large mixing bowl.

Serve. Add kosher salt and ground black pepper to taste. Serve immediately.
---
Nutrition per Serving
Calories:
224
kcal
|
Carbohydrates:
41
g
|
Protein:
3
g
|
Fat:
6
g
|
Saturated Fat:
4
g
|
Trans Fat:
1
g
|
Cholesterol:
15
mg
|
Sodium:
159
mg
|
Potassium:
599
mg
|
Fiber:
5
g
|
Sugar:
13
g
|
Vitamin A:
24228
IU
|
Vitamin C:
6
mg
|
Calcium:
64
mg
|
Iron:
1
mg