You mean, you can smoke mushrooms the same way you smoke brisket? Yes, you can.
This is a deeply satisfying dish—truly eye-opening for hardcore meat eaters. When you press and sear a big, fluffy maitake mushroom, it develops a dense, meaty texture and satisfying browned flavor. Then you can smoke it low and slow on the smoker or grill with some wood chunks or chips before basting it with barbecue sauce like in this recipe from Chad Sarno, Derek Sarno, and David Joachim.
You want proof? Look at that photo in the recipe. Click here for more details on this innovative technique.
Spotlight on our favorite products
GrillGrates Take Gas Grills To The Infrared Zone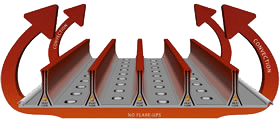 GrillGrates amplify heat, prevent flare-ups, make flipping foods easier, kill hotspots, flip over to make a fine griddle, and can be easily moved from one grill to another. Click here for more about what makes these grates so special.
– THIS IS NOT AN AD –
This recipe is adapted with permission from The Wicked Healthy Cookbook by Chad Sarno, Derek Sarno, and David Joachim (Grand Central Life & Style, 2018). Photographs © 2018 by Eva Kosmas Flores.
You can use whatever seasonings and sauce you like. We go for a smoky Texas flavor profile here. You can also slice up the finished steaks to make four or five spicy maitake steak sandwiches with some rolls, cheese, onion, pickles, jalapeños, and spicy mayo.
Serve with: malbec or syrah/shiraz.
---
---
Makes:
---
Takes:
---
Ingredients
1

pound

maitake mushrooms

(6 to 10 whole mushroom clusters)

1/2

tablespoon

sea salt

1/2

teaspoon

freshly ground black pepper

1/4

teaspoon

smoked paprika

1/4

teaspoon

ground cumin

1/4

teaspoon

chili powder

1/4

teaspoon

granulated garlic

1/4

teaspoon

granulated onion

1/4

teaspoon

mustard powder

1/2

cup

beer, like Deschutes Mirror Pond Ale

(drink the rest)

1/4

cup

Marshall's Haute Sauce Carrot Curry Habanero or another carrot curry hot sauce

4

tablespoons

peanut oil or vegetable oil
Notes:
About the mushrooms. Maitake mushrooms (a.k.a. hen-of-the-woods) grow in big clusters. Buy the biggest clusters you can find and keep them whole. Or use oyster mushrooms. Oysters are more watery, so be patient: They'll take longer to firm up when you press and sear them. You could even use giant portobello mushroom caps—minus the stems—but they won't end up with the same "steak" like appearance as maitake mushrooms. Either way, shake and brush any dirt off the 'shrooms before you begin.
Metric conversion:
These recipes were created in US Customary measurements and the conversion to metric is being done by calculations. They should be accurate, but it is possible there could be an error. If you find one, please let us know in the comments at the bottom of the page
Method
Prep. Shake and brush any dirt off the mushrooms.

Mix together the salt, pepper, paprika, cumin, chili powder, garlic, onion, and mustard in a small bowl. Mix together the BBQ sauce, beer, and hot sauce in a medium bowl.

Press and sear. Heat a large heavy pan (such as cast iron) over medium heat until very hot about 2 minutes. Add 1 tablespoon of the oil, swirling to coat the pan. Add half of the mushroom clusters and use a second heavy pan or a couple foil-wrapped bricks to weight down and press/sear the mushroom clusters. Cook for 2 minutes, then remove the weight and the mushrooms to a work surface.

Add another 1 tablespoon oil to the pan, swirling to coat. Flip the mushrooms and season the cooked side with half of the seasoning. Return the mushrooms to the hot pan, raw side down. Return the weight to the mushrooms and press/sear the other side. Cook for 2 minutes, then remove the weight and flip the mushrooms in the pan. Season the newly cooked side with the remaining seasoning.

Return the weight to the mushrooms and cook another 2 minutes. Repeat this process of flipping, weighting down, and searing the clusters until the mushrooms are condensed and pressed into crispy golden brown steaks with almost no liquid left in the pan, about 10 minutes total. Poke the mushrooms to test whether they are finished cooking. They should feel compact yet fleshy, the way the fleshy base of your thumb feels when you poke it while firmly making the OK sign. Repeat with the remaining oil and mushrooms.

When the 'shroom steaks are compact and golden brown, remove them to a baking sheet. Brush generously with a thick layer of sauce on both sides and let marinate at room temperature for at least 1 hour. Or, if you have time, marinate in the refrigerator for up to 2 days. The longer you marinate, the more flavor you'll get.

Fire up. To barbecue the steaks, heat a charcoal grill or smoker to medium low, 250° to 350°F (121.1 to 176.7°C). In a grill, push the coals or wood to one side to keep the heat to one side of the grill only. Throw a wood chunk or a few handfuls of wood chips onto the edge of your charcoal fire. Put the steaks on the opposite, cooler side of the grill, then put down the lid. Cook slowly until the mushrooms are heated through and charred here and there, 30 to 40 minutes total. Every 10 minutes, flip the steaks and brush with sauce so all sides are glazed with a thick layer. If the steaks threaten to burn, lower the heat by closing the air vents or move the steaks to a cooler part of the grill.

Serve. Remove the barbecued steaks to a cutting board and let rest for 5 minutes. Slice on an angle to create wide slices. You can also leave the steaks whole and refrigerate them for up 4 days before using.

PRO TIP: To change the flavor, you can replace the Texas style seasoning with salt, pepper and a little granulated onion, and replace the marinade/sauce with Chinese Char Siu marinade/sauce. To get the red color of Chinese char siu, use red palm oil instead of vegetable oil in the recipe. You can also use Korean Bulgogi marinade/sauce, or your favorite sauce.
---