Easy to prep and grill, from an inexpensive cut, this recipe has your name on it.
Man, you've gotta love a restaurant with a grill embedded in every table.
If you've ever been to a Korean restaurant in the US, and if you haven't you should go soon, chances are that, in-between you and your sweetie, there was a grill in a hole in the table. Now I've been married more than 45 years, and the only thing that can get between me and my sweetie is a grill, so it is no surprise that I love Korean BBQ restaurants.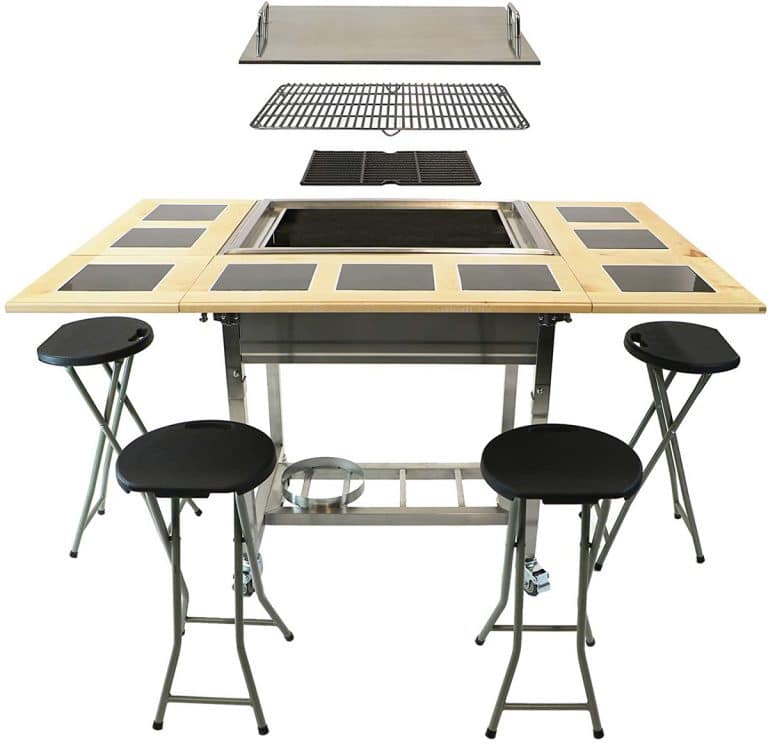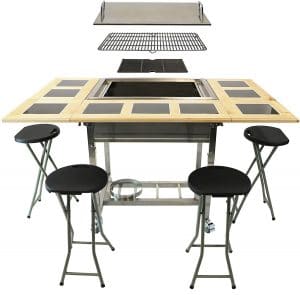 If you've ever been to a Korean restaurant, chances are you've had Galbi (also spelled Kalbi) cooked on these mid-table grills. Galbi is the Korean word for "rib" and it is beef from short ribs, cut thin, marinated, and grilled very quickly. This is an excellent use of an otherwise tough but tasty cut. It can be made boneless by trimming thin slices off the short plate section that looks like this as I have done for the recipe.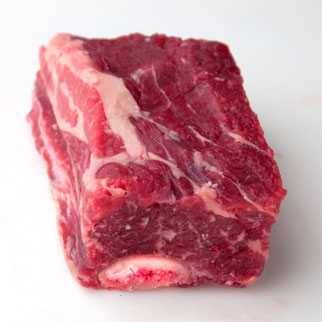 Or you could cut the meat thin across the bones, called flanken cut, as shown below.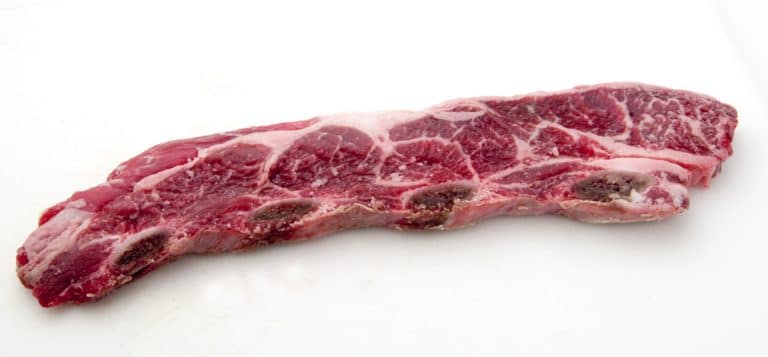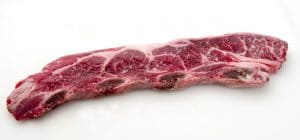 Click here for more about the different cuts of beef ribs.
It is great fun sitting around the table with friends grilling the meat in the center of the table, garnishing it with rice and all the exotic tasty condiments they give you, often pickled. Known as panchan, these go-withs allow you to customize your Korean BBQ to your taste preferences. On the table, you may find a bowl of funky kimchi made with cabbage or radishes, some spicy gochujang (fermented chile pepper paste), a dish of sweet-and-sour cucumbers, a fresh watercress or mung bean salad, a bowl of steamed rice, a dish of sesame salt, a savory dipping sauce dotted with chopped Asian pears, and some crisp lettuce leaves for wrapping it all up. It's like a taco bar with lettuce as the wraps. The many, varied garnishes bring the grilled meat alive. After you grill strips of meat over the charcoal embers, you wrap them up with a bit of sweet, a shot of salty, a spark of spice, a lick of acidity, some crunch, and a boatload of savory for what eventually becomes a minor feast of culinary fireworks in your mouth!
If you're making Korean BBQ at home, have fun with the accompaniments. There's no law against serving grilled meat on a sandwich with cowboy candy or pickled onions or both.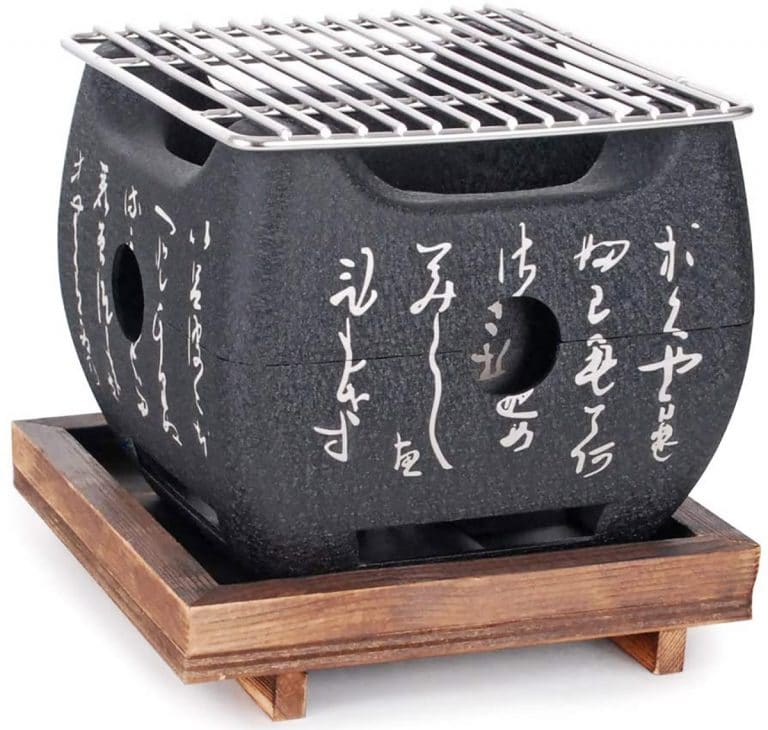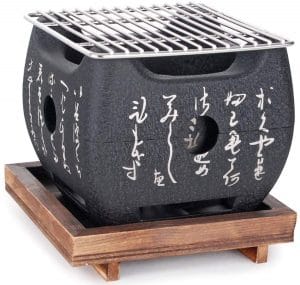 The good news is that it is easy to do at home. Any old hibachi barbecue or Cobb barbecue grill will do. You can even buy beautiful earthenware grills barbecue just for this purpose. You must do this outdoors unless you have a huge overhead ventilation system to collect the smoke and grease. Just be careful that the grill does not transmit heat to the table. A hot hibachi can crack a glass table or set a plastic table on fire. Use a thick slab of wood under the grill to insulate it.
"Korean food is all about bold, strong flavor," says Cecilia Hae-Jin Lee, author of cookbooks such as Eating Korean: From Barbecue to Kimchi and several Frommer's travel guides on South Korea and its capital city, Seoul. "There's nothing subtle about it. Everything hits you hard, so it's fun for the palate." You can find many of these strong flavors, such as gochujang chile paste, at a local mom-and-pop Asian grocery store near you or at a national chain such as H Mart or even Walmart.
And if you happen to be enjoying Korean food in South Korea (lucky you!), here are some insider tips from Cecilia Hae-Jin Lee: "Don't leave your chopsticks sticking up in your rice. That is only done during funeral ceremonies to symbolize allowing the dead person to eat." Good advice for avoiding a cultural faux pas! Lee also mentions "if you're drinking alcohol with a group, in general you don't pour for yourself. The younger person pours for the older. Always accept the glass with two hands while the alcohol is being poured."
Galbi is the Korean word for "rib" and it is beef from short ribs, cut thin, marinated, and grilled very quickly. This is an excellent use of an otherwise tough but tasty cut. Serve the grilled meat with kimchi, gochujang, sesame seeds, rice, or other accompaniments of your choice.
Serve with: a Korean beer.
---
---
Makes:
---
Takes:
---
Notes:
About the meat. Buy short ribs with at least 1" (2.5 cm) of meat on the bones and as few hunks of hard fat as possible. If you can get it boneless, that's fine too. If it is boneless and cut about 1/2" (1.3 cm) thick as it is sometimes sold, you can lay the meat on wax paper, put another sheet of wax paper on top, and pound it flat with the bottom of a frying pan until it is about 1/8" (3.2 mm) thick. Plastic wrap works well too. Alternatively, if you wish, you can use bone in flanken ribs if they are cut thin. If you don't have beef short rib meat, skinless chicken breasts and pork loin meat work fine in this rich marinade. About the hot sauce. Koreans use a wonderful hot paste called gochujang, but if you can't find it you can use Sriracha or Tabasco. Make Bulgogi. You can use this same marinade on thinly sliced ribeye or strip steak, much more expensive cuts, and the results are called Bulgogi. About the marinade. Marinades vary from family to family, but the basic ingredients are the same. The marinade above is pretty authentic, but feel free to modify it as you see fit. You can use another vinegar if you wish. Salad grade balsamic or cider vinegar would be good choices. Or use lemon juice. Fresh ginger, garlic, and onion are important, but powdered will work in a pinch. If you wish, you can use OJ or beer instead of water. I like OJ. Feel free to substitute honey for the sugar. Just don't add too much or it will burn. If time permits, make the marinade a few hours in advance to allow the liquids to pull flavor out of the onion, garlic, and ginger. Overnight is fine.
Metric conversion:
These recipes were created in US Customary measurements and the conversion to metric is being done by calculations. They should be accurate, but it is possible there could be an error. If you find one, please let us know in the comments at the bottom of the page
Method
Prep. Press or mince the garlic cloves.

Finely mince the ginger, enough to for approximately 4 teaspoons full.

With a sharp knife, remove the fat cap and the silver skin underneath it. Cut into individual bones sections if not already cut that way. Stand the meat on its side and slice the meat into 1/8" to 1/4" (3.2 to 6.4 mm) slices working towards the bone. The meat is usually cut thinner in Korean restaurants, but if it is a bit thicker you can get it off with a little pink in the center. I try for slices that are about 1.5" (3.8 cm) wide and about 2" (5.1 cm) long. Trim any excess hard fat.

Dump all the ingredients into a zipper bag or a bowl and mix thoroughly. Let the meat marinate in the fridge for at least an hour and up to 12 hours. Every hour or so, move the meat around so all of it is exposed to the marinade.

Fire up. You can cook this on a grill on an outdoor dining table or on your regular grill. Get the grill good and hot.

Cook. Place the meat on the grates (no need to oil them, the meat is too wet to stick). With the lid off, cook for 2-3 minutes per side. Try to get the meat off when it is brown on the exterior and there is still a little pink color to the interior.

Serve. Galbi is wonderful served on a bed of rice. I like to sprinkle the meat with thinly sliced green onions, toasted sesame seeds, and some grated orange zest.

Most Korean restaurants in the US serve Galbi rolled up in a crisp lettuce leaf with some rice, like a taco, with kimchi on the side.

Reader Nathan Lim from Manila writes that Korean restaurants there add to the rollup a sliver or three of raw garlic, a dab of the wonderful Korean pepper paste gochujang and Korean miso (a yellowish-brown fermented soybean paste).

For a cross cultural meal, serve it on a French baguette with grilled onions and sweet peppers. On the West Coast it is not uncommon to find food trucks serving galbi on tortillas garnished with toasted sesame seeds, chopped green onions, and even cucumber.
---
Nutrition per Serving
Serving:
8
ounces
|
Calories:
111
kcal
|
Carbohydrates:
10
g
|
Protein:
3
g
|
Fat:
7
g
|
Saturated Fat:
1
g
|
Sodium:
1620
mg
|
Potassium:
62
mg
|
Fiber:
1
g
|
Sugar:
9
g
|
Calcium:
6
mg
|
Iron:
1
mg