Removing the paper-like membrane from the bone side of ribs prior to smoking ensures that they are as tender as possible without guests having to gnaw through the membrane's tough texture.
There are two sides to a slab of ribs. The meat side is convex and meaty (doh!) and the bone side is concave and you can see the bones (double doh!). The bone side has a silvery membrane that should be removed. You will often hear that the membrane is like a condom, that it prevents flavors from the rub, the marinade, or the BBQ smoke from reaching the meat. Yet another barbecue myth.
The thick latex-like membrane is part of the pulmonary pleura, a layer that encloses the lung cavity in both hogs and humans. Contrary to myth, it is highly porous and smoke can easily pass through it. And here's the proof. We asked our friend Ryan Amy to do a test:
The membrane can also get very tough and chewy, especially if you cook hot, and if you cook low and slow, it can get rubbery. In addition there is a layer of fat under the membrane, and removing it lets it melt and drain.
You can just make slits in the membrane and some fat will drain, but you still have the texture issue. In competitions, if you leave it on, you lose. In some subcultures it is common to leave it on, especially if it is cooked to crunchy. A lot of restaurants just can't be bothered to remove it. But more and more people expect you to yank it and if you don't they think your a rube or impolite. It's like de-veining a shrimp. Skip it at the risk of deprecation.
I think removing the membrane is like Japanese kaiseki. In Japan the haut cuisine is called kaiseki. When guests come over you can cook the same food as you do every day, but you take special care to make sure everything is precise. Chopped foods are all exactly the same size. Presentation is immaculate. It is a sign of respect for your honored guests. I think removing the skin is like that. An extra step of respect for guests. Here's how to do it.
Many stores sell their slabs already skinned, but it's hard to tell when the slab is strapped into a styrofoam tray. Ask your butcher if the membrane has been removed, and if the answer is "no", ask if it can be removed.
If the answer is again "no" or if you get the slab home and discover the back is smooth and shiny, it's time to skin and trim. It's not hard, once you get the hang of it.
If you are unable to execute this maneuver successfully, take a sharp knife and cut slashes through the membrane every inch so some of the fat will render out during the cooking.
Hungry for more ribs recipes, tips, and techniques? Click here to download our ebook "Amazing Ribs Made Easy" $3.99 on Amazon (free Kindle app runs on all computers and devices). Or, get this book and others FREE as a member of the AmazingRibs.com Pitmaster Club. Click here to join.
Step 1. This is a St. Louis cut. Turn the slab to the bone side. There is a flap of thick meat from the diaphragm that most chefs remove. Some set it aside for stir frying, some use it in sausage, but I just toss it in the smoker and munch on it a few hours into the cook. I call it "Chef's Bonus."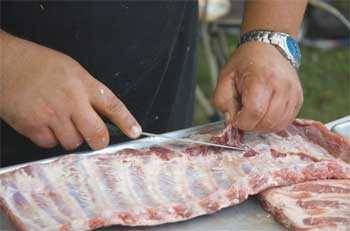 Step 2. If the slab is irregular at the ends or too long to fit on the smoker, trim off a bone or two. Cook them with the slab. They'll be done in a couple of hours. More Chef's Bonus.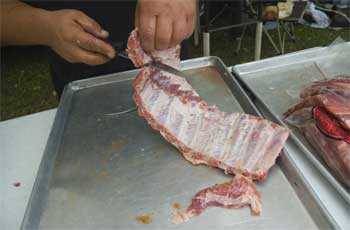 Step 3. Insert a butter knife or, as this cook is doing, an ice pick, between the membrane and the meat at one end.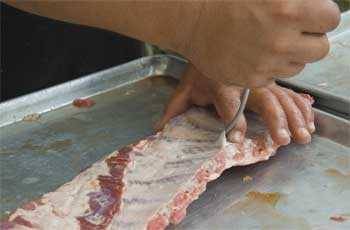 Step 4. Work your fingers around under it to loosen it so you can get a grip on it.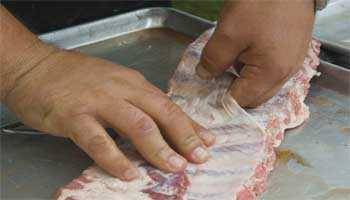 Step 5. Gently begin peeling it off, trying not to rip it. I like to use a paper towel to help me grip the slippery dang thing. Some folks like to use needle-nose pliers or, better still, catfish skinning pliers
.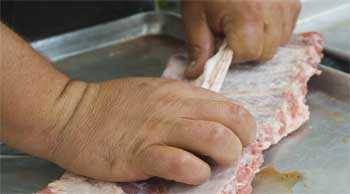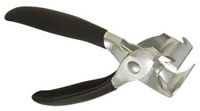 Step 6. If you work it right, you should be able to pull it all off in one long strip. Discard it.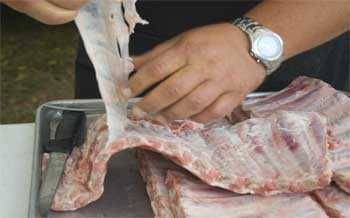 Step 7. After you pull the membrane, you'll see a thin layer of fat and some chunks. With a sharp filleting knife, cut and scrape some of the excess off and trim excess fat from the other side too. Some competition cooks trim off a bit of the meat where it is thick, in order to make the slab uniform so all the ribs are cooked to exactly the same doneness. I leave it on. You are now ready to apply the rub and start cooking.