So simple, so satisfying, breakfast has never tasted better
These breakfast tacos are savory and creamy with just a little spice from the chorizo. Corn tortillas are gluten-free and make a perfect holder for eggs and chorizo, but feel free to use flour tortillas if you prefer.
Fire up your breakfast with these simple, satisfying griddle grilled chorizo and egg tacos.
---
---
Makes:
---
Takes:
---
Ingredients
4

eggs

¼

cup

milk

½

pound

chorizo

Butter, as needed

½

cup

chopped green bell pepper

½

cup

diced sweet onion

6

thin corn tortillas

½

cup

shredded cheddar cheese

Cooking oil, as needed
Metric conversion:
These recipes were created in US Customary measurements and the conversion to metric is being done by calculations. They should be accurate, but it is possible there could be an error. If you find one, please let us know in the comments at the bottom of the page
Method
Prep. Crack the eggs into a medium bowl and whisk with the milk until well mixed.

Fire up. Bring the griddle grill to medium-high heat.

Cook. When the grill is hot, begin to cook the chorizo. As the chorizo cooks, chop it continually with a stiff spatula or metal scraper to promote even cooking and browning while it breaks into small pieces. Cover the chorizo and allow it to cook completely.

While the chorizo cooks, melt a couple of pats of butter on the griddle and sauté the pepper and onion until the peppers begin to wilt and the onions start to become translucent. Combine the chorizo and vegetables and spread them out evenly on the cooking surface.

If needed, add more butter to make sure the griddle is well greased before you pour the egg mixture into the chopped chorizo and veggies. Using a wide spatula or scraper, stir the egg mixture while it cooks and the eggs form curds. As the eggs solidify, scrape the eggs, chorizo and veggies aside and cover to keep warm.

Spread a thin coat of oil on the griddle and allow it to heat until shimmering. Place the tortillas in the oil and cook for about 2 minutes per side.

Uncover the chorizo mixture and add the cheese on top. Cook until the cheese melts.

Serve. Assemble the tacos by dividing the chorizo mixture into thirds and scooping it into a double-layered tortilla, then top with cheese.
---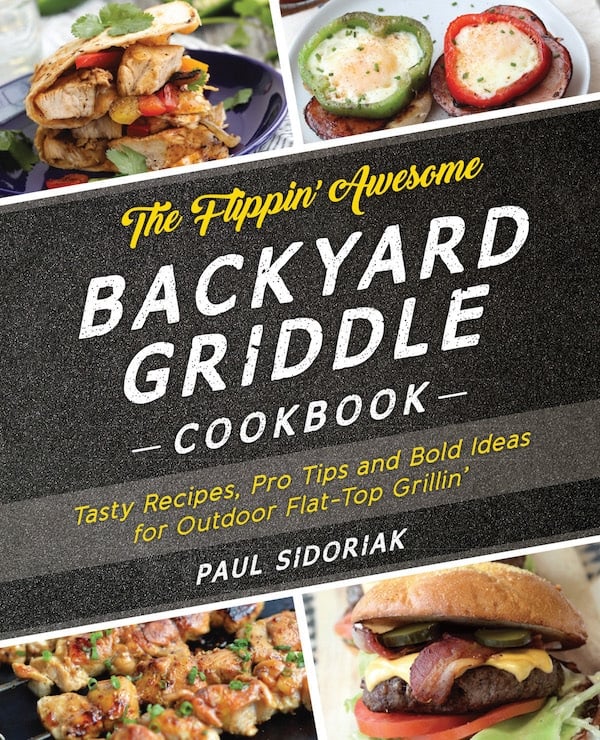 This recipe is adapted with permission from The Flippin' Awesome Backyard Griddle Cookbook by Paul Sidoriak. This book features 50 delicious recipes from diner classics like flapjacks and smashed burgers to hibachi favorites like yakitori as well as innovative treats like jalapeno bacon-wrapped corn on the cob. With full-color images for every recipe, simple step-by-step instructions, and lay-flat binding, Flippin' Awesome is the indispensable guide to rockin' the griddle all summer long!